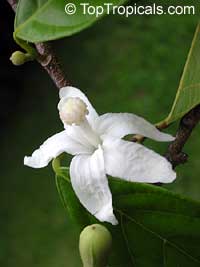 2/16/07
Quararibea funebris - Rosita de Cacao and Drink of the Gods. Quararibea funebris is a beautiful, rare aromatic tree from Mexico and is considered an obscure spice. It is known for its fragrant white flowers that are closely associated with traditional cacao use. The flowers are mixed with chocolate and other ingredients to concoct Oaxacan cacao drink tejate, a spicy beverage with medicinal and religious significance. This energy drink, "the drink of the gods" was originally served only to the ruling elite of Aztecs as Exotic Aphrodisiac Beverage.
This flowers can be eaten raw as a tasty popcorn-like snack, grounded down or blended and added to home-made chocolate bars, cacao (chocolate) drinks, desserts, guacamole and even smoked with tobacco.
The tree is somewhat hardy and able to survive brief temperature drops to the 30s. It has a relatively slow growth rate, and a round crown shape, doesn't require much pruning and looks nice and neat as a landscape centerpiece or specimen plant. The plant can be easily grown in container, where it doesn't grow very tall.
The trees in stock are large and bushy, with a thick trunk, 3 ft tall or taller, in 3 gal pots.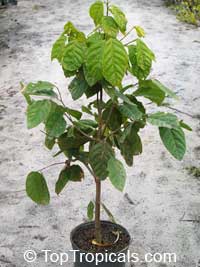 Actual plant for sale
2/16/07