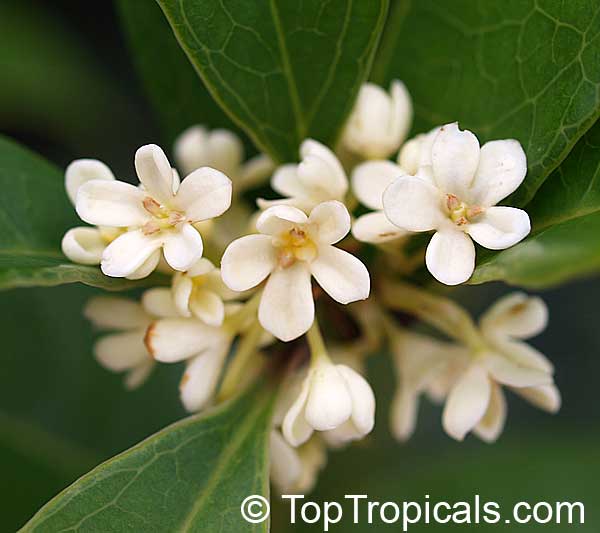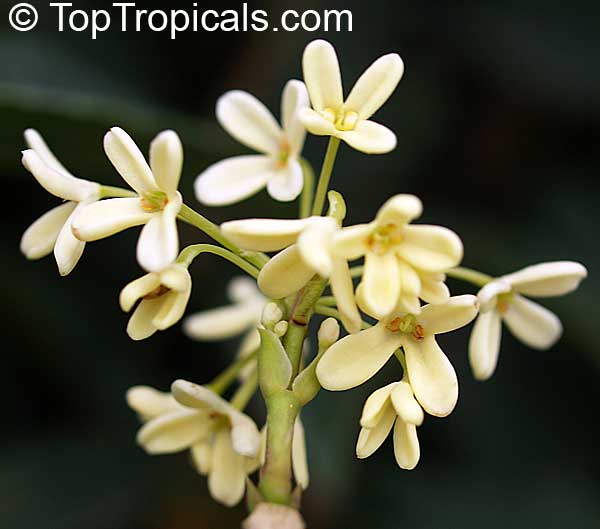 Scientific name: Osmanthus fragrans
Synonyms: Olea fragrans, Olea ovalis, Osmanthus longibracteatus, Osmanthus macrocarpus
Family: Oleaceae
Common names: Tea Olive, Fragrant Olive, Sweet Olive, Kinmokusei in Japan
Origin: China
Small creamy-whte flowers of this delightful legendary plant from China fill the air with a rare perfume that surrounds you and penetrates deep into your heart, bringing a touch of floral mystery. The allure of tea made with Osmanthus blossoms is perfect for those times when you want something seductive yet satisfying...
Osmanthus is one of the 10 famous flowers in China and Taiwan. A traditional symbol of Love and Romance, Osmanthus was used in old wedding customs in Taiwan, when the bride prepared Sweet Osmanthus and Pomegranate pot plants and carried them to her new family. The fragrant plant symbolized True Love and Faithfulness and the fruit tree - Fertility and Peace, and the custom had the meaning of "giving birth to noble children" and "many children and many grandchildren".
For modern people the plant is still very much welcomed. Slow growing and easy in cultivation, Osmanthus makes a good container plant. In the ground it can grow into a small tree or shrub that will take a wide range of conditions, from full sun to shade, requires minimum care and is relatively cold hardy at least to zones 8-9.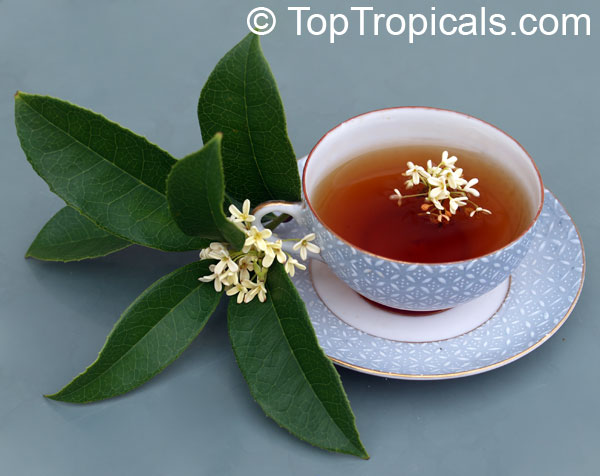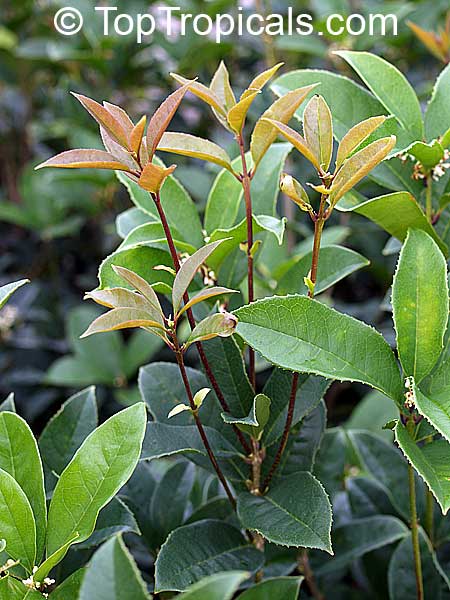 young leaves are tender and reddish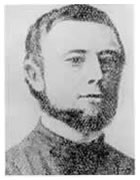 Jean Marie Delavay
1834 - 1895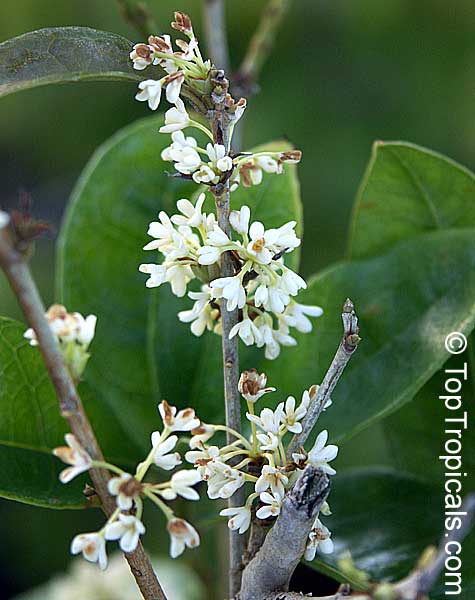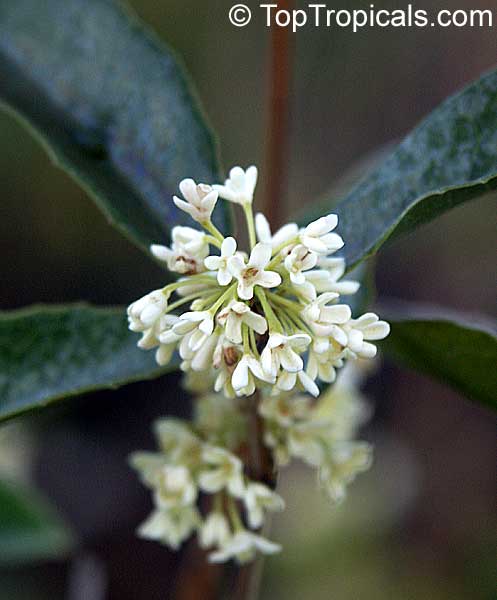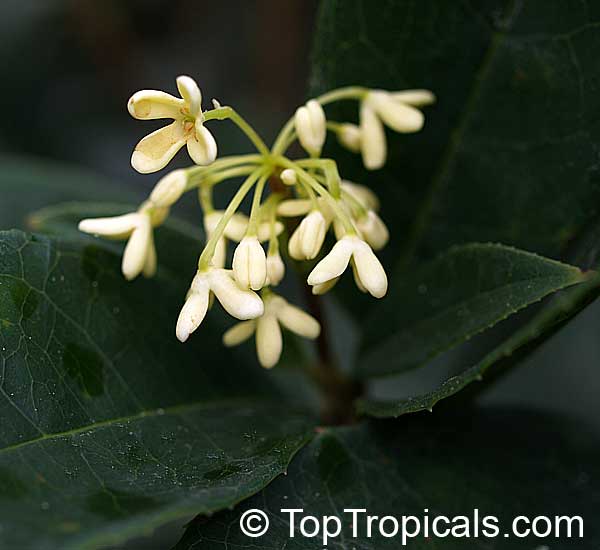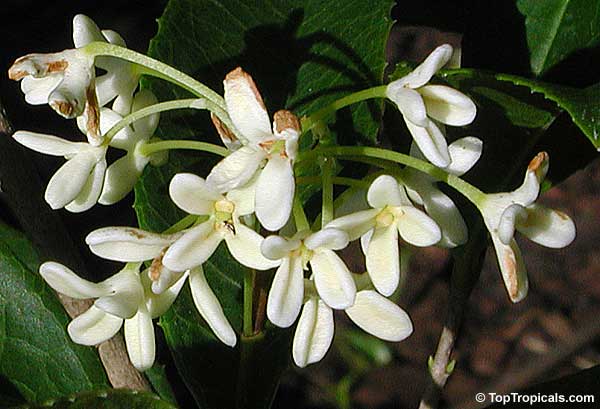 The word osmanthus is derived from Greek osma, meaning "fragrant", and anthos, meaning "flower".
Osmanthus was introduced to Europe in the middle of 19th century by a French botanist Jean Marie Delavay. During his tour in China, Delavay had described over 4000 species of plants, 1500 of which were unknown before. Osmanthus was one of those plants. Osmanthus delavayi and a few other plants were named after the scientist.
Osmanthus fragrans is a perfect choice if you want to add something to your garden with a romantic legend behind. It is associated with a number of Lunar legends in China, which makes it symbolic at the time of the Chinese Moon Festival. It is held in September under the symbol of Osmanthus Flower and also called Osmanthus Festival. In China, this is the best time for the flowers. In warm environment this plant continues to bloom non-stop throuhout the winter to spring. During the nights of the peak season for the flower, Chinese families used to gather in their yards to eat mooncakes, while the grandmother of the family told traditional stories about the Moon, the sweet Osmanthus and the figures of Chinese legends.
According to those legends, there live on the Moon the Fairy Chang E, a Giant named Wu Gang, a Jade Rabbit which is Chang E's pet, and the huge Osmanthus Tree (Osmonth).
The legend of the Moon Palace says that in ancient times the Jade Emperor held ceremonies to offer sacrifices to the sun in spring and to the moon in autumn. During a midautumn evening, while he was enjoying the moonlight, a magic Taoist priest named Luo invited him to visit the Moon Palace. Luo threw his stick into the air, and immediately a silver bridge from the heavens stretched before them. Across the bridge, there was a magnificent palace. A plaque above the gate read "Guanghangong (Vast and Cold Palace)". By the gate stood a tall, sweet-scented Osmanthus tree and a Jade Rabbit set under the tree mixing a medicine for eternal life. Hundreds of beautifully dressed dancers surrounded them accompanied by melodious music and entertaining the Emperor with delicious cakes shaped like the full moon. Upon returning to the earth, the Emperor ordered cakes modeled after his vision.
The Legend of Wu Gang and Osmonth. Giant Wu Gang made a serious mistake driven mad with jealousy, and was sentensed by the Jade Emperor to the Moon, to the Palace Guanghangong to chop down the huge immortal Sweet Osmanthus growing in the front of the Palace. Cutting down 1500 ft tall tree turned out into a painful and endless task. This tree has magical power and the cut immediately recovers every time. The endless chopping and then recovering goes on for thousands of years and the tree still grows, heavily sheltering the palace beside. The most endearing character in this tale was also the Rabbit, who pounded the elixir of immortality with a pestle and mortar underneath the tree. It is this elixir that helps the tree recovering.
The Legend of the Moon Lady. It was said that Jade Emperor had rewarded master archer Hou Yi with the elixir of life - a sweetly perfumed magic pill. His wife, beautiful Chang E, decided to abandon her husband, she took that pill while he was asleep and gained ability to fly. She flew all the way to the Moon. This, according to the legend, led to exile in a chilly Moon Palace, where she was condemned to a life of solitude. It is said Chang E can be seen roaming the Moon alone. A beautiful fragrant Osmanthus tree in front of the Palace reminds her about her lost love keeping Chang E in deep regret and sorrow. The Jade Rabbit that already lived on the Moon became her pet, and Chang E commanded the animal to take pestle and mortar and pound a magic pill so that she returns to Earth back to her husband. Since the rabbit is very busy with producing elixir of immortality for the Osmanthus tree, she seem to be still waiting for her order to be filled...
Osmanthus plants grow in China for thousands of years. There is a famous city called Gui Lin which means "fragrant forest", referring to the large number of fragrant Osmanthus trees located in the city. Its scenery is reputed by many Chinese to be the "finest under heaven".
Sweet-scented Osmanthus is Hangzhou City flower. Chinese monks planted these trees around Buddhist temples in the Manjuelong Valley which lies in the mountainous area. As time went on, the blossoming Osmanthus trees in the valley became an autumnal allure to Hangzhou residents. The valley is flanked by hills where springs are abundant and trees flourish naturally. The geographic advantages and monk's heritage has made the valley a paradise of osmanthus trees. Now all households in the valley without exception have their own osmanthus groves. Osmanthus trees can be seen everywhere in the valley. When dew is heavy at dawn, flowers will fall floating like a rain in a breeze. Such an experience could be quite unique.
Not to worry, your Osmanthus won't grow 1500 ft tall as in the Chinese legend. In real life, it is a slow growing medium size shrub or smaller tree that can easily be kept in container as a compact plant for years. You can create your own little Fragrant Valley...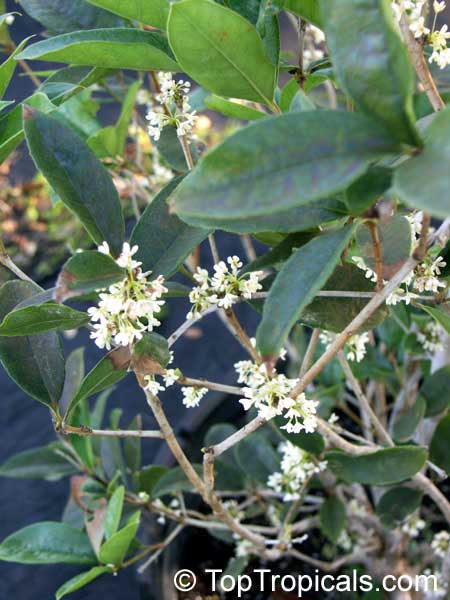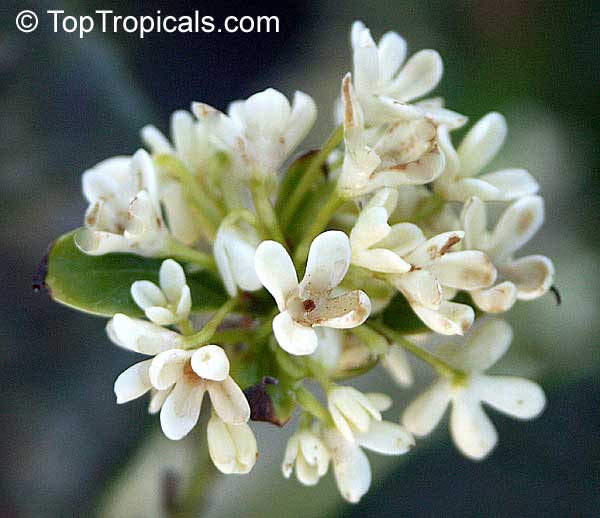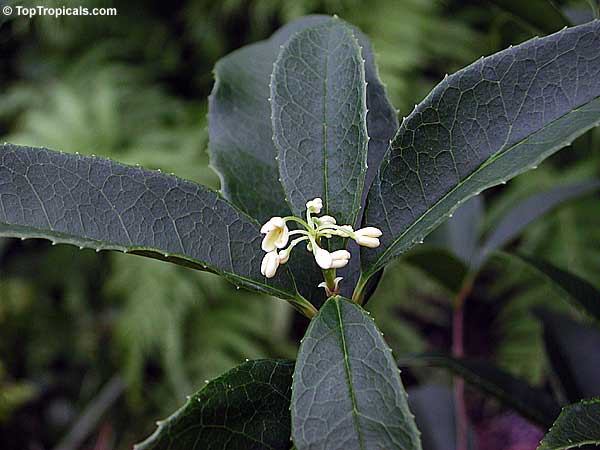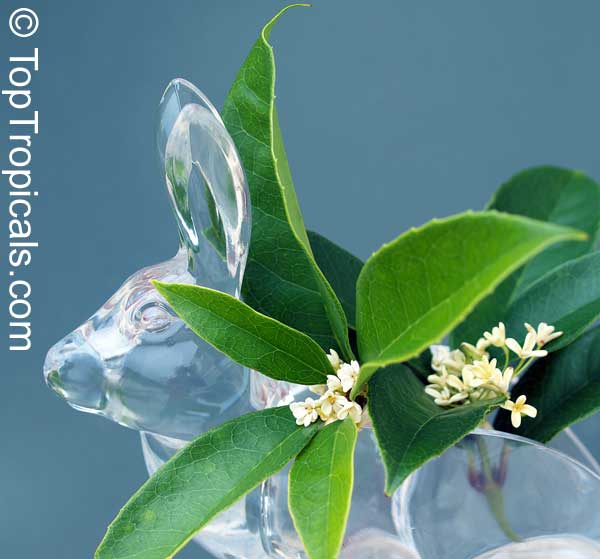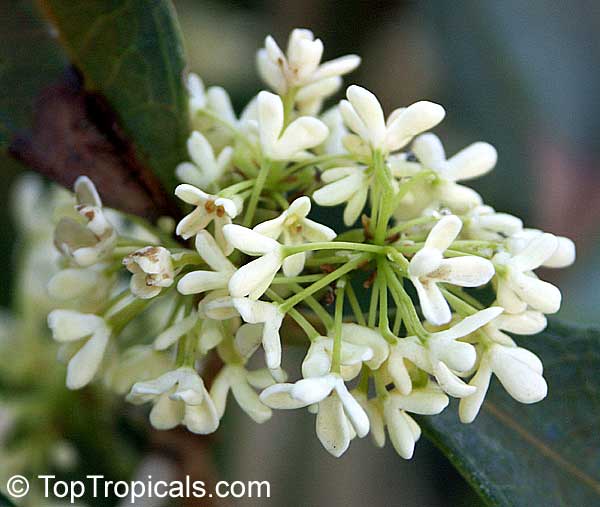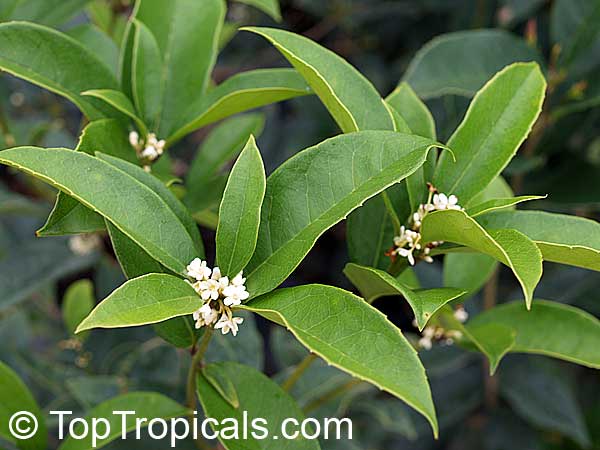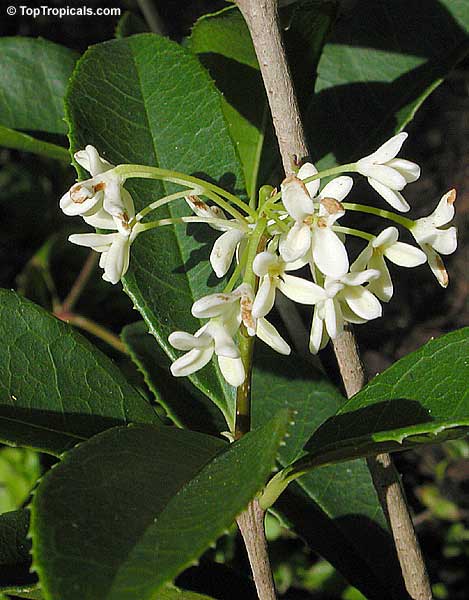 Osmanthus fragrans, or Sweet Olive (Tea Olive), belongs to Olive Family (Oleaceae) along with numerous jasmines. It is evergreen tree or shrub with a moderate growth rate, native to China. It has glossy dark green leaves 2"x-4" with toothed edges and small 0.5" flowers usually hidden by foliage, with a strong apricot-like fragrance that can be smelled from a distance.
The plant prefers reasonably good soil, but is adaptable to different kinds of soil, including sandy and alcaline. Young plant needs regular watering and once established, little water is required and the plant will thrive well almost with neglect. The tree may be pruned to maintain size or formed as a smaller shrub, and to encourage branching.
There are over 20 types and cultivars of the Sweet Osmanthus: Apricot Gold (golden-orange var. thunbergii), Butter Yellow, Silver-White (var. latifolius), Orange Supreme, Dan, Four Seasons (creamy-white flowers), Red (var. aurantiacus) and others, with their colors varying between yellow, white and reddish.
Osmanthus starts blooming in September-October which continues through winter, sometimes as long as unlil April or May. The variety "Four Seasons" blooms on and off year round and has up to 4 blooming activity periods, hence the name of the variety.
Osmanthus delavayi is a smaller shrub with succulent-looking hard leaves, deeply toothed. It takes a while until the young plant starts blooming, while Osmanthus fragrans little plants rooted from cuttings begin to bloom already on the first year. Another close-related fragrant species is Osmanthus suavis.
Plant Sweet Olive where its lovely fragrance can be enjoyed, wherever there is foot traffic near windows, doors or by outdoor sitting areas. Keep it in a pot if you have limited space, and provide just a little care and Love. This slow growing Plant of Romance is very long-lived and will lighten your winters for a very long time.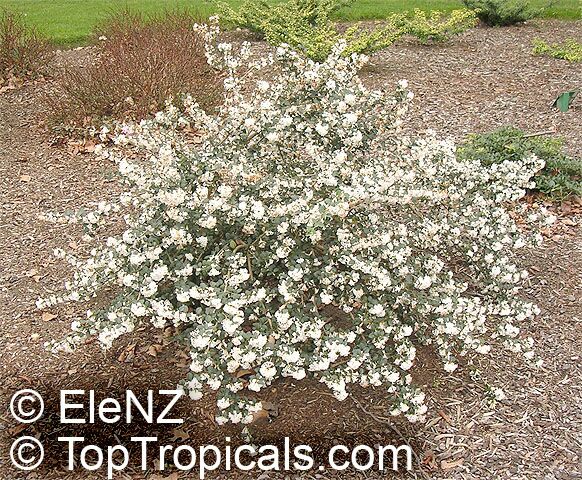 Osmanthus delavayi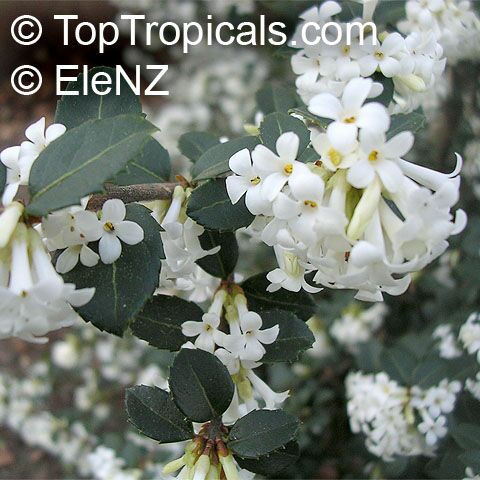 Being the same family with a famous Jasminum sambac - "King of Fragrance", Osmanthus fragrans is valued for its delicate fruity-floral apricot aroma. The flower is used in perfumery and foods, such as sweet osmanthus wine, tea, sugar, juices, cakes and sauces.
Tea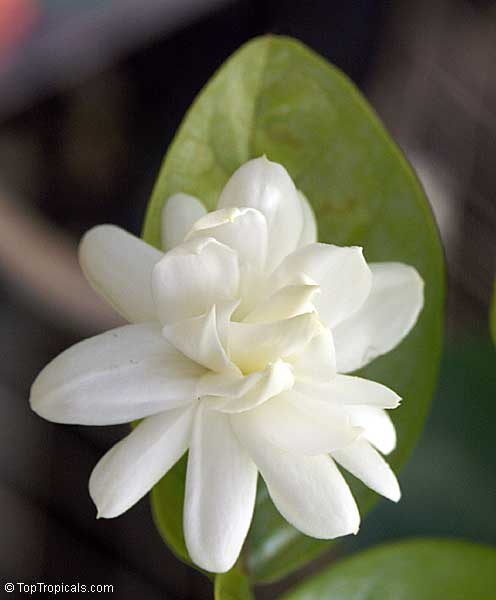 Jasminum sambac
Sweet Olive is especially valued as an additive for tea and other beverages in the Far East. The Chinese discovered that the Osmanthus can be used to enhance the natural fruitiness of some of their finest green and black teas. The result is similar to fine jasmine tea (flavored with Jasminum sambac) but lighter and much fruitier. The leaves from the osmanthus are sometimes mixed in with partially fermented green tea to produce a lovely aromatic tea. Osmanthus flowers used to scent tea are known as Kwei Hwa (Kwei Hua).
A scented tea can be made by adding into regular black or green tea a small amount of dried flowers of Osmanthus and Jasmine. The jar with this mix should be sealed for a few weeks, and then used for brew.
Osmanthus blossom scented tea with fresh flower petals has an unforgettable scent that can just draw you into feeling a bit drunk...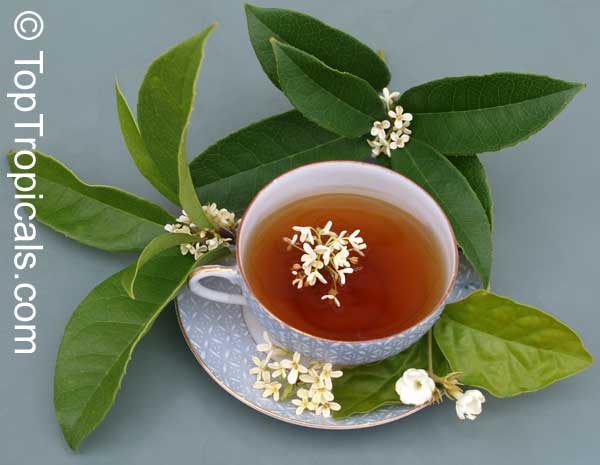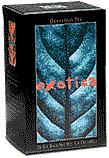 Osmanthus tea scented with finest Oolong tea
Cooking
Osmanthus fragrance adds a great aroma to desserts. The fragrance of the flower will make your mouth water.
Yellow osmanthus persimmon cakes are pan-fried, flame-colored patties made from a dough of persimmons and wheat flour and stuffed with a sweet osmanthus filling. Legend says they were invented by farmers in a nearby region who offered them to the rebel army that overthrew the Ming dynasty in 1644. The cakes have a wonderful pinkish color. They look like very large, flatish mochi cakes.
The filling for the cakes is made by mixing five kinds of kernels, ground sesame seeds, minced osmanthus flowers and sugar. After mixing well it is pressed into a cake, then cut into cubes. These cubes are put into a square-bottomed bamboo basket, sprinkled with a little water, before flour is added, made of a glutinous rice. The basket is rocked so that the four evenly coats the cubes, which should become small stuffed balls. Next, boil the balls in water, adding sugar and osmanthus flowers.
Chinese Moon Cakes. Every Chinese holiday is accompanied by some sort of special food. Moon Cakes are eaten on Chinese New Year which is based on the Lunar calendar (and the little treats look like the moon).  They are also eaten as part of an autumn, harvest type celebration which falls on the 15th day of the 8th lunar month.  On the Moon Festival, people eat moon cakes, a kind of cookie with fillings. Sweet fillings are made of sugar, Walnuts, sesame, osmanthus flowers, rose petals, sweetened tangerine peel, bean paste, or jujube paste. The surface of the food is patterned with clouds, the moon, the rabbit. Some cakes will be sent to absent ones or saved at home for them.
The dried flowers are also used in other sweet dishes such as sauces, lotus seed soup and steamed pears.
Osmanthus fruit is also edible and resemble small olives. The unripe fruits are preserved in brine like olives.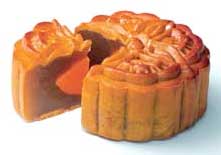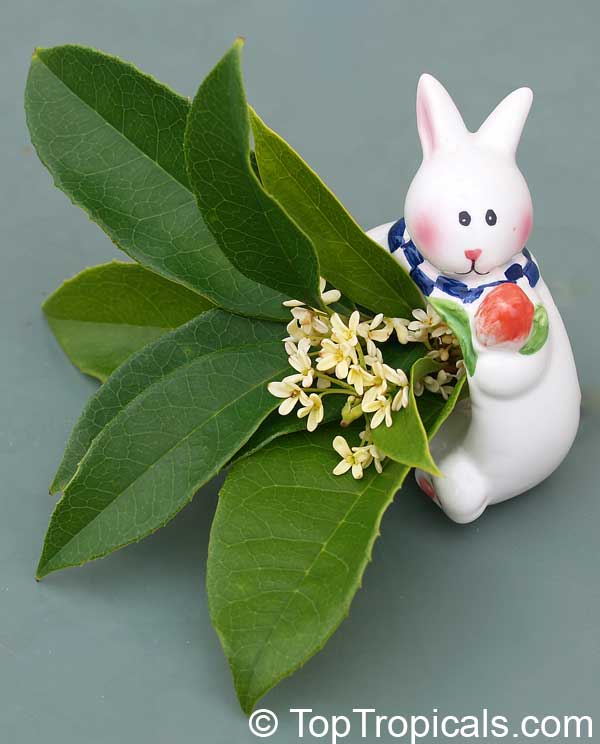 Medicine
Osmanthus fragrans flowers (know as Gui Hua, or Kwei Hwa) are widely used in Chinese medicine. There are many medical products made out of sweet osmanthus buds, leaves and bark. They are said to protect against coughs and used to flavor other medicines, and in cosmetics for the hair and skin.
A decoction of the stem bark is used in the treatment of boils, carbuncles etc. A decoction of the lateral roots is used in the treatment of dysmenorrhoea, rheumatism, bruises etc. An essential oil obtained from the flowers is used as an insect repellent for clothes. They are also added to herbal medicines in order to disguise obnoxious flavors.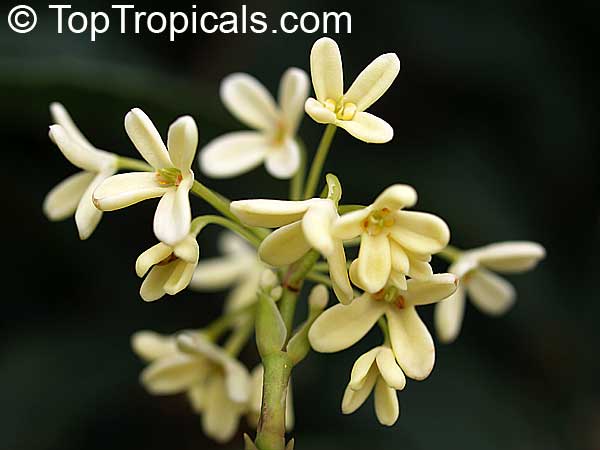 Perfume: the reminiscence of a Chinese garden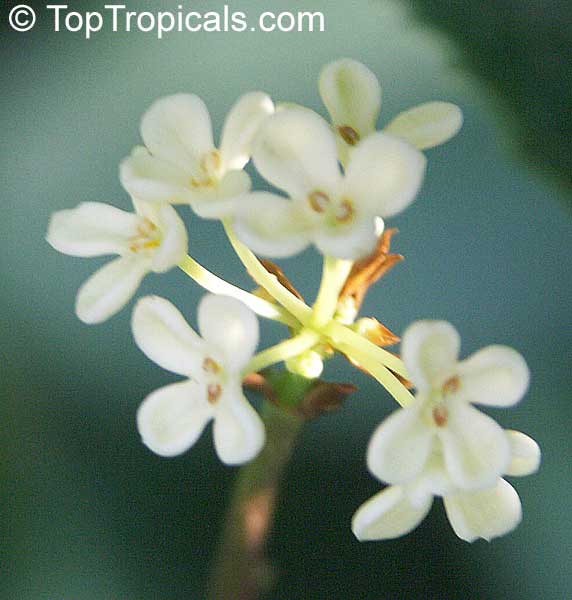 Both the blossoms and the leaves of this plant are used in the production of some of the world's rarest and most expensive perfumes. Because of its scarcity Osmaunthus Absolute oil is very expensive, up to $3000 per lb, and its use in commercial perfumery is restricted to small quantities.
The Osmanthus scent is often referred to as "the Perfume of Perfumes" due to its pure and intoxicating floral redolence. The fruity notes are a bouquet in themselves as they partake of apricot, plum and raisins. Its most intense aroma is floating and dancing on whispers of breeze, touching the hearts with nostalgia and remembrance of things past.
The Osmanthus flower itself is simply radiant, and some perfumery experts admit that there is not any other perfume that so perfectly catches the beauty of the flower and call it "the reminiscence of a Chinese garden".
Osmanthus perfumes are delightfully fruity, floral fragrances - and yet supremely sophisticated and elegant, rendering the delicacy of the distant land and the mysteries of its most prized flower...
Get an opportunity to inhale the heady aroma of fresh osmanthus flowers, one of the true delights of the Earth...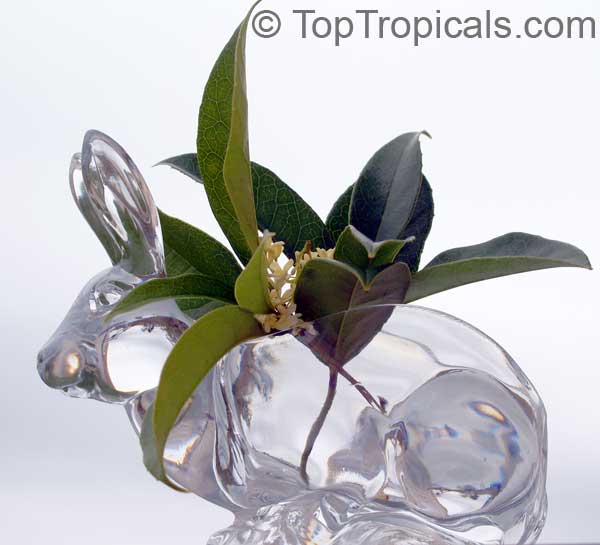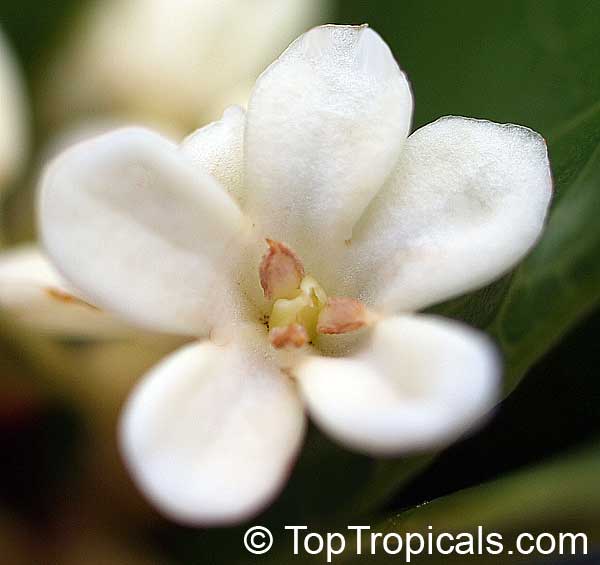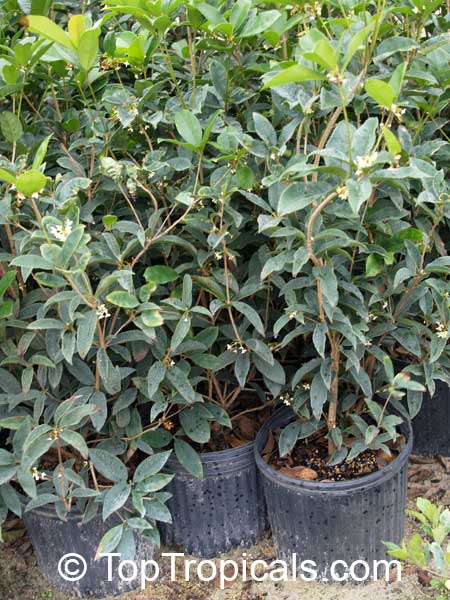 plants in 3 gal pots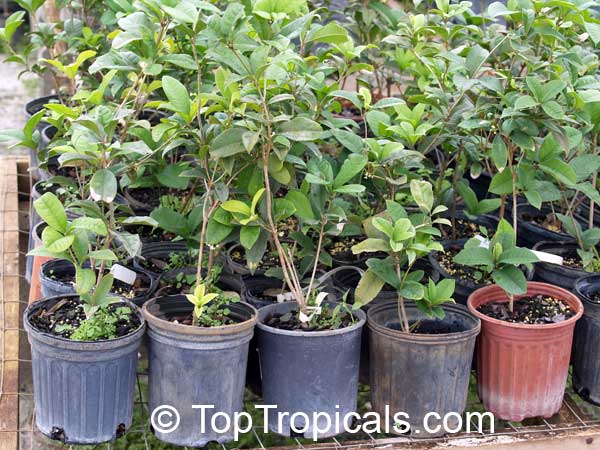 plants in 1 gal pots