!!! We can not be held responsible for any temperature-damage to plants during transportation (heat or cold). Please notify us if weather is not permitting in your delivery area so that we can hold your order.
Planting instructions, seed germination instructions, and any other special instructions will be included with every delivery according to the nature of the order.
Page navigation:
---
Shipping cost generated automatically and depends on particular plant (size, weight) and destination.
To see shipping cost, add items to cart, chose destination state, and click "Add shipping"
Shipping cost is automatically calculated for the US only. For shipping outside of the USA, see International Shipping. and contact us for a quote.
Shipping cost includes:
- Actual carrier's rate including large discount for our company
- Small handling fee.
Why we offer only limited free or discounted shipping?
Shipping live plants is very labor-intensive, time consuming and costy process that includes:
- collecting plants from the field,
- inspection
- cleaning, spraying
- labeling
- sorting by orders
- stripping pots and some soil
- bagging
- attaching bamboo support
- wrapping
- packaging / boxing and packing supplies.
We also provide the utmost care in choosing high quality packing supplies to ensure your plants have a safe journey. We often lose on shipping costs.
---
You may check if your order has been shipped at Order Status Page
---
We ship to all 50 US states and Worldwide. However some states and countries have special regulations:
California. We are certified to ship to CA, however due to the fact that CA state import regulations recently became more complicated and made processing shipping to CA very costy, certain restrictions apply:
1) Min order to CA - $100 before S&H.
2) Certain CA counties (Orange, Alameda) will require a $50 phyto certificate that will be added to your S&H cost after your approval. Otherwise, the order may be cancelled.
3) Certain plants that are NOT certified for shipping to CA are marked so in the price-list. Certification is done once a year (in September) and we can not add other species to that list until next year. Some species (like palm trees, peaches, persimmons, apples etc) are in CA no-ship (prohibited) list and can not be shipped to CA addresses.
4) Flowers and fruit will be cut off plants traveling to CA addresses due to CA state agricultural import requirements. This means, your gardenias and jasmines will have no flowers on them, and mangoes have no frut when arrive, even if the plant is advertised as in bloom/fruit. Sorry, their rule, not ours!


APO addresses. We can't ship live plants to military APO addresses. Mainly because we don't know where it is located, and locations outside of the USA require compliance with live plant export-import regulations, which is complicated procedure. Also, we don't know how long it will take to deliver the plant and if the package will be opened, so we can't guarantee anything. Orders with live plants to APO addresses will be canceled unless you specify more information.


International. We ship outside of the USA. Please see more information: International shipping.
---
We ship year-round, weather permitting at destination (above 35F in winter and below 100F in summer)
Shipping Days. Monday through Thursday to ensure deliveries are received before weekends.
Shipping Methods. We attempt to provide the most economical rate depending on your location using following services:
- FedEx Ground (all FL and a few other states)
- FedEx 3 day Express (CA, AZ and some other states)
- USPS Priority Mail (HI, PR, VI)
Expedited Shipping. Occasionally, orders will need to be shipped via expedited service depending on plant sensitivity or customer request. Please notify us of any rush prior to shipment.
Shipping confirmation email
Valid email address is important! On the day of shipping, you will receive an automatic email with your tracking information.
If your order is shipped via USPS, the email will contain a delivery confirmation only, and not tracking information; it will simply confirm that the package was physically delivered to the Post Office and accepted by USPS for shipping.
Please make sure that your delivered package will not be sitting on your porch all day. We can't guarantee the survival of your plants without proper temperature control.
Delivery time
Time in transit is generally between 2-4 business days
We do our best to ship your orders as soon as possible. Usually within a week of placing the order. You may notify us of any rush so we can expedite processing of your order.
Shipping delays

If you were notified that your order was shipped, but have not received the package within 4 days, please check with the carrier, as delivery may have been attempted in your absence.
You may check your order status online at any time.
We notify our customers about any delays in our shipping schedule. Shipments may be delayed by us for the following reasons:
Weather is not permitting
Item is temporarily out of stock
Some high demand items may take additional time to be delivered from our other locations
---
PayPal orders over $200 require signature confirmation
Per PayPal requirements, all orders over $200 (paid using PayPal) must be shipped with a signature confirmation required.
Which means, if nobody is available to sign for the delivery, the carrier will not leave your box at your door, and you will need to pick it up at the Carrier's office.
We advise that you prearrange instructions with your local carrier to hold the package at the office to avoid plants spending excess time within the delivery truck.
This rule is applicable only to orders that are paid through PayPal.
If you pay with a credit card using our server, then your order will be shipped without signature confirmation, unless specifically requested.
---
We try to provide you with large and mature plants.
Some of our plants are much bigger than those that you might get from other mail-order companies.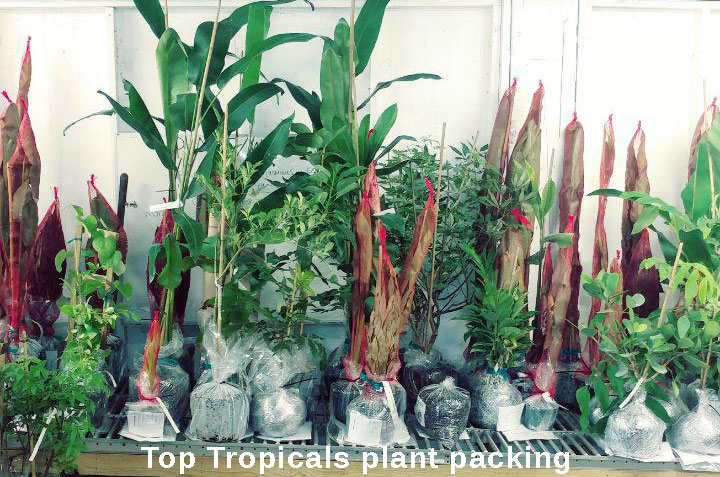 To save you money on shipping, we work to minimize both package weight and dimensions. (See Our Products page, and Size of Plants for more information).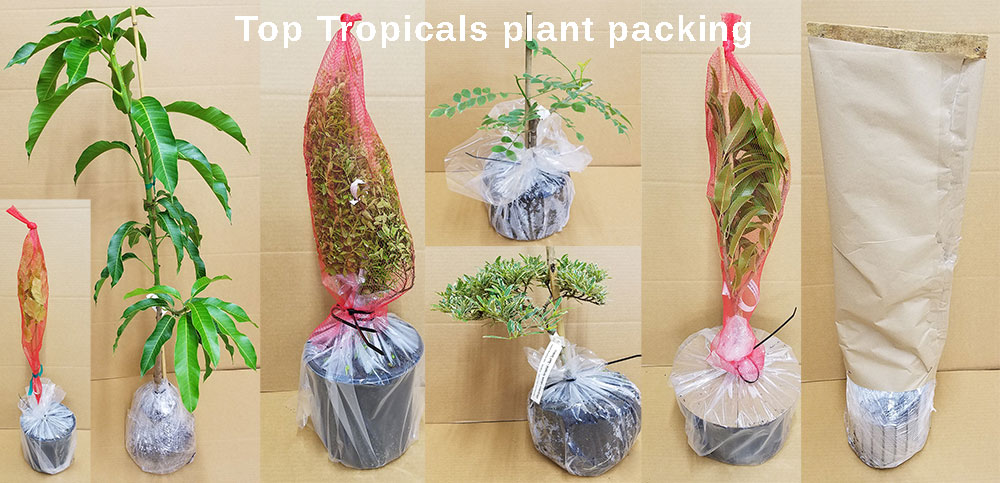 To shed unnecessary weight, we remove plants from pots, toss off excess soil, and maintain moisture with a food-grade plastic film wrapped firmly around the root ball. We do not bare-root plants for domestic shipping. To save on dimensions, it is sometimes necessary to trim branches, but only when without consequence to the plants health.
We strive to safely package every plant to the fullest extent possible. Read more about plants shipping and possible problems.
Make sure to include heat-pack to your order to provide safe transportation during cold season. We can't guarantee plants to arrive alive without heat pack to cold areas
Notify us to hold your order if it's over 90F in your area - otherwise plants may get cooked in a package.
Once your plant has arrived, it should be unpacked and potted immediately. You should let the plant adjust after shipping stress for a minimum of 24 hours (and up to several days). Place your plant(s) in a warm location with bright shade (no direct sunlight), in a small pot with well-draining moist (not soggy) soil. See more instructions.
Upon arrival, keep the packing list with your discount voucher to save on your next purchase. To receive our New Arrivals updates and more dicount coupons, you may subscribe to our Newsletter.
---
VIDEO: Top Tropicals Guide to planting a mail order plant
Our company provides gardeners with rooted, well-established plants of mostly rare and hard-to-find species. We provide you with the biggest and healthiest specimens that are currently available in our stock (see more info about plant size). We grow our plants in natural outdoor conditions, under Florida sun and rain. We fertilize our plants to maintain and promote healthy growth and well-developed roots, but it is not our goal to keep them flowering at all times. We are not a florist shop that offers nicely shaped arrangement in fancy wrapping with bows and ribbons. We provide strong and healthy plant material, specimen plants for the purpose of longevity and allowing you the opportunity to experience the personal joy of planting, growing and a lasting future of enjoyment.
Some of our plants are shipped without pots (see above), so prepare prior to delivery:
Potting soil (see recommendations), we recomment our proffessional siolless mix

Pots (depending on plant size - see info in price list)

Patience, time and effort to help your plant to recover from shipping stress (use SUNSHINE boosters)

If the plant is intended as a gift, please consider if the recipient will be willing (and capable) of providing all the above.
If you feel inexperienced growing mail order plants, feel free to contact us for cultivation advice before ordering.
See also Possible problems in transportation, Establishing plants and problem solving
---
Please read these rules before ordering. By ordering from us you enter into legal contract where you have your resposibilities as well as we do. We value our customers, and please respect our hard work and service.
Healthy plants. We guarantee that we ship healthy plants
E-mail only, within 3 days period. All claims must be submitted in writing only, and only within 3 days after delivery. Please email us if you have any problems; if you call us regarding any claims, you will be asked to email us anyway.

We do not accept any claims after 3 days of order arrival.

Shipping damage. All shipments travel at the risk and expense of the buyer. Our responsibility ends upon delivery to the carrier, we assume no responsibility for delay, damage, destruction or breakage after delivery has been made to carrier. We are not responsible for any damage occurred during transportation: either temperature or mechanical. To ensure your plants have a safe trip:

Please make sure delivered package is not sitting on your porch all day. We can't guarantee the plants to be alive if they a shipped without temperature control (heat pack) in winter or if they are overheated in summer. We do our best to notify you about shipping/arrival day beforehand, please take care of your plants.
Please monitor weather in your area. If it's too hot or too cold, notify us, we can hold your order.

Shipping cost is not refundable. In case of replacement we charge shipping cost. In certain cases we can ship replacement with your next order.
Contact ASAP. If you received a plant that got weak or broken - EMAIL us immediately, it may be saved, and we can help you!

Do not wait untill it's too late. We won't accept any claims later

. If you are not sure how to take care of plant or it seems weak to you then let us know right away, so you can preserve your rights later.
Pot size - important! DO NOT plant arrived plant in a pot larger than the root ball! Only after establishing, when the plant starts a new growth, you may move it in a bigger size pot.
Proper care. If you recieved a healthy plant, but managed to kill it under improper care - we are sorry, it can't be replaced. Keep arrived plant in warm (not hot) conditions, in a pot in shade until it gets adjusted and recovered from stress. Don't plant out of package into a full sun!
Correct mailing address. We're not responsible for errors in mailing address or delivery instructions. We use computerized system to print labels and ship to exactly the address you provided at the time of your order. Please double check the address you entered to ensure that it's correct. You may refer to a confirmation email for double-checking. We are able to correct misspeled city name or zip code and we will notify you if your address is invalid, but we have no means to verify if entered "1234" is really your house number or it should be "10234". We don't accept any claims result from such errors.
PO Box addresses are not acceptable for some shipping methods. We may contact you for physical street address. We may also contact you if your address is marked as "non-deliverable" in the USPS database.
Shipping confirmation. You will be notified via email when order is shipped. We email you delivery confirmation number for USPS (Postal Service) or tracking number for UPS. This email is important. If you don't receive package within few days, then check the shipper website (link is provided in confirmation email). Sometimes for whatever reason packages are just sitting at the Post Office and a customer did not notice that tiny pink slip in a stack of mail.
Special delivery instructions. We always try to accomodate them and print on the shipping label. Simple instructions like "leave at door" are acceptable, but complicated like "leave behind 3rd tall palm to the left of the 2nd garage door" are not. Most likely carriers will not follow such instructions (they won't even read it) to your satisfaction. So, we can't be responsible for it.
Secure delivery. If you believe there is any risk that USPS Priority Mail deliveries in your area may be misplaced or stolen, then we strongly recommend shipping to your work address, to your friend's address, or any other person who can accept the package for you. You may request USPS Signature Confirmation service at extra charge. This will require someone at your address to sign for the package or for the package to be picked up at the local Post Office. If the USPS Delivery Confirmation records indicate that your package has been delivered, we will not accept a lost product refund claim or replace your package.
Lost package. If you believe your package was lost in transit, we reserve the right to initiate the inquiry to determine if the package was actually lost. We follow proper shipper procedures to determine if the package was signed by another person, stolen, or lost. If you have not received your package and the shipping company confirms lost package was not delivered, then we will re-ship the order again. We will not reship or refund orders for which the shipping company can confirm delivery at the destination.
Order changes or cancellation. If you decide to change something in your order, add more items or cancel your order for whatever reasons, you have to do so in writing (email or fax).

We do not accept any changes over the phone.

If your order has been already packed then no changes can be made. If you decided to cancel the order, cancellation/restocking fees may apply (up to 6%).
Refuse of sale. We reserve the right to refuse making a sale to anyone. Sometimes, we may ask a certain customer to buy plants someplace else.
All plants after being in transit for a few days without light and water, exposed to temperature extremes and handling, will experience stress. Some more, others less. Please be advised that we can not guarantee the plant to stay in a good condition after shipping since it is beyond our control. By ordering a live plant mail-order you take a risk of receiving a wilted plant, which in most cases, under proper care, will recover soon and bring you a joy of accomplishment.
---