These special offers can be combined!
---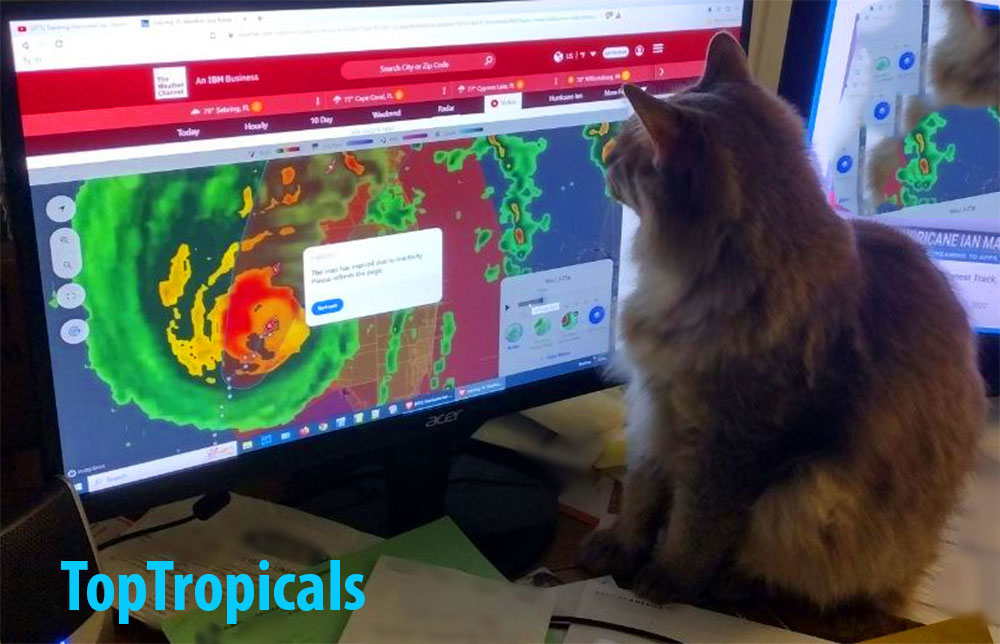 Hurricane Ian re-leaf discount
For 10% off your entire order, use this code:
IANRELEAF
Use this code on top of our fantastic deals and make it a super deal:
As low as $5 sale of selected items
Secret Garden - 50% off
Min order $100. Exp. 10-04-22.
---
Secret Garden - 50% OFF
The point of your Garden

Let our Secret Garden selections help you make the point of your Garden!
Each week we add a variety of plants to our Secret Garden with special savings of
50% off and more!
Check back often to find new the Secret Garden selection! Find new specials of the month from our Newsletters.
And for local customers, come visit our Garden Center for an even larger Secret Garden selection. Ask our sales reps about full list of Secret Garden plants available for local pick up!
---
Your dream come true:
More of $5 sale!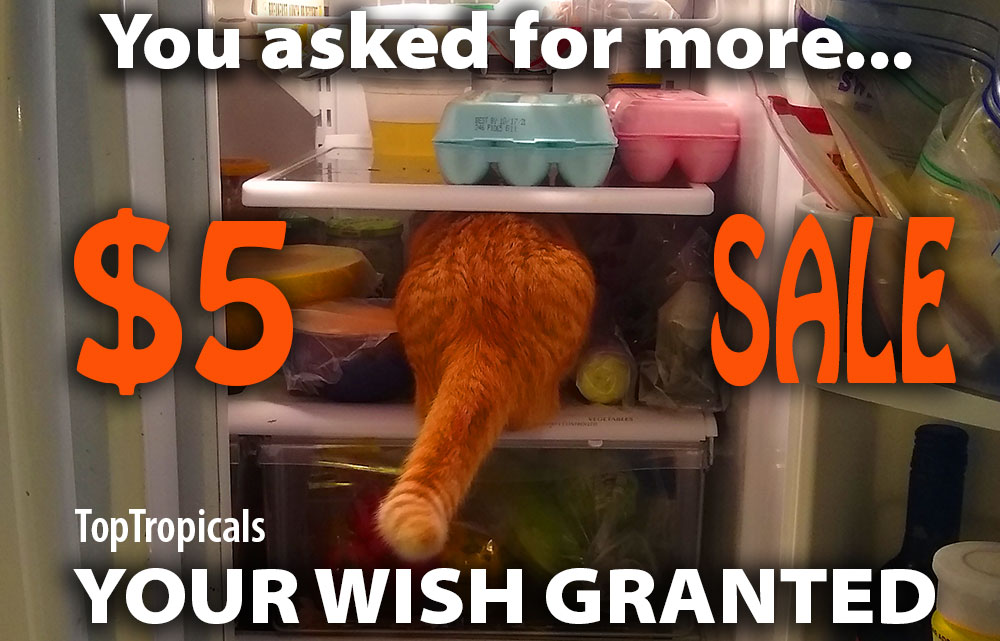 Everybody loved our $5 sale! Several items were sold out right away. So we added a few more for you. Check out more plants on $5.95 sale at the end of this newsletter! Take advantage of these fantastic deals, plus additional list of plants discounted below $20!
P.S. 95 cents from each plant sale - is a treat for our PeopleCats Zoo.
Hurry up! They sell fast! While supply lasts.
...and don't forget - we still have some Avocados at $59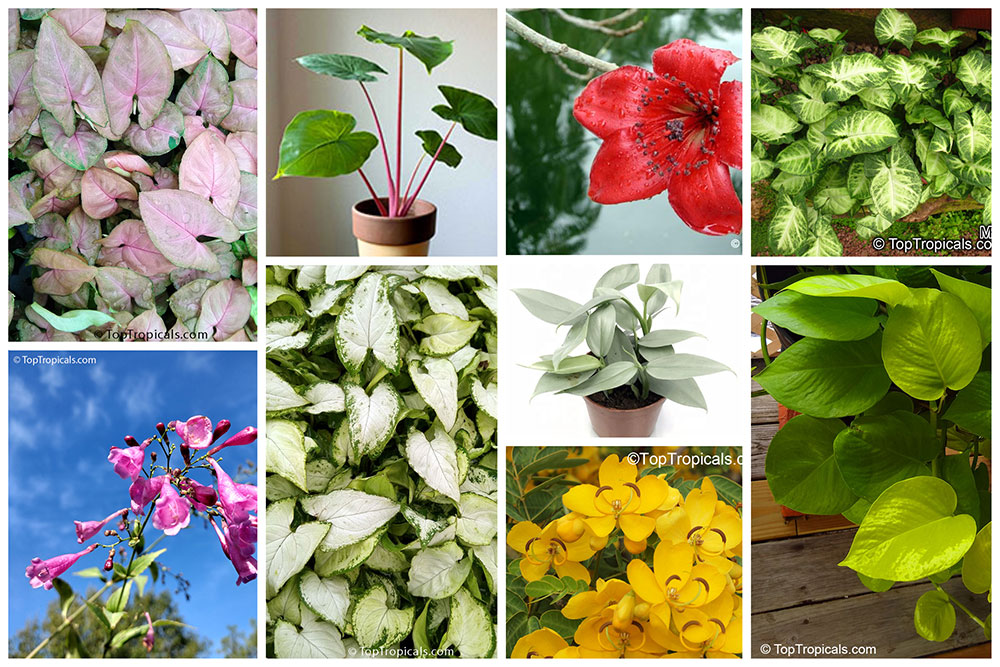 ---
The Magic of the Avocado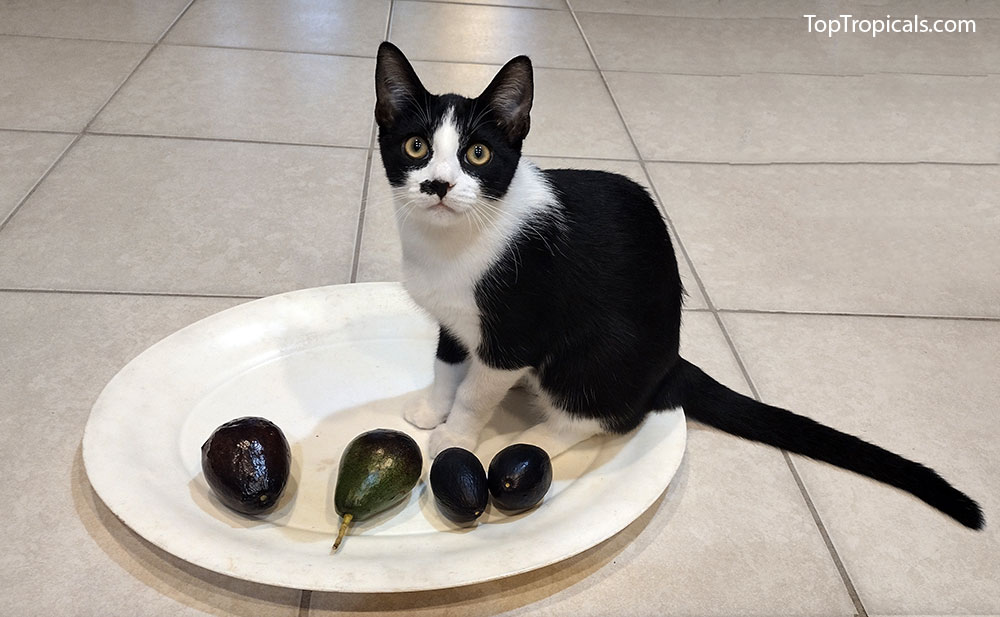 At TopTropicals, healthy and tasty avocados are available in a number of varieties, over 30 choices right now! We also have prices as low as $59 and you can always use our newsletter coupons to save even more. Try all the varieties and start or expand your Avocado Super Garden today!
If you are local, come pick up large 15 gal Avocado trees from our Garden Center in Ft Myers or from Sebring B-Farm in Highlands County.
---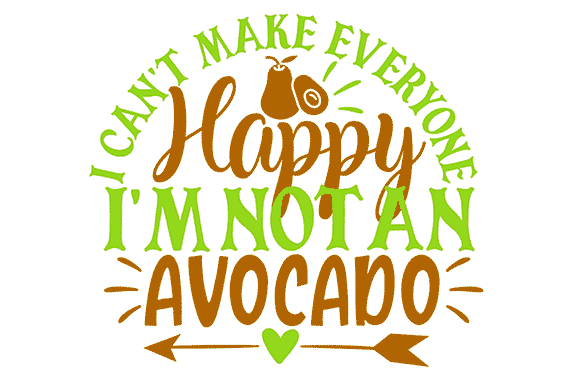 Do you like Avocado? Who doesn't! With prices going up and up, it's time to grow your own! This Spring, we introduced an even larger scale production of our all time favorite fruit trees - the Avocados. Many varieties are already available and even more to come!
Only $59.37!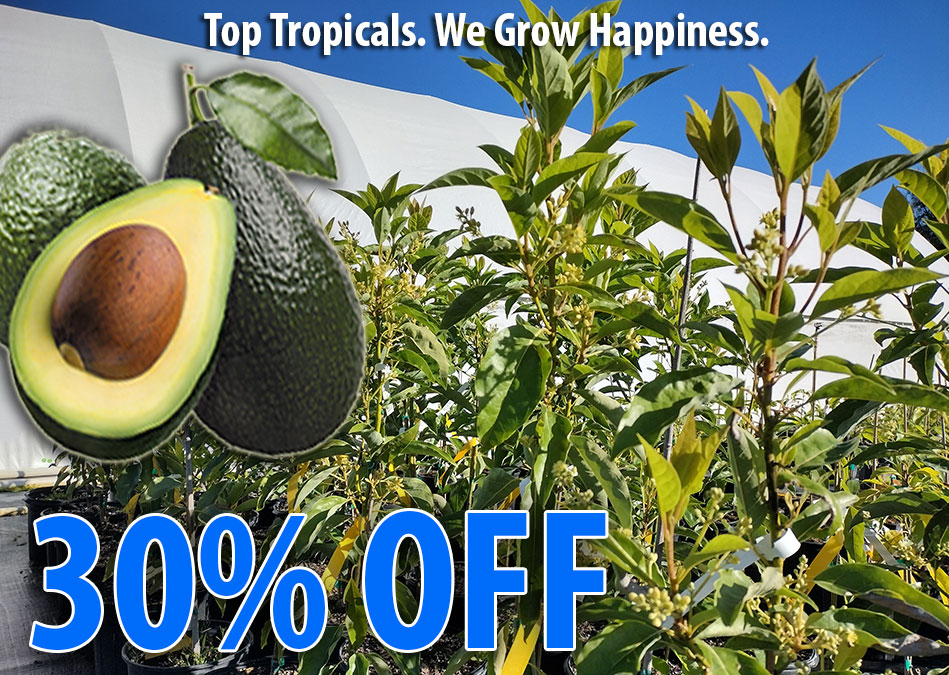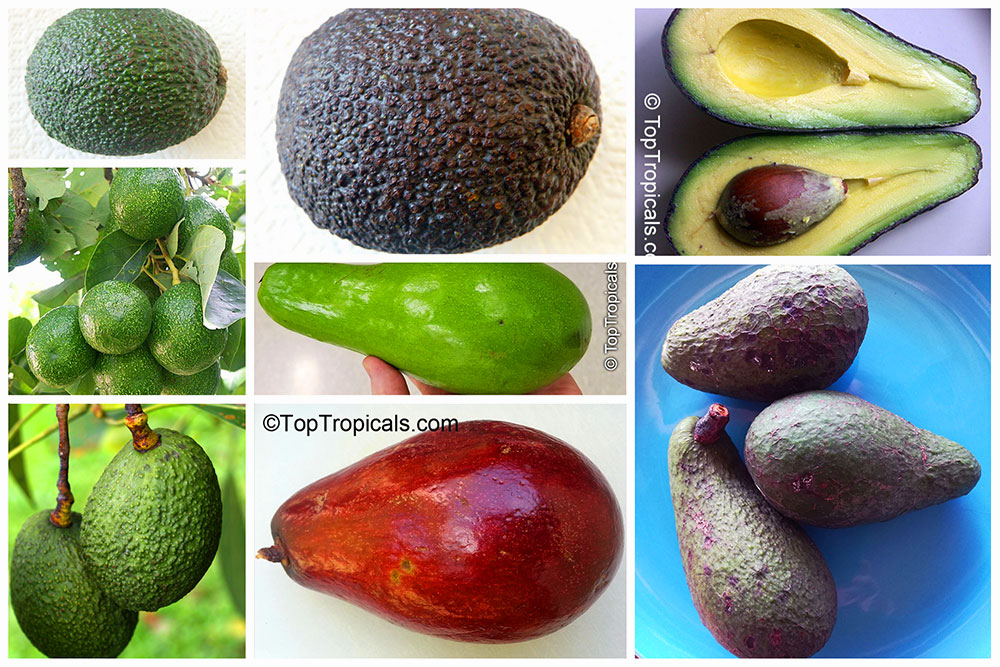 ---
GROW YOUR OWN FOOD:
Jackfruit Sale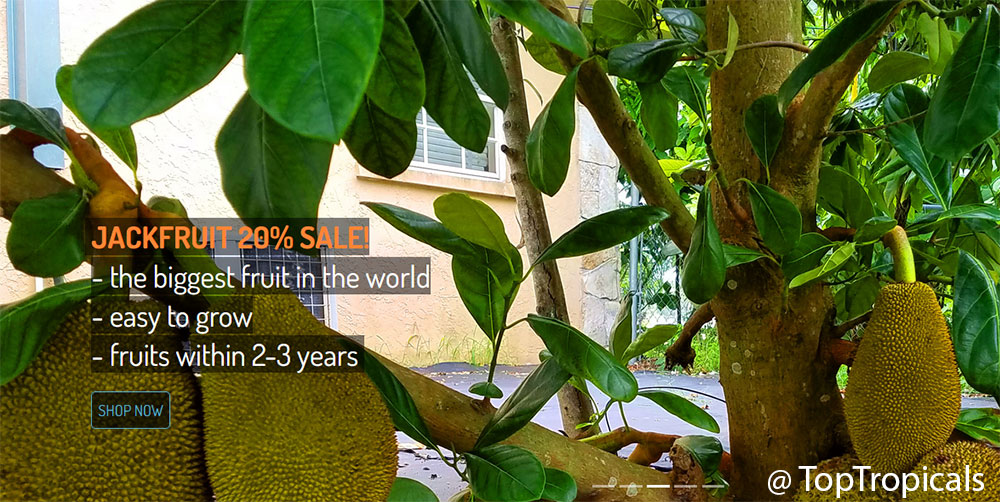 Limited time offer - while supply lasts:
20% off Jackfruit varieties
---
---
Special Deals for Booster add-ons
as low as $9!
Special deals during this Holiday season include add-on fertilizer deals as low as $9, when you buy them along with the following plants:
Mango trees - Mango Tango Booster
All other fruit trees - C-Cibus Crop Booster
Desert roses - Megaflor Booster
All fragrant plants - Pikake Booster
Heliconias and Gingers - Robusta
Pineapples - Ananas Booster
All flowering vines - Megaflor Booster

Stash up for the coming growing season and start using Sunshine plant food right away!
Your plants deserve the best, and Sunshine Boosters delivers

---
FREE and DISCOUNTED SHIPPING
Free and discounted shipping. We all know that prices are going up everywhere. Food, fuel, housing, materials, basic necessities... We can't change those, unfortunately, but what we have been able to do is to bring down the prices for shipping your tropical plants to you.
We have been working closely with our shipping carriers to secure our biggest rate discounts for you, our valued customers. We are passing those reductions on to you in the form of free or reduced shipping charges and have capped your shipping costs, too!
If you live in Florida, your shipping can be free with a qualifying order. If you live in one of the service areas outlined on our shipping information page, you will know upfront the maximum amount you could be charged for shipping, regardless of the size of your order!
Every little bit of savings helps in today's world, and we want to thank you for staying with us.
---
Special Promotion for Fertilizer Add-ons

Buy Together and save on Sunshine plant food!
Buy any Mango tree and save on Sunshine Mango Tango Plant Booster
Buy any Fragrant plant and save on Sunshine Pikake Plant Booster!
Buy any Ginger or Heliconia and save on Sunshine Robusta Plant Booster!
More add-on savings with a purchase:
All fruit trees - C-Cibus Crop Booster
Desert roses - Megaflor Booster
Pineapples - Ananas Booster
All flowering vines - Megaflor Booster

---
On sale today - discounted items while supply lasts:

---

---


Buy One Get One FREE!
6 ADVANTAGES OF BOGO OFFER:
1. Save money: 100% cost of 1 plant (obvious)
2. Free gift. Get 2 plants - 1 for yourself, 1 as a gift (at no cost!) for your friend or a loved one.
3. Protect your plant collection. Plant collectors prefer to own at least 2 plants of the same species,
in case something happens to one, you still have another one!
4. Symmetrical planting - on both sides of a driveway, one pot on each side of the entrance, etc.
5. Get twice as much of flowers or fruit!
6. Cross-polination between the 2 plants will provide better fruit crop and seeds production
See all plants in Buy-1-Get-1-Free offer. While supply lasts.
---
Don't miss out! Receive discount codes in every newsletter