Don't miss out! Subscribe to receive Happy Gardening Tips, new arrivals notifications, and discount codes in every newsletter!
---
TopTropicals Newsletter - 19 Jul 2019
Growing Coconuts from seeds. How to grow Soursop in a pot.
15% OFF growing supplies. New: large packs of plant boosters.

Summer is the Grow Season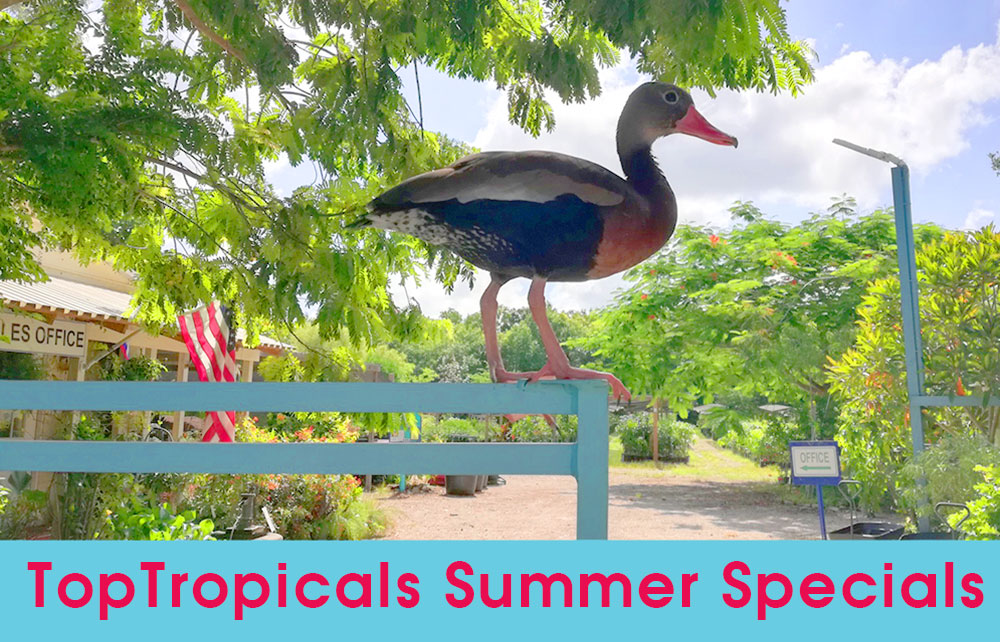 "Study nature, love nature, stay close to nature. It will never fail you"
- Frank Lloyd Wright -
Stay Happy and baby your Happy Plants!
Instant 15% OFF all growing supplies, 4 days only!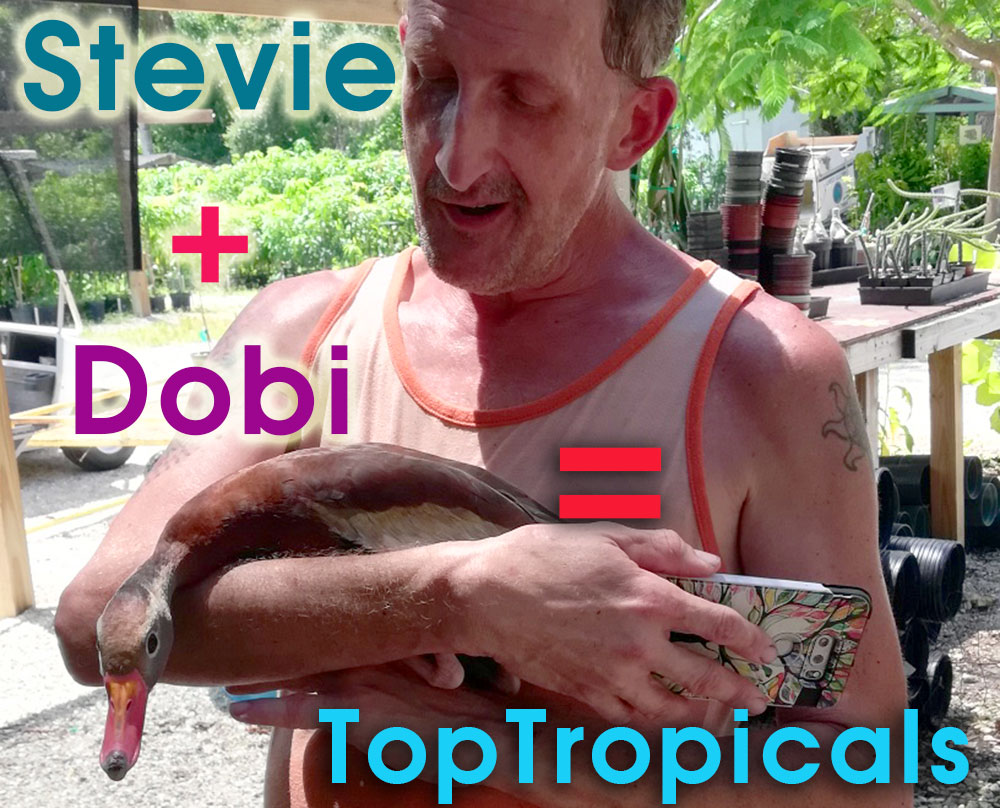 Summer is the Grow Season, and we have been getting many requests from customers for larger packages of fertilizers and plant boosters. Everybody wanted to get more plant food and supplements for their large plant collections and gardens.
Now you can buy larger amounts, keep the whole garden happy, and save! Check out our full selection of plant boosters, fertilizers, and bio-stimulants.
Don't forget to get special potting soils and growing media for seeds, cuttings, and baby plants!
Get all growing supplies 15% OFF with FREE SHIPPING!
No minimum order required. Offer expires Tuesday, July 23, 2019.

Growing Coconuts from seeds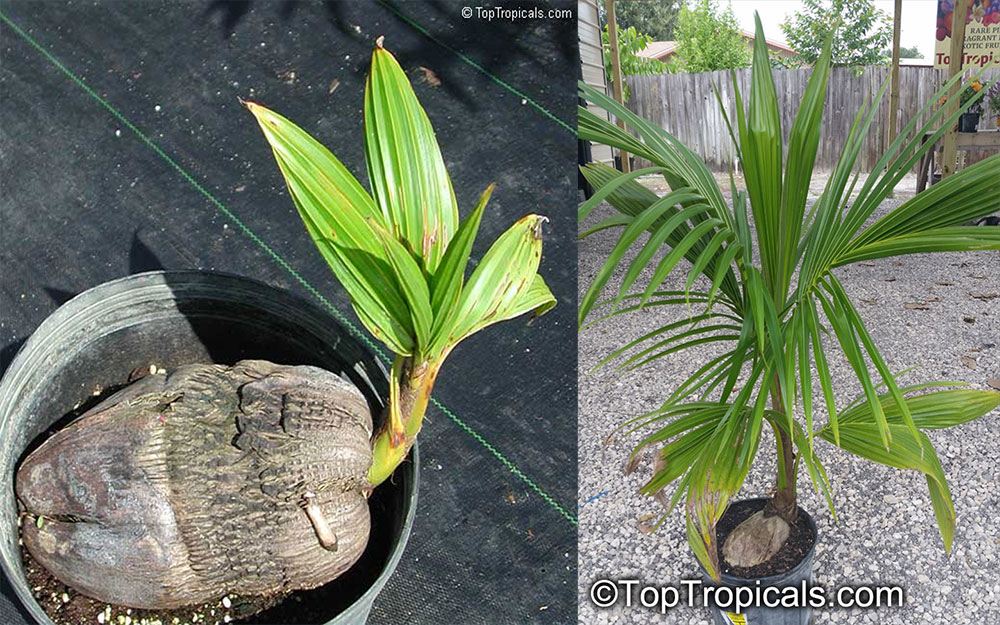 Q: Good afternoon Anna, hope all is well. I have a question regarding Coconut growth. When I planted my coconuts seeds I notice they had water in it, after checking 6 months later I took one out from the pot and shock to see if still had water but notice no water shaken inside, still, no plant growing on all 6 seeds but no water noise inside of them. Can you indicate if I should discard them or are they still have a chance they will germinate?
A: Coconut seeds normally germinate within a month from planting. If there is no growth within 6 month, chances are the seed was not ripe enough, or didn't have proper conditions for germination.
To grow a coconut palm from seed, place the nut on top of the soil (if in a pot, must be at least 3 gal pot) on its side, and bury it in soil half-way. Keep it warm (75F or higher, the warmer the better), in full sun, and soil must stay moist. Start fertilizing when the seed sprouts.
RECOMMENDED FERTILIZER:
Purple Palm Food - Smart Release Palm Booster
Photo below:
James Coconuts, one of our customer service reps, will be happy to answer all your questions! (Anna Banana, Stevie, or Onika can help when Coconuts is out of the office).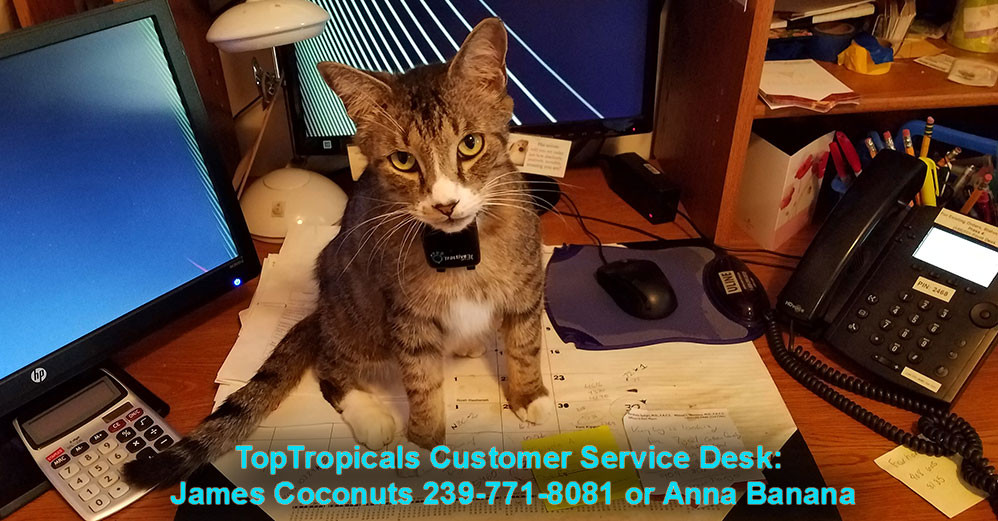 How to grow Soursop in a pot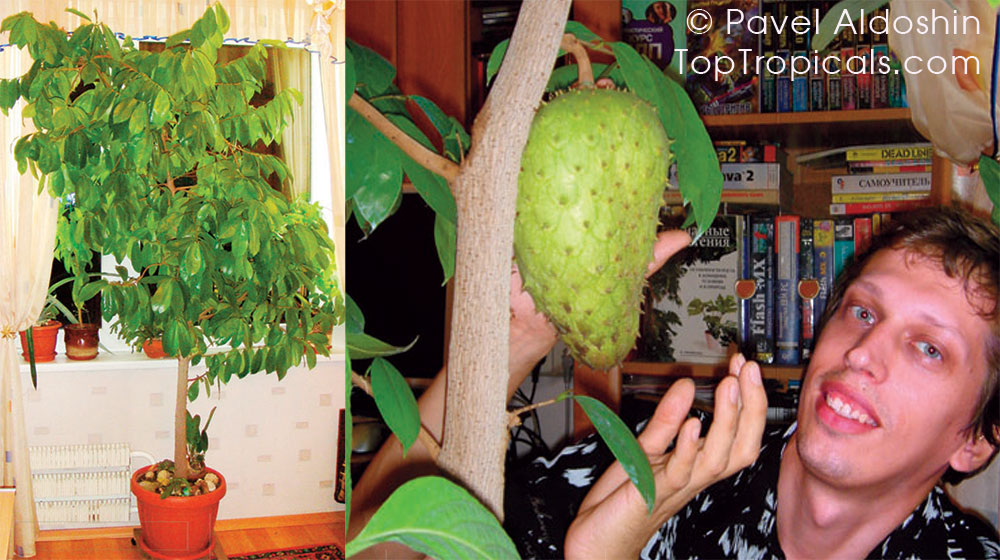 A: Is it possible to grow soursop in a large pot for life?
A: Soursop, or Guanabana - Annona muricata - is actually one of those tropicals fruit trees that can be easily cultivated in a container. Most plants of genus Annona have compact nature, and these fruit trees usually start production at young age, as early as 3 years from seed. Annona muricata seedlings take a little longer to fruit, this is why we offer grafted trees, which can start producing right away.
We have very interesting article about growing Soursop in apartment. The article was written by indoor gardener who lives in very small condo in Moscow, Russia. He grew this tree from seed and after years of cultivation fun he finally got several large delicious fruit! It is an amazing story. We have it published in our Tropical Treasures magazine, download the whole issue #7, get a hard copy, or you may download PDF file of the single article.
Recommended fertilizers and supplements:
Fruit Festival Plant Food - Super Crop Booster
Mango-Food - Smart Release Fruit Tree Booster
SUNSHINE-Honey - sugar booster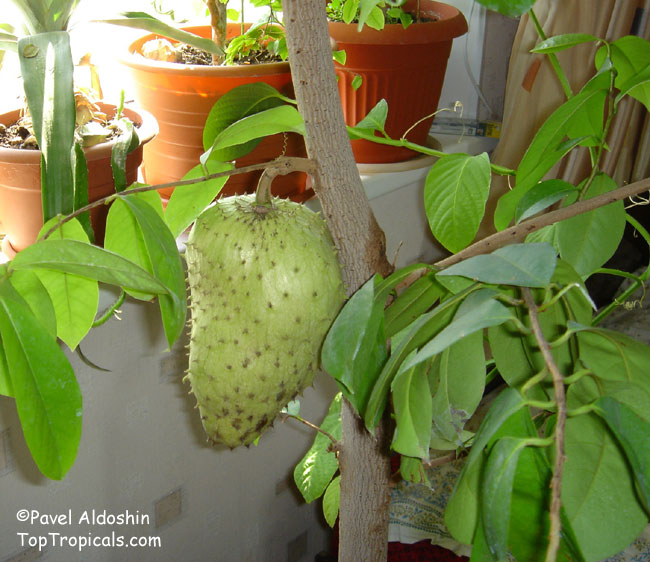 NEW: large packages of plant boosters!
(per customer requests)
HAPPY GARDENING!
10% OFF your next order plus additional 5% OFF all orders over $100!
Use code 708518149166 at checkout.


---
Share this page with:
©Top Tropicals LLC, 2003 - ©TTmagazine.info, 2007 -
Using TopTropicals.com images