Don't miss out! Subscribe to receive Happy Gardening Tips, new arrivals notifications, and discount codes in every newsletter!
TopTropicals Newsletter / 18 Mar 2019
Cocoa plant after winter. Amazing Typhonium Voodoo Lily.
St Patricks Day Sale - one day left.
St Patrick's Day last day sale!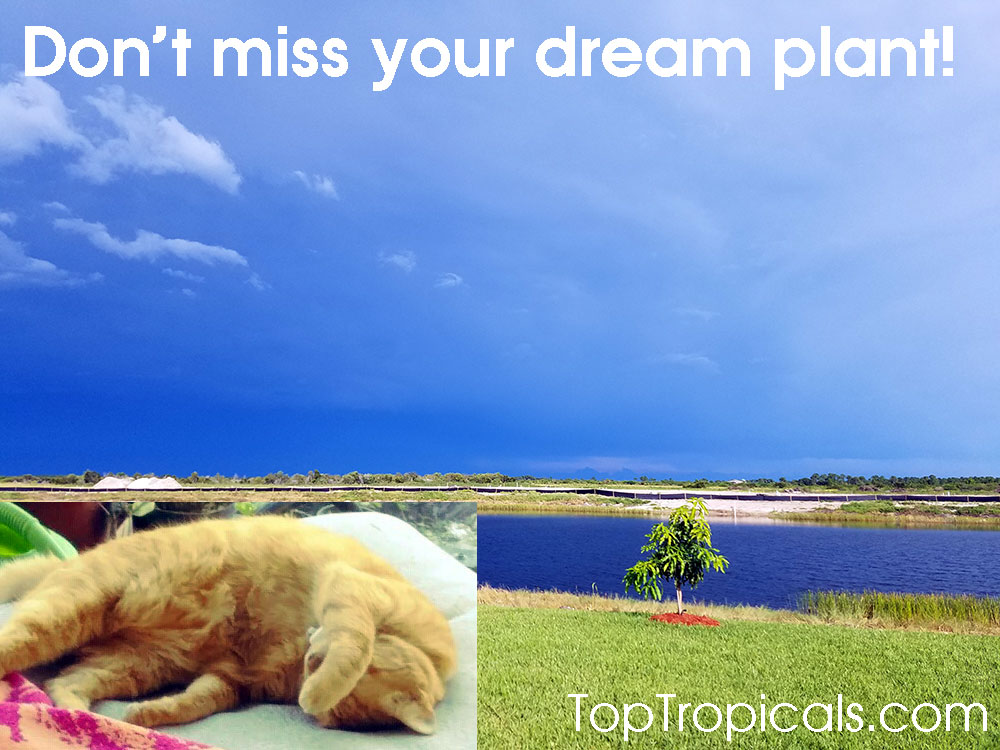 "We all keep dreaming, and luckily, dreams come true."
(Katie Holmes)
Last day of St Patrick's Day Sale!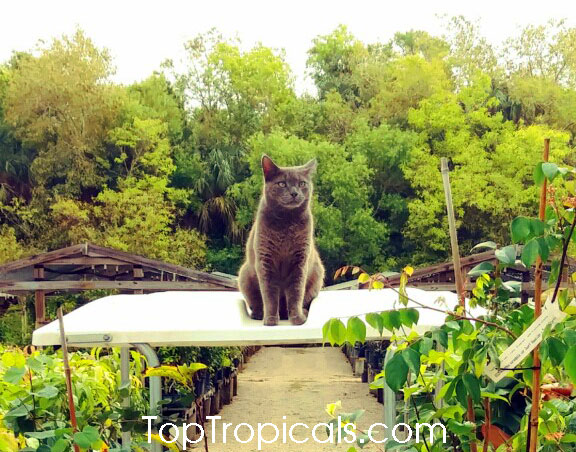 Only one day left! Don't miss this sale, order today! Discounts for you:
Code STPATRICKS15 - for 15% OFF all orders over $150
Code STPATRICKS20 - for 20% OFF all orders over $200
Exp. end of the day Monday, 3/18/19. Excluding S&H... but remember to check out our FREE shipping!
Call Anna Banana and James Coconuts desk for our best GREEN plants selection! 239-771-8081.

Cocoa plant after winter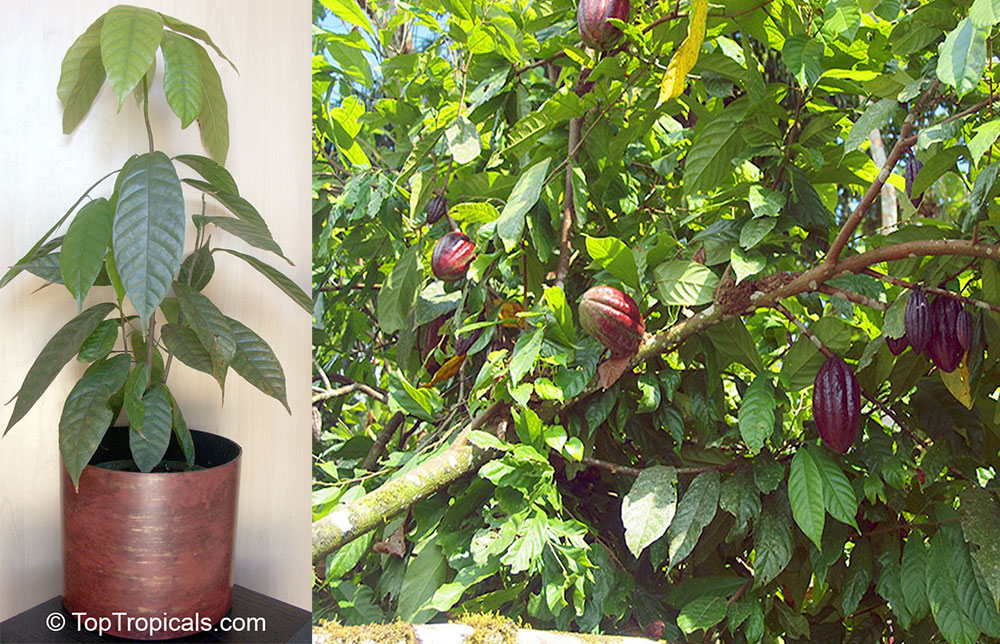 Q: I purchased the Theobroma cacao two months ago. The leaves are wilting from the edges. Do you think this from not enough water, too much water or not enough sunlight? I am keeping the plant indoors.
A: During winter time, Cocoa plants even inside our greenhouse look the same. Dry tips of the leaves are normal for this time of the year. It is a combination of lower temperatures and low humidity that causes it. Indoors air humidity is especially low. Weather permitting, bring plant outside in the bright shade, when temperatures are above 65F. Humidifier and water-spraying will help too. You may put the plant on top of a tray with pebbles/water. Do not overwater - extra watering is not a substitute for high humidity. As spring comes, Cocoa plants start looking greener and grow new healthy leaves.
Featured plant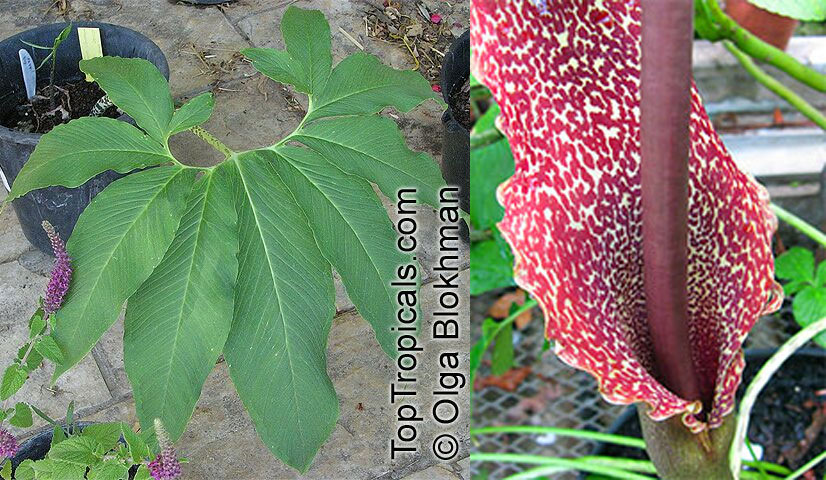 Rare Amorphophallus ralative, Typhonium venosum (Sauromatum venosum), is a common shade-loving house or garden plant from temperate and tropical Africa and Asia. This plant is also known as the Voodoo Bulb because of its ability to flower from a corm without soil and water. Tuberous perennial with solitary, segmented round leaf and strange, arum-like flower. Rare collectable, it is a showy exotic container plant.
Typhonium grows to around 20 inches tall from an underground corm. A large corm can spawn multiple new corms. Inflorescences emerge before the leaves. An inflorescence has a purplish-brown-spotted, yellowish spathe and a purplish-brown spadix which emit a strong odor perceived as similar to cow manure, rotting flesh, or a dirty wet dog, depending on who smells the inflorescence ;) The odor lasts only a day and attracts carrion-feeding insects which can pollinate this plant.
Plants we have in stock, have tubers 1-2" in diameter. The plant goes dormant in winter and starts sprouting in March-April. Keep soil slightly moist but not wet, and wait for the magic leaf to pop up... The plant should flower within a year or two.


HAPPY GARDENING!
10% OFF your next order plus additional 5% OFF all orders over $100!
Use code 305314149645 at checkout.


---
Share this page with:
©Top Tropicals LLC, 2003 - ©TTmagazine.info, 2007 -
Using TopTropicals.com images