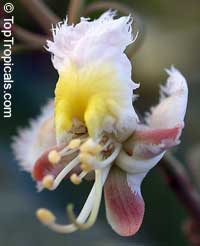 Family: Malpighiaceae
Scientific names/synonyms: Hiptage benghalensis, Banisteria benghalensis, Banisteria tetraptera, Hiptage javanica, Hiptage macroptera, Hiptage madablota, Hiptage malaiensis, Hiptage obtusifolia, Hiptage pinnata, Hiptage teysmannii, Molina racemosa, Succowia fimbriata, Triopteris jamaicensis.
Common and local names: Helicopter Flower, Adimurtte, Adirganti, Atimukta, Chandravalli, Haldavel, Kampti, Kamuka, Madhalata, Madhavi Lata, Madhavi, Madhumalati, Madmalati, Ragotpiti, Vasantduti
Origin: native to warm-temperate Asia (South China and Taiwan) and tropical Asia (India; Indochina; Indonesia; Malaysia; Myanmar; Philippines; Sri Lanka; Thailand). Also cultivated elsewhere in the tropics, and widely introduced to Hawaii. Other species occur in Western China, subtropical Asia, Formosa, Malaya and Pacific Islands.
The genus name, Hiptage, is derived from the Greek, hiptamai, which means "to fly" and refers its unique three-winged fruit.