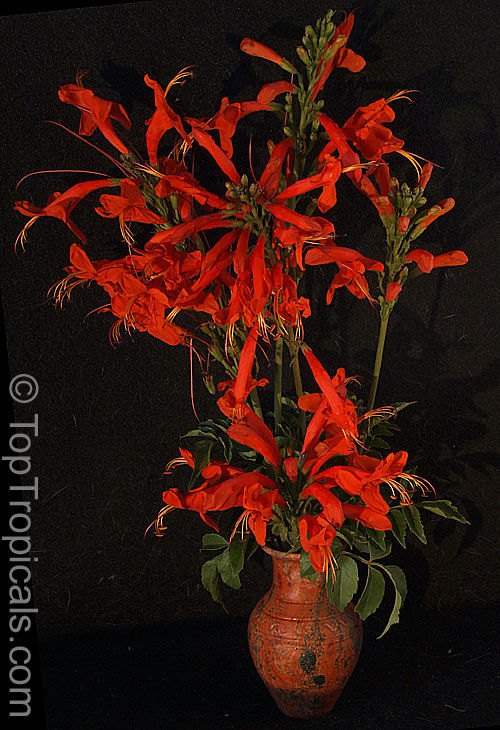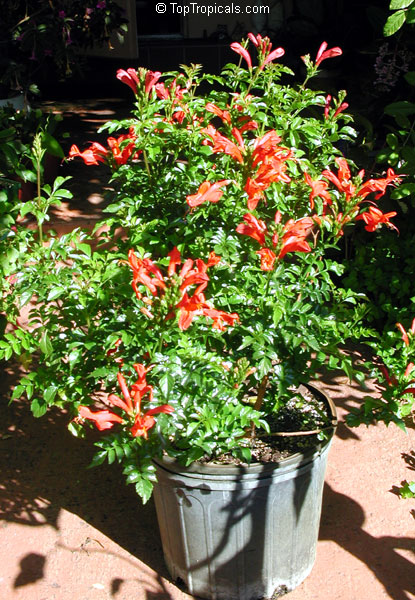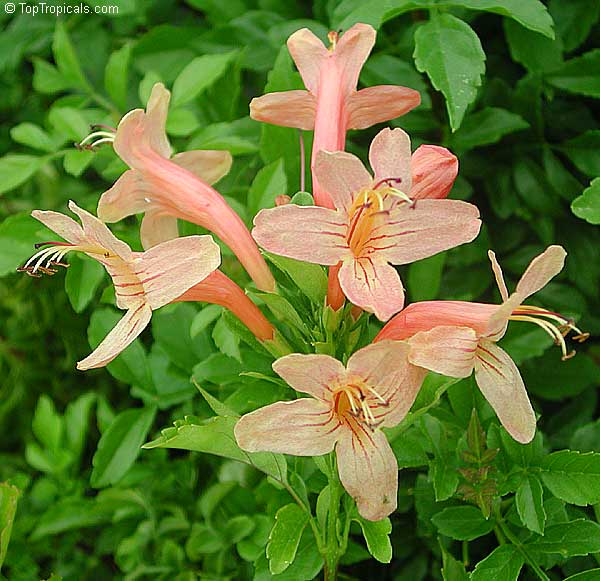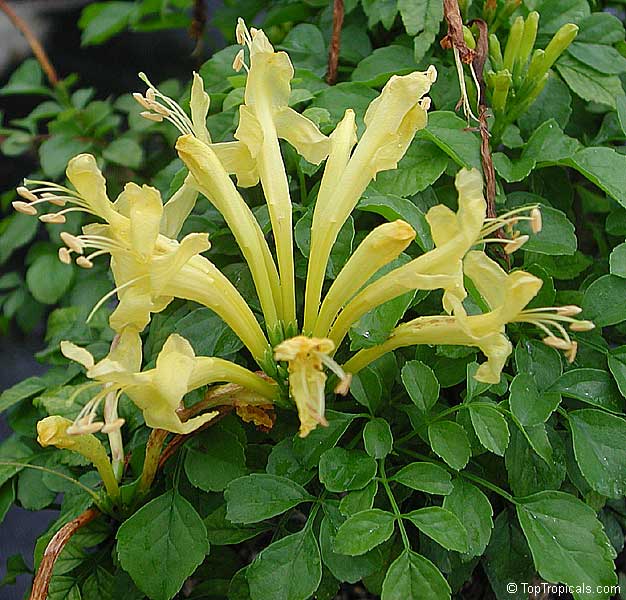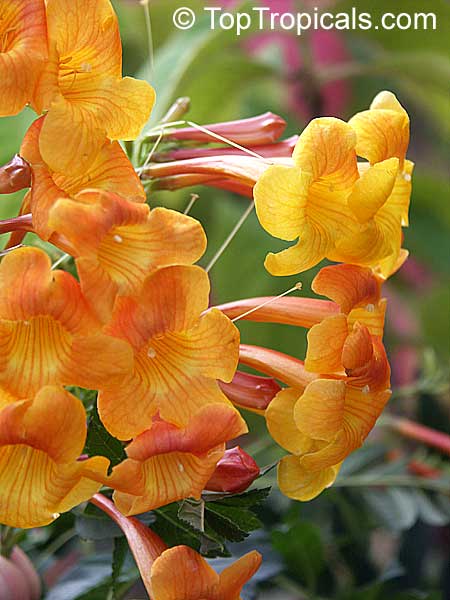 Tecoma elata - close related species with beautiful, large, orange flowers.
Scientific name: Tecomaria capensis, Tecoma capensis
Family: Bignoniaceae
Common name: Cape Honeysuckle
Origin: South Africa, Mozambique
There are many gardeners that are simply in love with red flowers.
Whatever makes them special, they are definitely flowers of pure passion and love. One of those flowers is Tecomaria - Cape Honeysuckle, a subtropical vining shrub from South Africa. It originates from the Cape of Good Hope region, where there are more endemic plant species than any other area in the world. It has escaped from cultivation and become established in Hawaii and Central Florida.
Tecomaria has attractive, dark green foliage and frequent displays of long, tubular red to orange flowers at the ends of the stems. They are the best hummingbird attractors! The plant blooms year round in warm areas, in cooler climates the most profuse blooming is from Fall through Spring which provides a wonderful winter color.

This is a fast growing sprawling plant that, if left unpinned, puts out long stems and becomes almost a vine that needs some kind of support. Tecomaria can be grown against a wall, where it can cover large areas if manually attached. As a fast grower, it is a good choice landscape plant to cover a fence, or create a privacy hedge within very short time. If kept clipped, the plant can be used as a low hedge, and creates tropical effect for pools and oasis zones. It is especially attractive cascading over walls or planters, can be trained to a garden arch or as an espalier.
Cape Honeysuckle needs very well-drained soil, prefers full sun, but will bloom in filtered light as well; flowering is best is slightly cooler climates. Once established, the plant doesn't require much water or care and is free of pests. It is fairly salt resistant and can be used for seaside plantings. Cape Honeysuckle accepts acidic to alkaline soils.
It is a cold hardy plant, perfect for gardens in zone 9 (reported also as surviving in zone 8). Hardy to 26° F, can sustain minor damage if unprotected, however recovery is generally rapid. Light frost usually doesn't make much damage, in cool winter it may become semi-decidious. With increased freeze, the plant may die back but comes back from roots in spring.
The plant comes in several varieties, including yellow, apricot flowers, and one of the most impressive cultivar "Salmon" which isbright orange. The Samon variety has a very slow growth habit and can be trained as a small tree or compact bush.