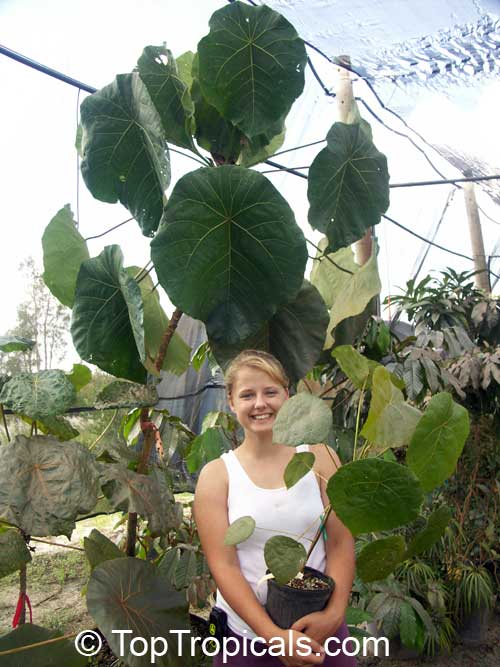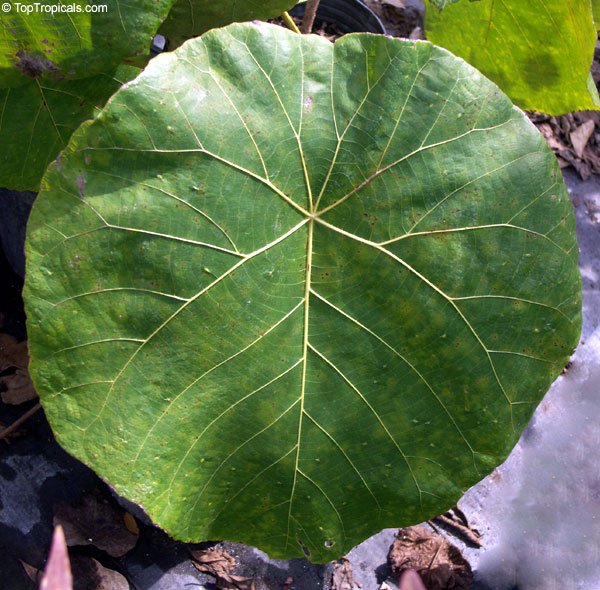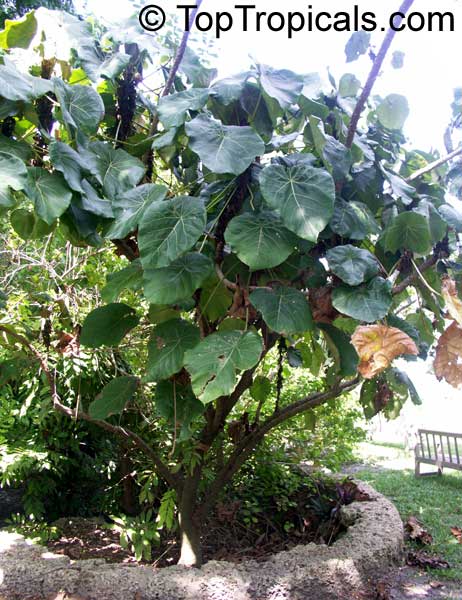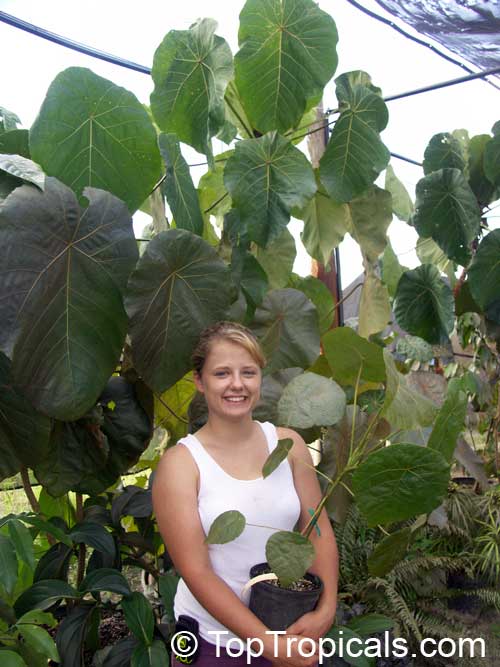 3 y.o. tree (in the background, in a pot) and 6-months seedling (in hands)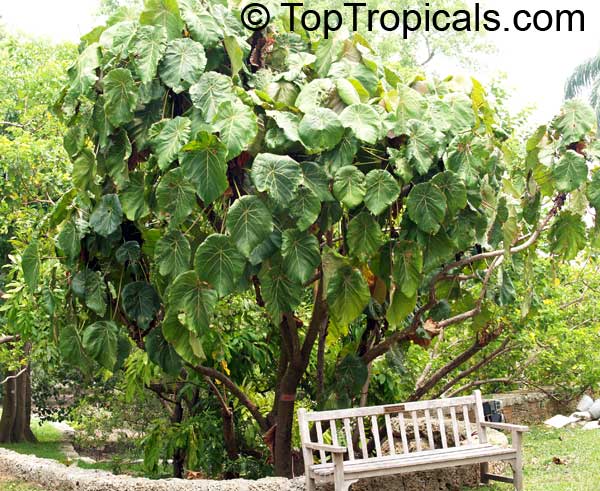 Scientific name: Macaranga grandifolia
Synonyms: Macaranga longifolia, Macaranga mappa, Ricinis mappa, Croton grandifolius
Family: Euphorbiaceae
Common names: Macaranga, Nasturtium Tree, Parasol Leaf Tree, Bingabing, Coral Tree
Origin: Philippines
Macaranga grandifolia is a spectacular plant with tree-like habit and large, 1-2 ft wide, showy leaves. They feel tough by touch and resemble in shape nasturtium leaves. It is Philippines endemic and has been widely cultivated in Hawaii as a tropical ornamental. This plant has become very popular garden ornamental in many parts of the tropics for the extraordinary grandiose leaves, which are rounded-ovate in shape, with prominent, reddish veins and the stem attached towards the center of the leaf blade. The flowers are pinkish red and the males are held in coral-like, congested inflorescences.
The genus Macaranga is made up of about 250 species from tropical Africa, Madagascar, and Malesia to Australia and some parts of the Pacific, though none are native to Hawaii.
As fast growing pioneer trees, Macarangas are popular in Tropics also for their ability to regenerate degrated forest land. In Hawaii, Macaranga was originally aerially seeded by plane after a large fire swept through Hilo on Big Island. Now the plant forms large dense stands in this area and is naturalized in lowlands of islands of Oahu and Hawaii.
Macaranga is a dioecious tree, which means male and female plants are required for seed production. Ripe seeds are very attractive to birds. Fruit are bright red when ripe.
In Philippine folk medicine, Macaranga was used as a remedy for enlarged bellies; powdered roots used as emetic; decoction for hemoptysis; decoction of bark for dysentery; glue from stems applied to toothaches. Twine was made from the bark and the wood was used for fishing spears; the leaves were used to wrap food. Glue from the tree bark used for fastening parts of musical instruments. Bark and leaves used in making "basi," a fermented drink. Bark material used to make containers.
The plant is considered to be tropical species. However, experience of growing this plant in subtropical climate shows its hardiness at least to zone 9b. A large specimen of Macaranga grandifolia grows in Leu's Botanical Garden in Orlando, FL.
In spite of huge leaves of Macaranga grandifolia, the tree itself has somewhat compact nature and stands 10-15 ft from the ground. It can be easily kept in a large pot (10-15 gal) for many years. Fast growing, Macaranga reaches a mature size within 2-3 years. In a pot, it usually grows as tall as 7-9 ft and creates comforting shade and effective wind protection for other plants in tropical collection. It is an excellent specimen for a greenhouse outside tropical areas, or bizarre indoor plant.
While being relatively cold hardy and suitable for subtropical climates, Macaranga makes an excellent tropical look and a host for exotic creatures...

Coral-like male flowers are held at the base of the leaves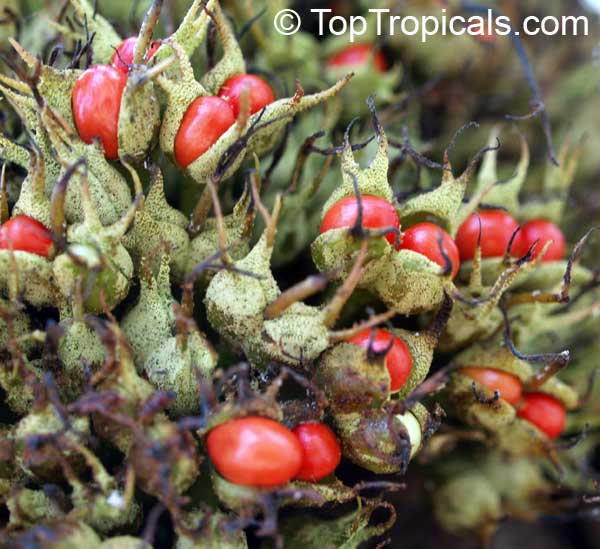 Ripe seeds on female plant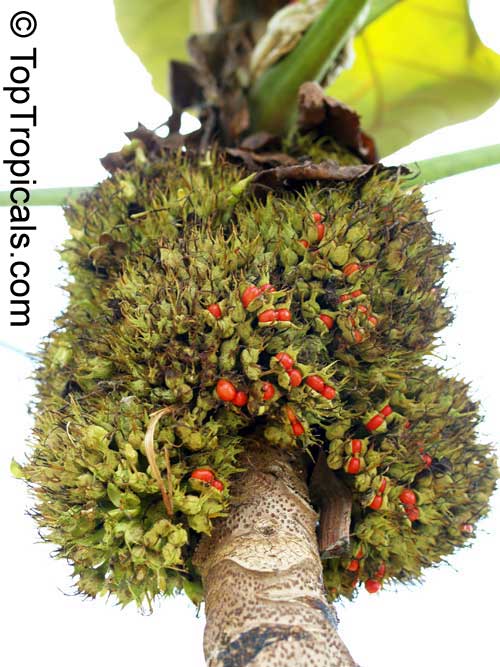 1-year old tree in 3 gal pot