Relatives of the Randia formosa are valued fragrant plants such as:
Culture of Randia formosa
Blackberry Jam Fruit can take both sun and shade. However, in filtered light leaves look healthier and greener.
The plant is relatively cold hardy and is said to withstand as low as 26F. However, young plants are more sensitive and should be protected from chill winds and frost. During cold period, watering should be reduced, otherwise leaves may become chlorotic - Randia formosa is very sensitive to over-watering particularly during cool season.
This species is reported to be drought tolerant, however, it requires regular watering until the plant is well-established. Young plants easily droop leaves if underwatered, they may even loose all the leaves overnight if the soil gets too dry! However, the plant usually recovers very quickly and new growth comes in a few days to a week.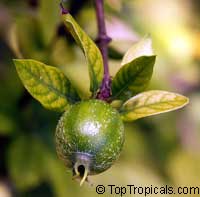 In general, Randia formosa is easy in cultivation. The two most important requirements are - acidic soil and good drainage. If these two conditions are missing, most likely the leaves may turn chlorotic (yellow with green veins, see picture on the right) once there is a chance of a slight over-watering. This is not a fatal failure though, but effects the looks of the plant.
The best mixture for this plant is - 50:50 mix of perlite and peat moss (or coconut fiber). You may add some pine bark for a better drainage, too. Use slow-release fertilizer and apply microelements on regular basis to avoid possible chlorosis.
The Blackberry Jam Fruit is definitely a conversation piece, and tasting a "blackberry jam" from a gem of your rare fruit collection will always bring fun time for your family, friends and garden visitors.