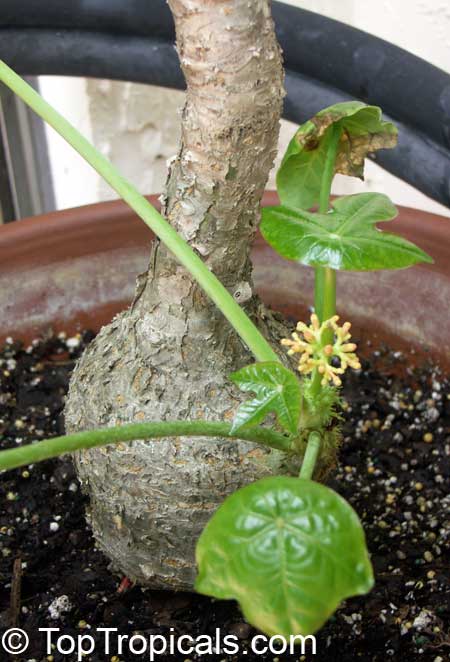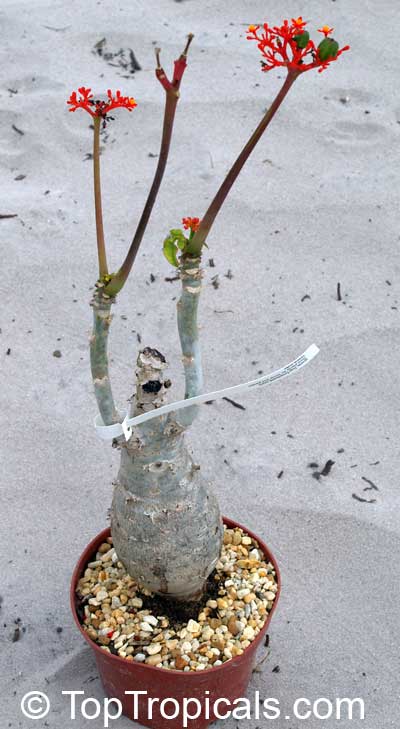 In winter leafless silhuettes look like big-bellied bodies with hands up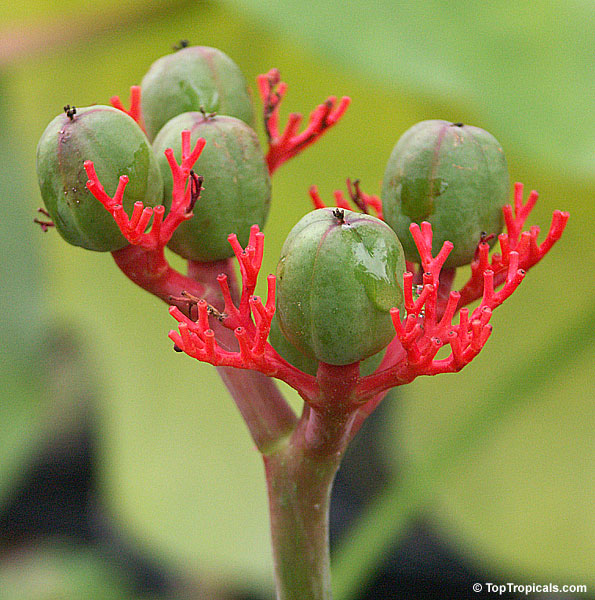 Scientific name: Jatropha podagrica
Family: Euphorbiaceae
Common names: Gout Plant, Gout Stick, Buddha Belly, Guatemala Rhubarb, Tartogo
Origin: Guatemala, Honduras, Nicaragua
This is a superb and rarely obtainable succulent plant that will be of great interest both to succulent lovers and those looking for a very different house plant. Gout plant is an attention grabber and one of the most exotic and weird looking tropical plants. It will catch everybody's eye and can become a centerpiece of a small garden.
This showy plant grows about 2-3 ft high. It has a knobby, grey-skinned, much swollen stem - a large bottle-like caudex, and huge three-lobed smooth waxy leaves are up to 10-12 inches in diameter. Pretty, brilliant scarlet coral-like flowers are in large terminal clusters. The flowers are are long-lasting, you will see them almost year round, more in the warmer months of the year. They will attract butterflies, too!
The Gout plant is treasured for its swollen "belly", it is a great natural bonsai. It makes a good potted plant but can also be used as a conversation piece specimen in a small garden.
Besides its cool looks, the great feature is - anyone can grow it! Jatropha podagrica is very easy to take care of. It requires well-drained soil, very little water and a sunny to filtered light location in a pot or in the ground in frost free areas. Does better with at least a few hours of sun. However, the less sun, the bigger the leaves will grow.
In the winter it will loose leaves but the coral red flowers will stay. Reduce the water in the winter and don't fertilize until the plant wakes up in the spring.
Propagation is by seeds, which are produced freely and germinate easily. When the seeds ripen, they burst open, so watch them to turn brown before you miss them jumping away! Seed pods will explode, launching the seeds several feet away.
The plant is used in pharmacology. Hexane, chloroform and methanol extracts of the rootwood and rootbarks of Jatropha podagrica were studied for their antimicrobial activity against 18 organisms. As many other plant of Euphorbia family, Jatropha plant parts can be toxic, especially seeds. Keep your eye on small kids and don't let them play with Jatropha seeds.