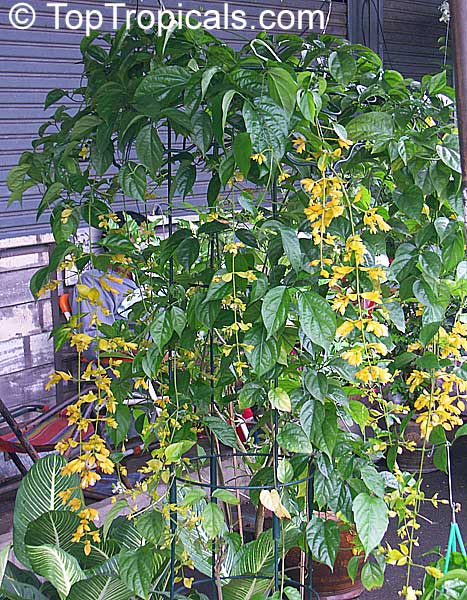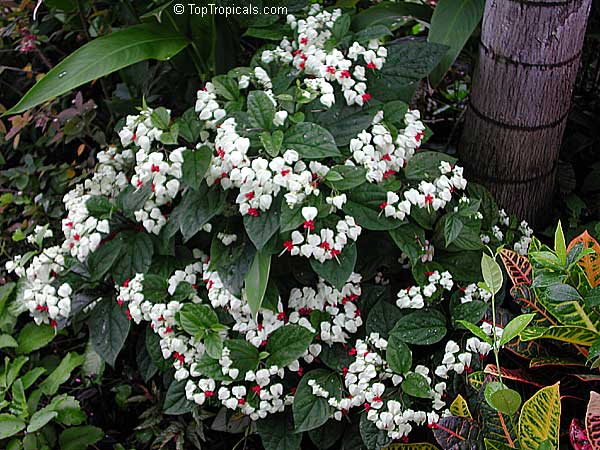 Scientific name: Petraeovitex bambusetorum
Synonyms: Petraeovitex bambusitrum, Petraeovitex wolfei
Family: Lamiaceae
Common name:
Nong Nooch Vine
Origin: Thailand
Scientific name structure:
- petraea/petraeus: rock-loving
- vieo: to plait, tie up or twine
- bambusa: bamboo-like
- toreo: to bore through, to pierce; or tortilis (twisted)
This stunning climber is so rare in cultivation that one can hardly find enough information about it in existing sources. If you have ever visited Thailand, you may have seen this vine in Thai gardens or Chatuchak plant market in Bangkok. Comon name Nong Nooch Vine comes from the world famous botanical garden Nong Nooch in Pattaya, Thailand.
Flowering from spring through fall, the inflorescence opens over many weeks, the blooms form on the tips of its vining stems and pendulate down with soft yellow bracts and creamy white flowers.
For a long time, this plant was placed in Verbenacea family. Truely, the flowers, leaves, and growth habit is so similar to clerodendrums! Just compare it to a garden favorite Bleeding Heart (Clerodendrum thomsoniae). However, according to Dr. John Mood, Verbanaceae and Lamiaceae were always problem families due to morphological overlapping.  With DNA, it can be concluded that the difficulties were real and that many genera placed in Verbenaceae should have been in Lamiaceae.
Nong Nooch vine it much more suitable for container culture than some clerodendrums. The vine brings ease of culture, vigorous growth and stunning floral form to the container gardener. Although tropical vines are not something that anyone can grow, due to space issues, this is one that will bloom if kept trained to a hoop or a trellis. During warm season, it's pretty fast growing, but has much more delicate growth habit than clerodenrum vines. If grown on a trellis or a fence in warm climates, Nong Nooch Vine can also create a nice privacy with its attractive, dense dark green foliage.
In a greenhouse, you will be very much pleased with it, trainning it on a pole or in a large hanging basket. The only requirement - leave enough room for the blossom stems to hang, since they can hang as long as 2-4 ft down.
This rare and hard-to-find plant is easy to cultivate. Just create a frost-free environment, and enjoy the cascades of gold!