Synsepalum subcordatum - large leaf variety, 1 ft tall plant fruiting in 3 gal pot
Miracle Fruit thrives best in partial shade. When plants are small they are subject to frost damage, so they should be container-grown and kept indoors or moved to protected locations when frost or freeze threatens. Older plants may sustain some leaf and minor twig damage, but may sustain cooler temperatures without being killed. Although not thought to be frost tolerant, the synsepalum plants have been observed growing in Florida in protected from wind locations as far north as Tampa.
When propagating miracle fruit, sow the seeds in a rich, well-drained medium, just barely covered, and water lightly every other day. Seeds generally come up in about eight to ten weeks, but grow slowly the first year, often being only two to three inches tall at the end of almost one year of growth. It really takes three to four years before the plants reach a height of more than fifteen to twenty inches, and then they start to grow more rapidly. However, when growing this plant from seed, be prepared to wait for a few years until you can enjoy the first fruit. If possible, it is always recommended to get a mature full specimen, at least 1 ft tall, that is ready to bloom.
There are 2 known species of synsepalum that carry miracle fruits. Synsepalum dulcificum is a smaller-leaf version (leaves are narrow), and is somewhat slower growing plant. Synsepalum subcordatum (Giant Miracle Fruit) is a larger leaf variety, and grows into a small tree. The fruit are slightly bigger than those of s. dulcificum, and are produced more profusely, especially in first years. With age, the fruit crop amounts of these two species become about the same.
THE FUN, THE TRICKS AND RECEPIES
Many people are still unaware of this rare fruit and the effect it could have on enhancing the quality of their lifestyle.
Invite your guest to taste the small Miracle Fruit berry, which is usually liked for its own sweet taste. Then offer them to taste a sour fruit from your garden collection: lemon, calamondin, key lime, eugenia, amla or any other sour fruit. They will be amazed at the "new variety's" taste and will be begging you for a cutting!


Offer the fruit and then a beer. It could kill beer appetite for more than an hour and makes beer taste like a lemonade. Heavy beer drinkers can take a break!


Try to enhance the quality of other fruit. Enjoy the delights of a bowl of tart strawberries! Lemons taste like lemon sherbet.


Miracle Fruit enhances flavor of grapefruit. A heavenly breakfast will be provided by a single Miracle Fruit berry before your morning grapefruit!


Organic acids - especially citric acid - are the substances that are modified to the greatest degree. Battery acid will NOT become a tasty drink.


Miracle Fruit is a great sweet enhancer for dieters.


The unique properties of miracle fruit have been used for an appetite stimulation of persons taking chemotherapy medicines to help them to remove the metallic taste and return the desire for food.
There are no artificial sweeteners proven absolutely safe. Sugar and other "natural" sweeteners are hardly to be considered as food with no ill effects. Miracle fruit is a natural, healthy and harmless sweetener! Due to its safety, it may have a great potential and practical use in everyday life and become a gift to humanity, a way to improve our diets and our health.
It is unfortunate that heat destroys the active principle, so that canning, jams, preserves, baking, drying, etc. are impossible. The fruits can be held for a short period of time by refrigeration or freezing.
The fruits themselves are of interest as a commercial source of artificial sweetener; however, large quantities of berries are needed to collect a substantial amount of the sweetener. The problem is how to increase the shelf life of the product. The berries are perishable, and once picked, last only a few days. Methods of shipment are not conducive to marketing the fruits and commercial cultivation of the plants was unsuccessful so far.
Miracle fruit is difficult plant to locate and is usually found only in a collector's garden.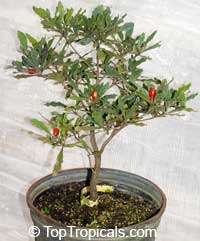 Synsepalum dulcificum - small leaf-variety, 1 ft tall plant fruiting in 3 gal pot
Bill Whitman's 20 ft Synsepalum subcordatum in his Bell Harbor garden in Miami is about 25 years old. He has harvested 850 fruits at one time.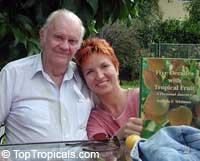 A valued present from Bill Whitman to TopTropicals - his book "Five decades with tropical fruit"