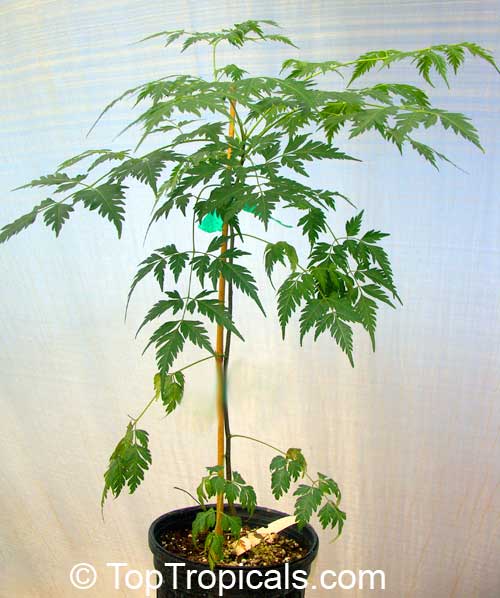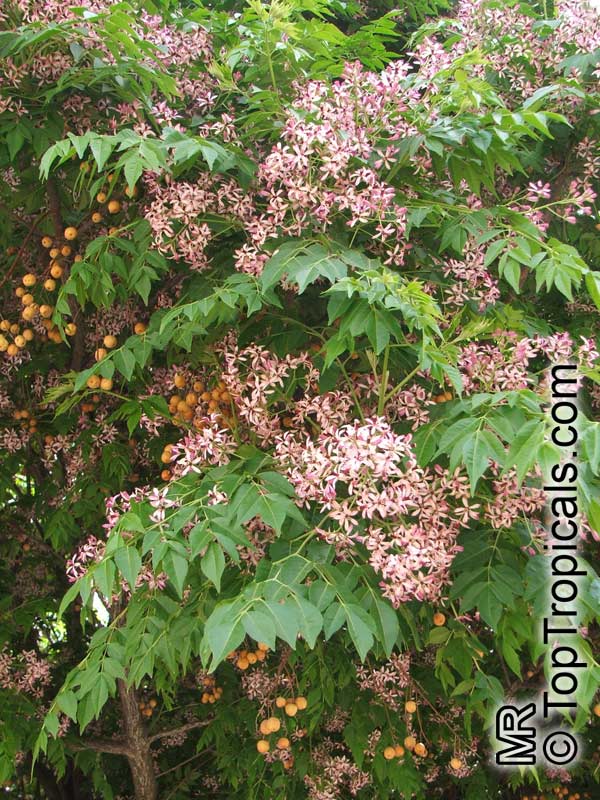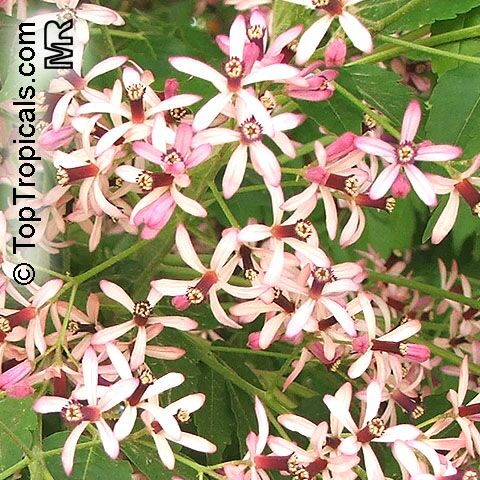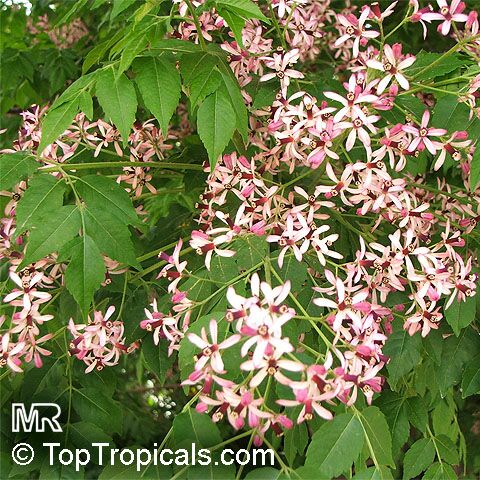 Related species: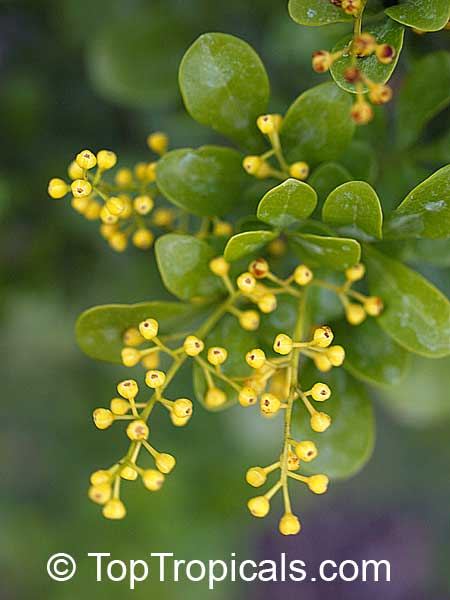 Scientific name: Melia azedarach
Family: Meliaceae
Common names: Bead Tree, Persian Lilac, Chinaberry Tree, Indian Lilac, Pride of India, White Cedar, Vaymboo, Drek, Bakain, Media Nim
Origin: India, Northern Australia
This graceful, fast growing and hardy tree combines a great number of wonderful qualities - beautiful fragrant lilac flowers, fancy foliage, landscape and and medicinal use.
Chinaberry is native to Southeast Asia and northern Australia. It was introduced into the United States in the mid 1800s for ornamental purposes. Striking and colorful, chinaberry was widely introduced as an ornamental shade tree because of its large compound leaves, its distinctive clusters of lilac-colored flowers and its round yellow fruits. Its seeds are spread by fruit-eating birds.
This lovely tree is somewhat similar to the Nim in appearance and takes the place of that tree in the Northern parts of India. Both have compound leaves with narrow, serrate-edged leaflets. The foliage is lush, pinnate and vivid green throughout summer; in autumn, the foliage turns a rich yellow.
The Bead Tree is indigenous to parts of N. India and Burma and is now cultivated in all the sub-tropical regions of the world.
Melia is the Greek name of the Ash, but is not very appropriate as there is only superficial resemblance between the Bead tree and the Ash. Azedarach is from the Persian azad-darakht.
It is a medium-sized tree, fast-growing and attaining up to 40 feet in height just in a few years. It is a good choice for those who are looking a for a fast growing, nicely blooming shade tree with umbrella-like canopy. Only within 1-2 seasons it can reach a considerable size so you can have a nice landscape specimen in no time. Considering its hardiness (the plant can take hard freeze, reported to thrive as far north as Virginia and Oklahoma), it is a good choice for creating a wind-protection canopy for other, more sensitive plants.
In the winter the leaves fall and the masses of cherry-like fruits, which, when ripe and lusciously golden, attract birds in large numbers. By March the new foliage appears, followed immediately by the beautiful sprays of tiny, lilac blooms. Growing high up on the tree, they draw attention to their presence by their delightful fragrance - powerful yet delicate. One looks up to see a multitude of little nodding blossoms loosely clustered on long-stemmed sprays. Each flower has five or six narrow mauve or white petals which on opening reveal a deep purple tube; this is actually a cohesion of the stamens.
After the monsoon the fruits form and those which are not eaten by birds eventually become very wrinkled. Each fruit contains five seeds which, having a natural perforation through the center, make ideal beads. Because of this characteristic the tree has become a popular exotic in Southern Europe where the beads are made into rosaries.
Although principally an ornamental tree it has several uses.
Large doses of the fruits are poisonous but, combined with the leaves they have a certain value as poultices in cases of headache, or neuralgia. Research shows chinaberry to have insecticidal, anti-viral and possible anti-cancer properties.
A valuable oil is procured from the roots and the timber, though not often used, is handsomely marked and easy to work. European companies make flooring from chinaberry wood.
No pests are noticed on these plant, in fact like Neem tree, it has some pesticidal properties, which makes maintenance easy and garden healthier. The tree will tolerate most soil conditions, but grows best if irrigated monthly over hot summers. It tolerates pollarding, and responds extremely well to formative pruning. It is easy to produce a beautiful tree if formative pruning is carried out regularly. The trees need to have at least 3-4 ft of clear trunk before branching. Well-produced trees will not have significant canopy development if sold at under 6-7 ft height. Purchase trees with clear straight trunks rather than those with heavy canopies; the clear-trunked individuals will become better landscape and shade trees.
Among relatives of the Melia tree there are such useful and popular plants as: Aglaia odorata (Chinese Perfume Plant) with wonderfully fragrant flowers; Azadirachta indica, a famous Neem tree; and some exotic rare fruit trees, including Lansium domesticum (Langsat) and Sandoricum koetjape (Santol).

plants

seeds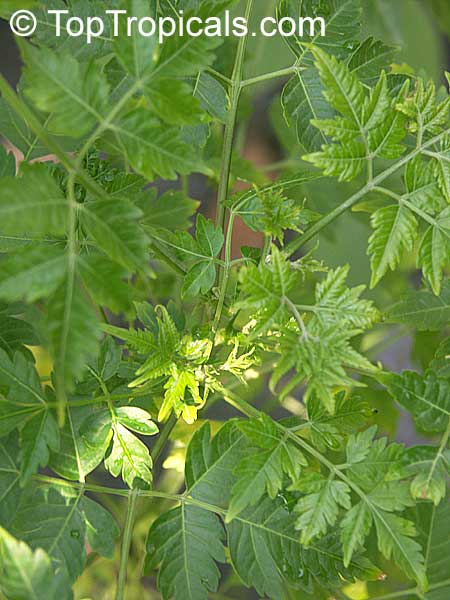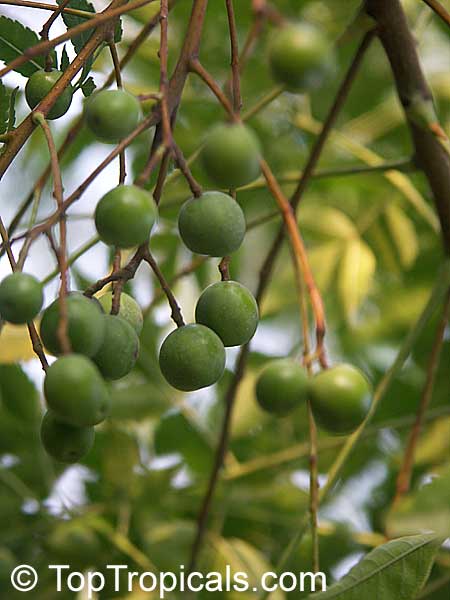 Related species: