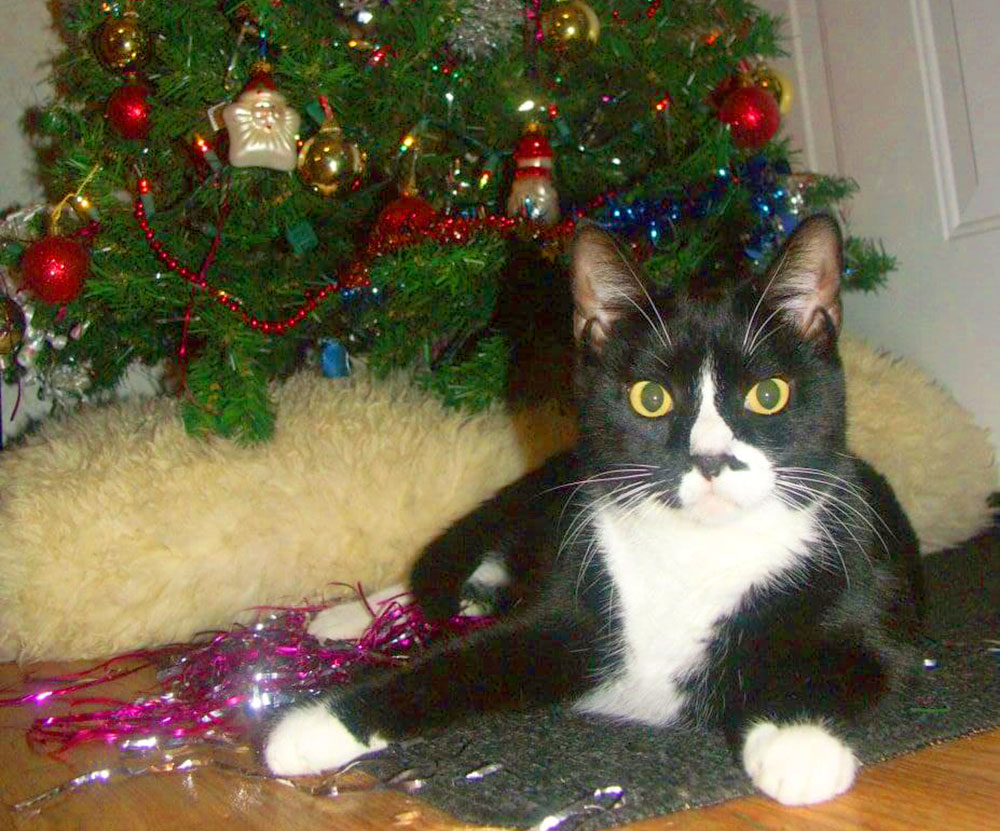 December, 2023
Holiday Plant Market
Info coming soon!
Event agenda:
9 am - 4 pm: Plant Market. 30% OFF online price. Raffle.
Gift bags - for first 25 customers with $50 order
Secret Garden: Super savings area 50-70% off
Fruit tree specials · Butterfly plants · $10 plants · Free plants
Event discounts and specials valid at both locations:
Ft Myers Garden Center: 13890 Orange River, Ft Myers, FL
Sebring Farm: 9100 McRoy Rd, Sebring, FL
Facebook event page - Download invitation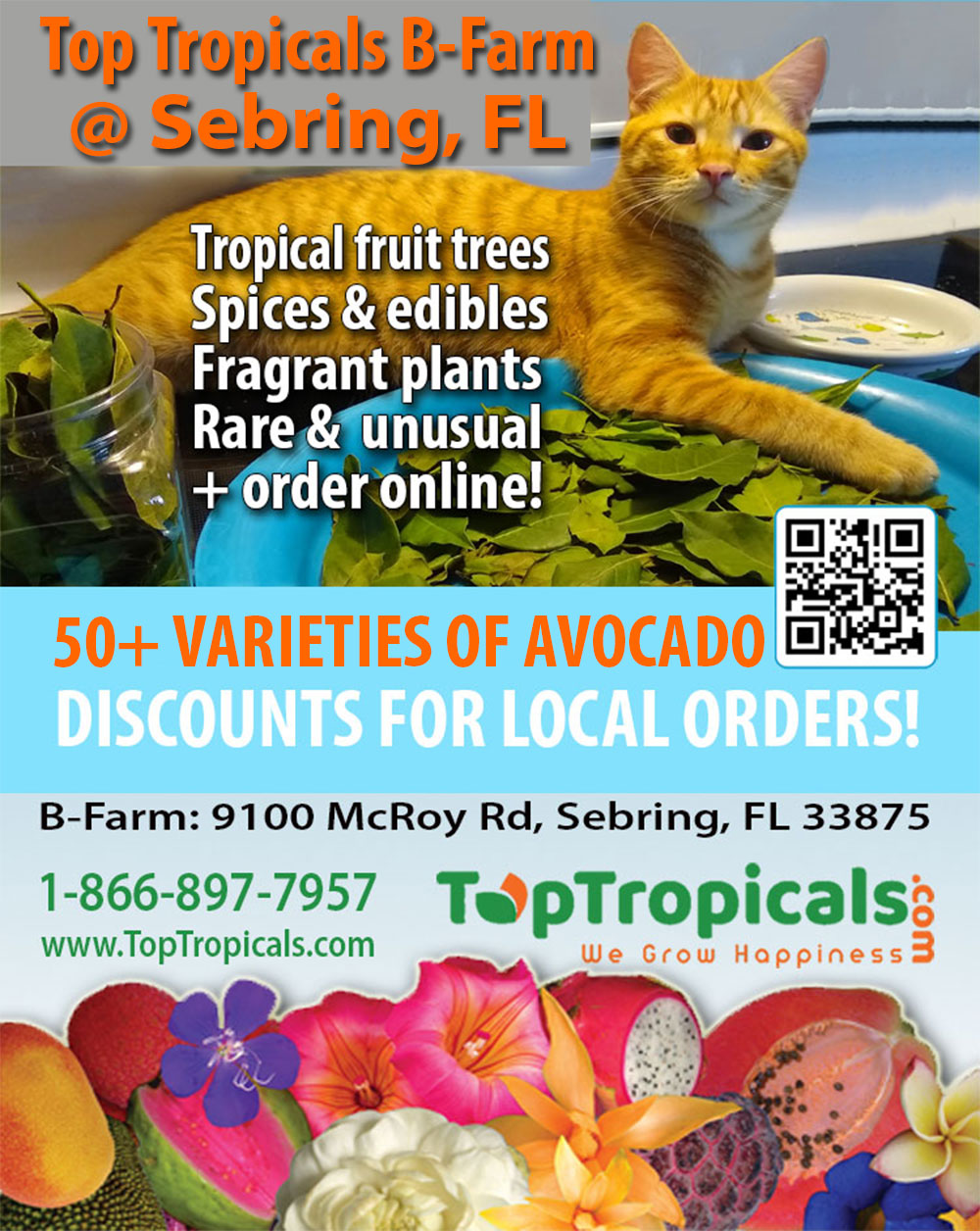 Now open 6 days a week!
Mon-Sat
9 am - 3 pm
Come visit us in Sebring, the heart of Florida, easily accessible from any Florida destination. You won't want to miss out on our 10-acre tropical farm, boasting the largest selection of rare plants, flowering and fruiting trees, edibles, and perfume plants from around the world!
Take your time and browse through our extensive collection, and don't hesitate to ask our knowledgeable staff for advice or assistance. You'll love being able to handpick your own garden gems straight from the grower. Whether you're a seasoned gardener or just starting out, we have something for everyone. So come on down and see for yourself...
P.S. Our Garden Center in Ft Myers is open as usual, 7 days a week
---
By appointment: Plant Wellness Clinic with Mark Hooten, the Garden Doc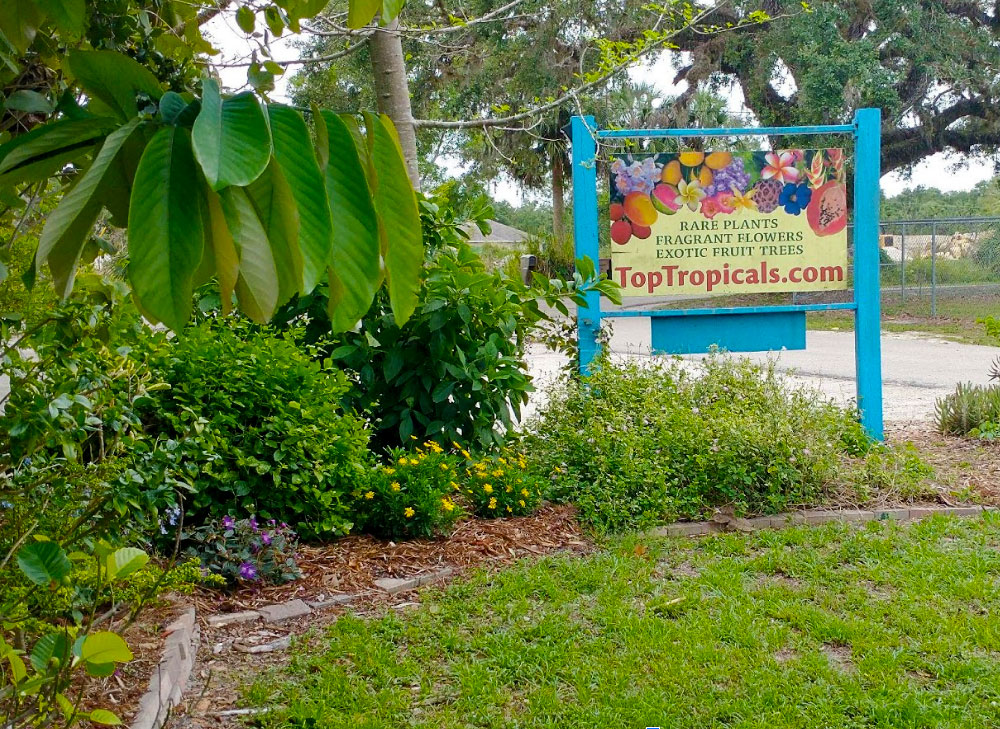 Every gardener has experienced times when a plant just don't want to cooperate, it won't grow well, looks weak, whetever you do to it... it's just not happy. We all have a plant like this, or maybe even a few. Don't give up yet! Bring it to TopTropicals Plant Wellness Clinic! Our Garden Doc Mark Hooten will take a look at the patient, talk to it, run some tests, diagnose the issue, and prescribe it the best treatment plan!
If a plant is potted and of a small size - 1-3 gal pot, you may bring it with you to our Garden for a free examination and diagnosis, hopefully accompanied by images of the plant and the habitat where and how it is growing in your garden.
If the plant is too large for the car trip, especially if grown in the ground - you may bring to Dr Mark leaves/branches for diagnostics, treatment plan, and prescription. If you are bringing leaves/branches for diagnostics, please follow these simple rules: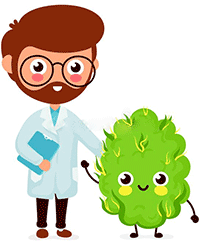 1. Plant sample must be in a sealed bag, regardless of the problem (insects, fungus, etc.): in-case there is something inside which is highly infectious and/or quarantinable which might jump, or fly, or drift out).
2. The sample must not be totally dead and shriveled. It must still be at-least partially alive, and exhibiting the symptoms of the issue.
3. Do not wash or clean the sample in any way (and in-fact handle it as little as possible before bagging it).
4. One or more images of the plant showing at some distance conditions, where and how it is growing.
5. One or more close-up images of the plant clearly showing the problem.
6. If samples of several plants are brought in, they all need to be brought in separate bags so they are not incidentally cross-contaminated.
You can grow it - we can help!
Take advantage of the priceless knowledge of our Horticulturist-on-Staff Mark Hooten. With his extensive tropical plant experience, there is no plant or plant issue that he doesn't know! Tips are welcomed. No plant health insurance required :)
Garden Doc house visits available by appointment. Contact us for an estimate.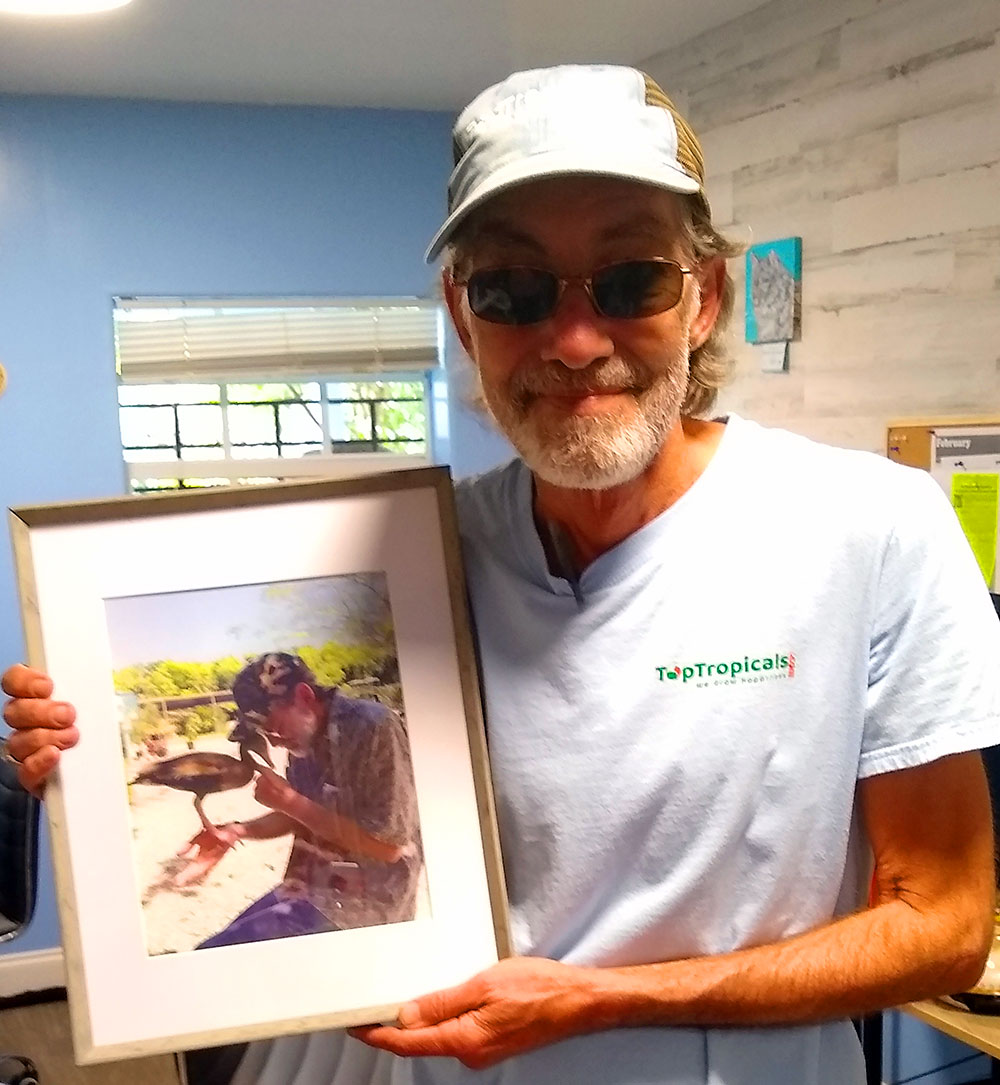 ---
Notes from vendors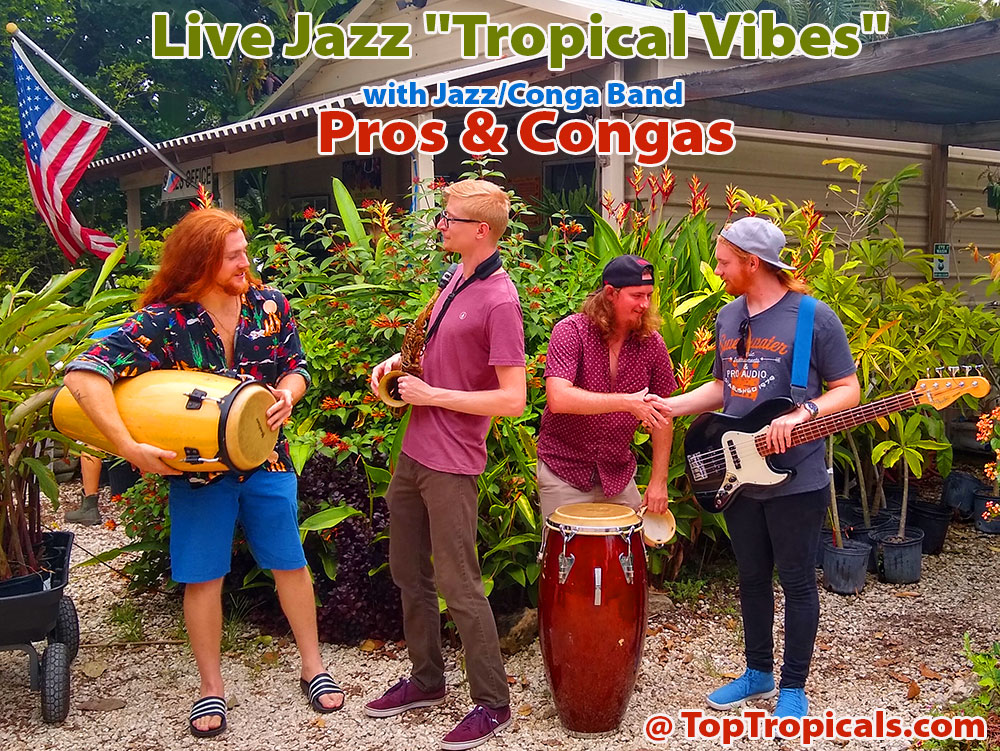 The Pros & Congas is a soulful, rhythmic trio formed in the San Carlos Park neighborhood of Fort Myers in 2019. The members are Nate "Shamus" Lopez (drums, percussion), Zac "Zaxophone" Domrase (saxophone), and Kyle Laremore (dj).
"We are musicians and business men who strive to bring original music and other artist in the area together by hosting events, doing showcases, and recording music. Last Saturday's event was amazing there were so many unique vendors out there who all support the movement of coming together and working with one another to build something bigger than themselves."
See their Spotify Jazz Vibes Playlist
---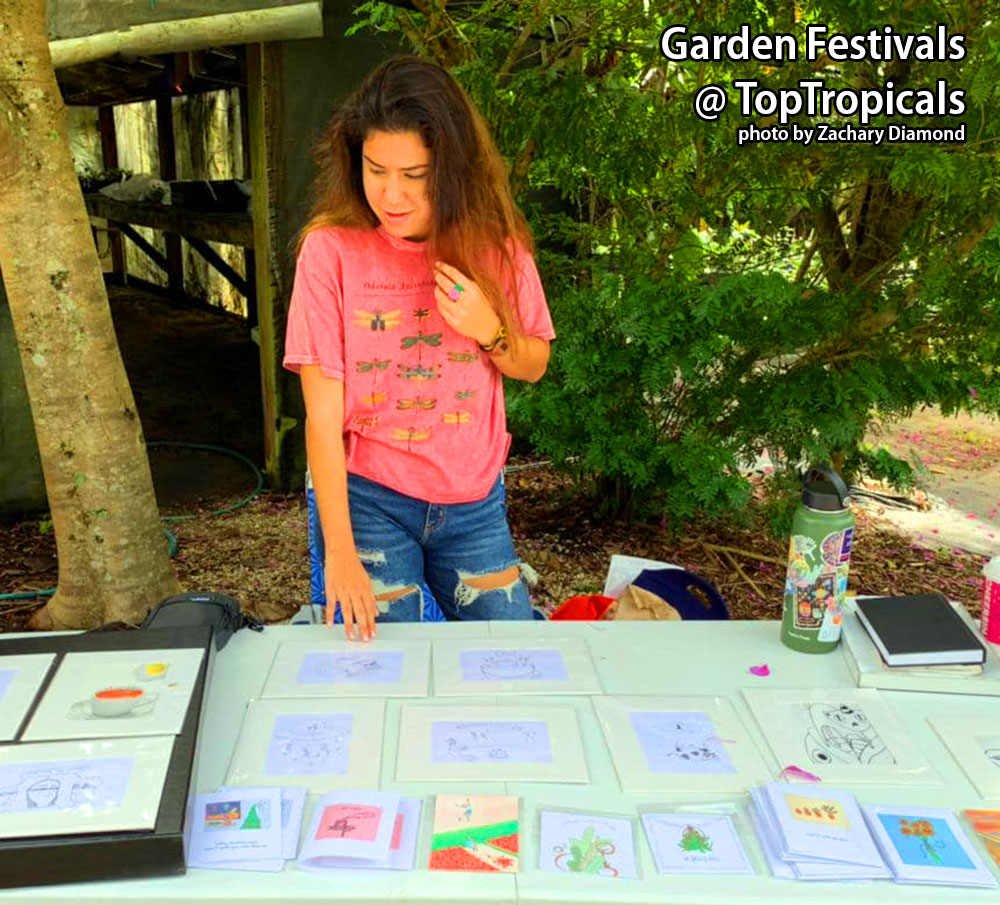 Izzy Baquerizo - Graphic Artist (Fort Myers). A steady momentum led Isabella to work as an intern at the Rauschenberg Artist Residency on Captiva, graduate as summa cum laude with BA from FGCU in Art and Graphic Design, market with B-3, a marketing agency native to the area, and become a professional graphic desinger pursuing interesting projects all-the-time.
"I loved participating on the Fall Garden Festival, everyone was so kind and attentive, and seemed very passionate about their job and their community. It made me want to learn more about plants and I can't wait to come back!"
---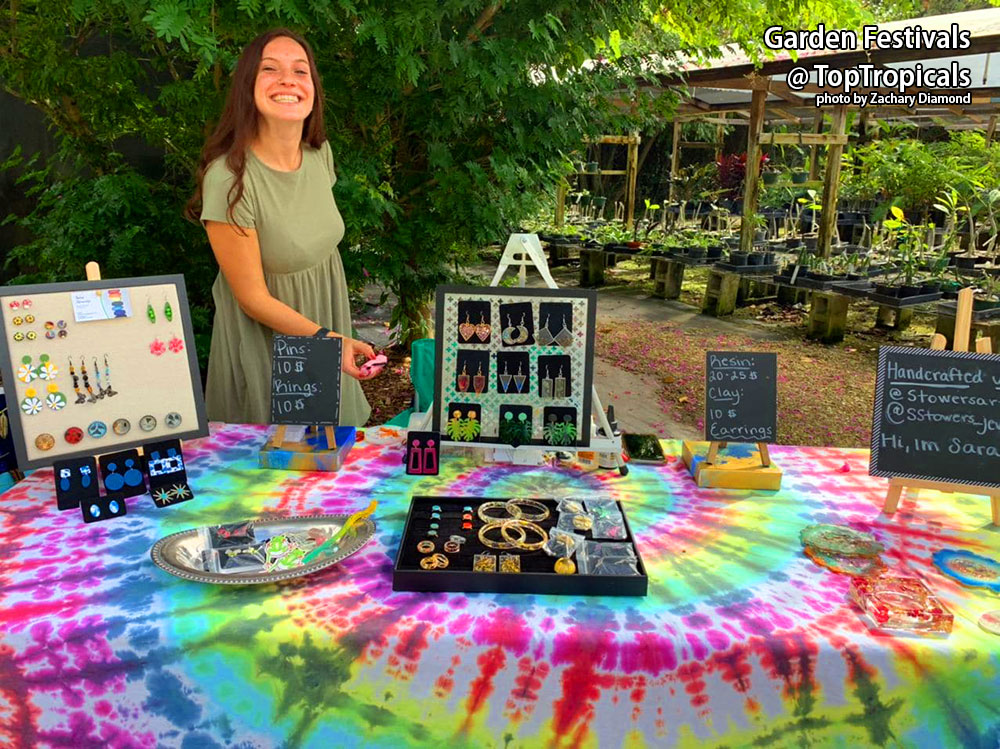 Sara's Stowers Jewelry - Resin and Clay Jewelry and Goods (Naples).
"Hello, my name is Sara Stowers. I am an Art major graduate at Florida Gulf Coast University. I now teach in Golden Gate Naples Fl as an elementary art teacher. Started creating resin/clay jewels during Quarantine and fell in love! I enjoy tabling events and the supportive local artist/community of SWFL. Top Tropicals fall event was beautiful... weather, people, environment and all. I can't wait to see it grow!"
---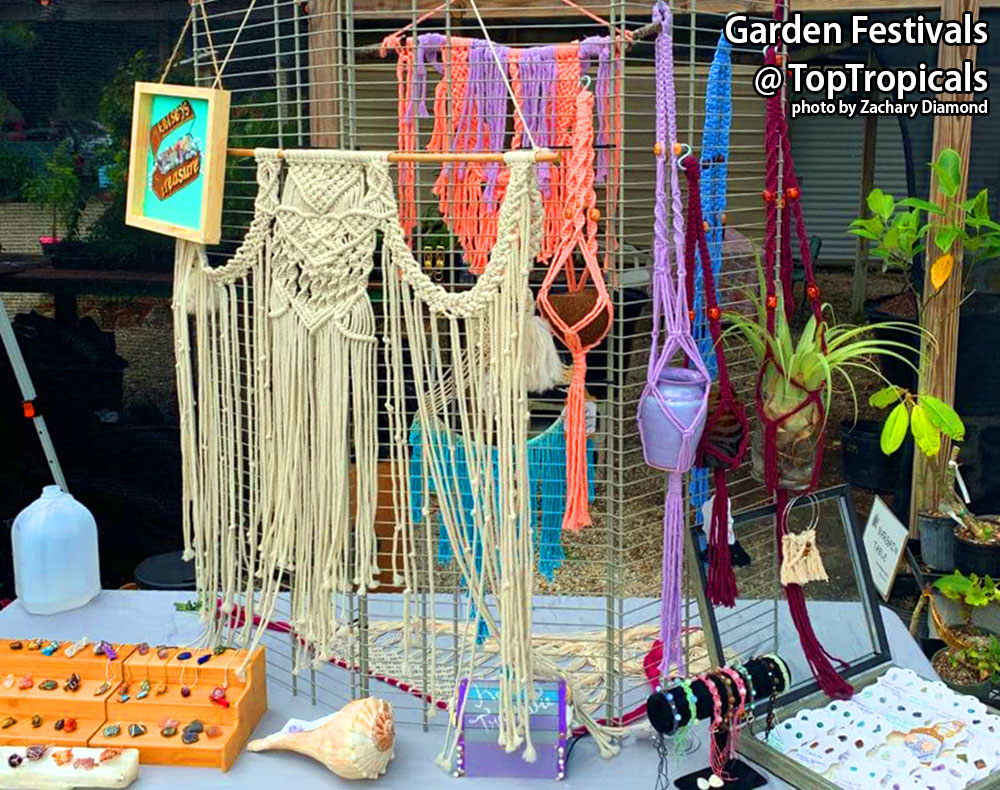 Kelsey's Treasure - Macrame & Wire Jewelry (Fort Myers). Kelsey, a Fort Myers native and decor enthusiast, personalizes macrame wall hangings and plant hangers. She uses cord and various knots in pattern to create a blend of modern and 70's retro aesthetic. Kelsey's Treasure was started to share art in the form of functionality and an intimate buying experience straight from the artist.
"Top Tropicals has a beautiful property that hosted a community event including me, Kelseys treasure! The environment was perfect , the featured music was magical, and mostly the beautiful smiles I encountered made the day all that much worthwhile."
---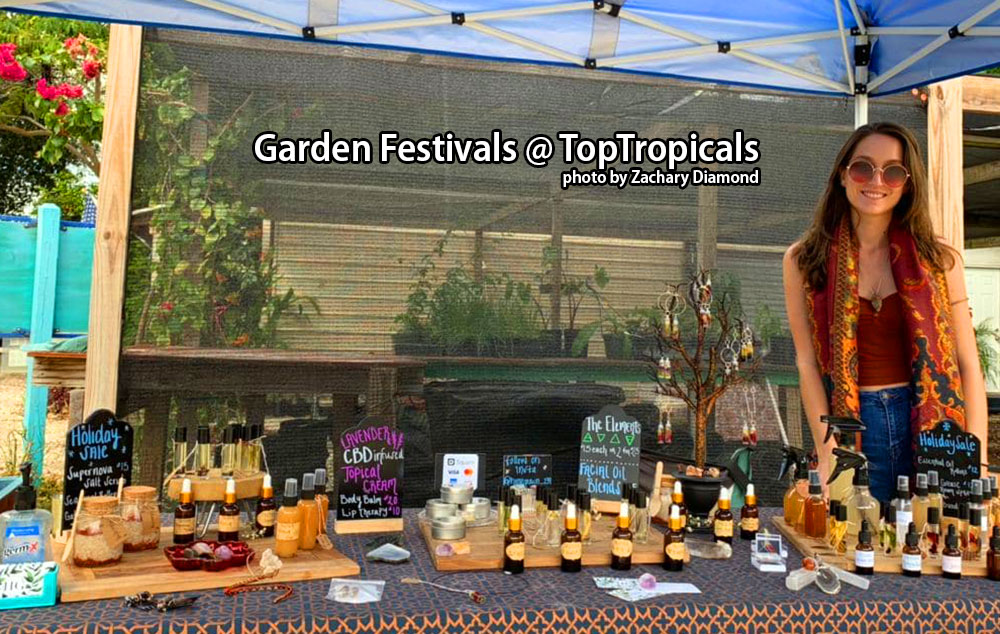 Rebekah Bunting, Homegrown - body products and jewelry @homegrown_239 - tropical oils, creams and blends.
"Herbs, Oils & Gems is co-owned by Rebekah Bunting and Noah Rizo-Patron and serves as a creative outlet in which both can create and cultivate art which is inspired by Mother Earth. The event at Top Tropicals this past Saturday was so nice and gave me the opportunity to meet so many beautiful people while taking some time to enjoy the outdoors."
---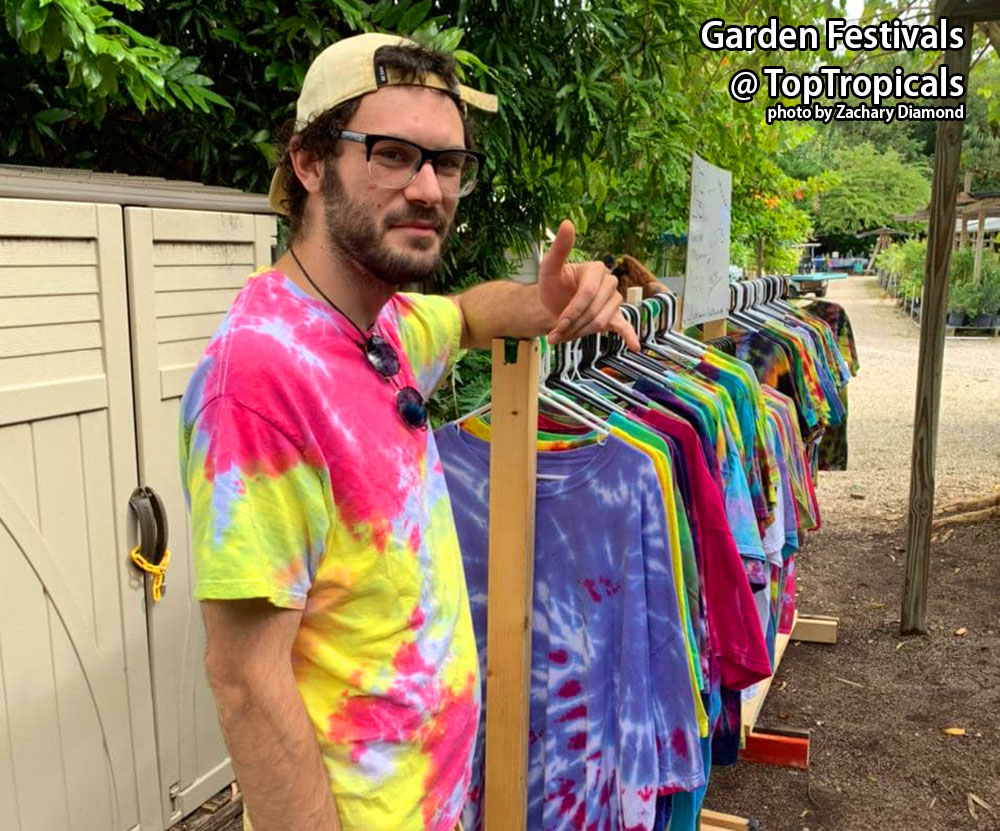 Twain's Tye Dye @asmrdotcommunity @twains.tyedye (Spark Twain). "Hello! My name is Spark Twain, owner and operator of Twain's Tyedye. All sales help support my daily blog about addiction recovery. Find the Daily Blog at ASMR Community, Find the Tyedye Shop at TwainsTyedye.com.

Saturday at Top Tropicals made for a wonderful afternoon. Plants and positivity! What more could you ask for? There was live music and tarot readings, sellers of handcrafted jewelry and a clothing rack full of tie-dye shirts! Exploring the 3,500+ plants they have on premises made for a memorable market. What's the most mango tree's you've ever stood next to? At the Fall Garden Festival, I broke my own record. Let's not forget the hospitality of the Top Tropicals team! Without them, there would have been no Fall Garden Festival, and no memories to have been had. Regular business didn't stop just because we set up shop in their garden, and plants continued to leave the building all day. I'm sure I speak for everyone when I say Thank You to the Top Tropicals team for their hardwork on this event."
---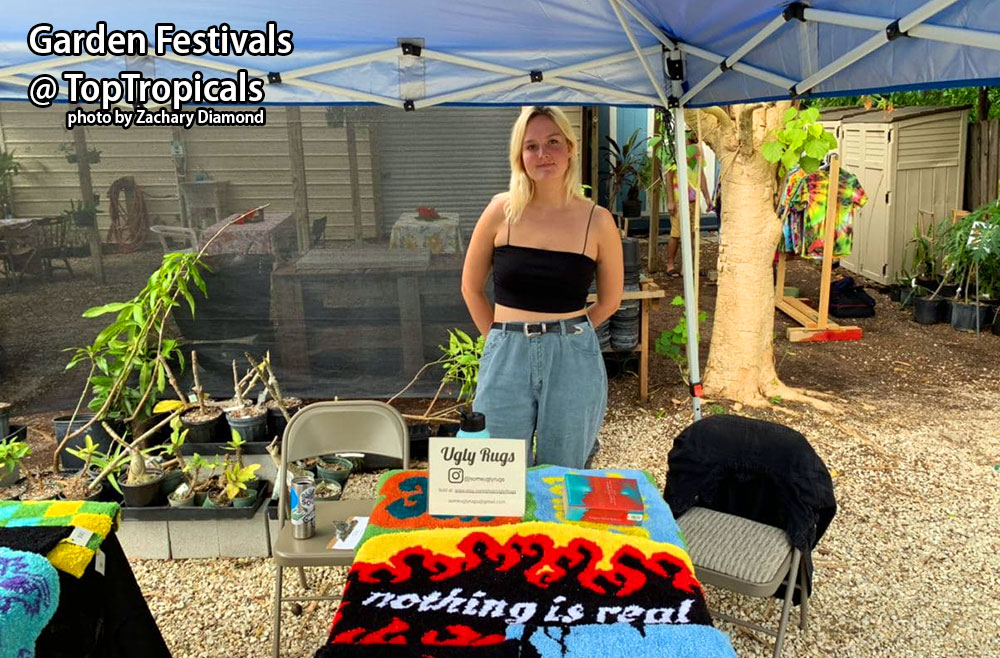 Someuglyrugs - rugs @someuglyrugs (Stephanie)
"What started as a new hobby in the midst of a pandemic, eventually turning into a small business called Ugly Rugs. I make an array of colorful, personally designed, hand tufted rugs. In addition to my own designs, I also make custom commissioned pieces. From all the unique vendors to an endless supply of exotic plants for purchase, the Fall Garden Festival is a perfect way to spend a Saturday with your family."
---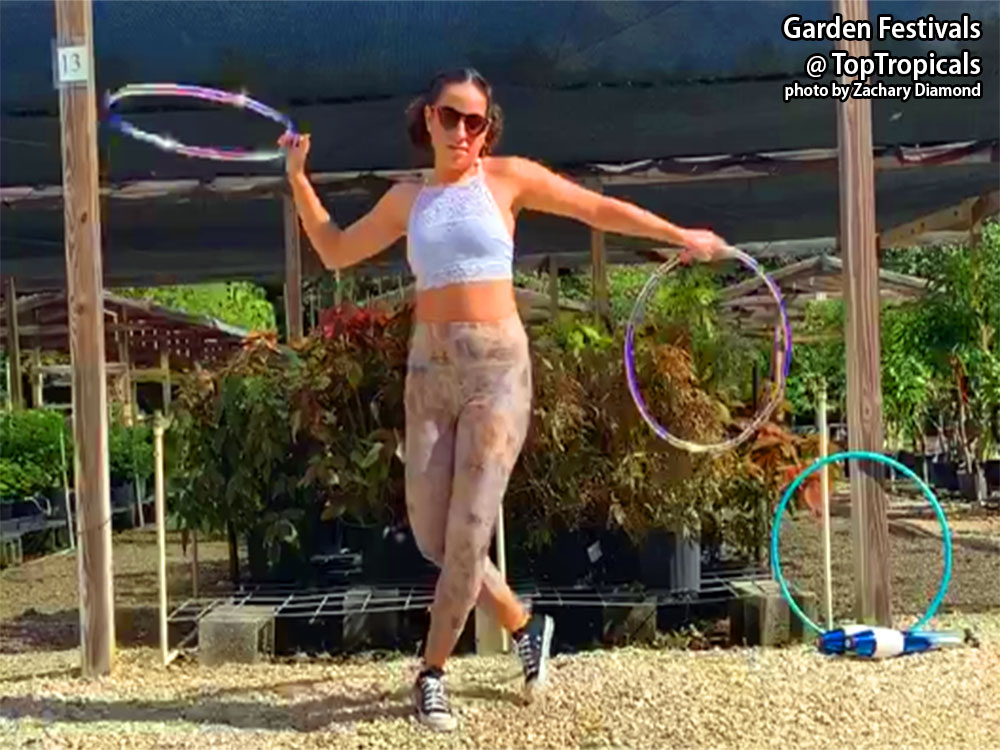 Elijam Adams - Hoop Flow @eli_de_hula (St. Petersburg, FL) - See VIDEO of The Performance
Eli has been diving into Hoop Flow Art for five years now and has garnered a sponsorship from Livijoyhoops.
"Hooping blends well with my interest in eco-consciousness and sustainable agriculture. Top Tropicals integrated my hobbies all into one place last Saturday where local vendors and musicians collaborated within their nursery. I had an amazing time performing and coming back home with locally made gifts and plants!"
---

Map of Top Tropicals