Date: 20 Jul 2018, Entry id: 1532079662
How to get shade quickly... and stay away from oaks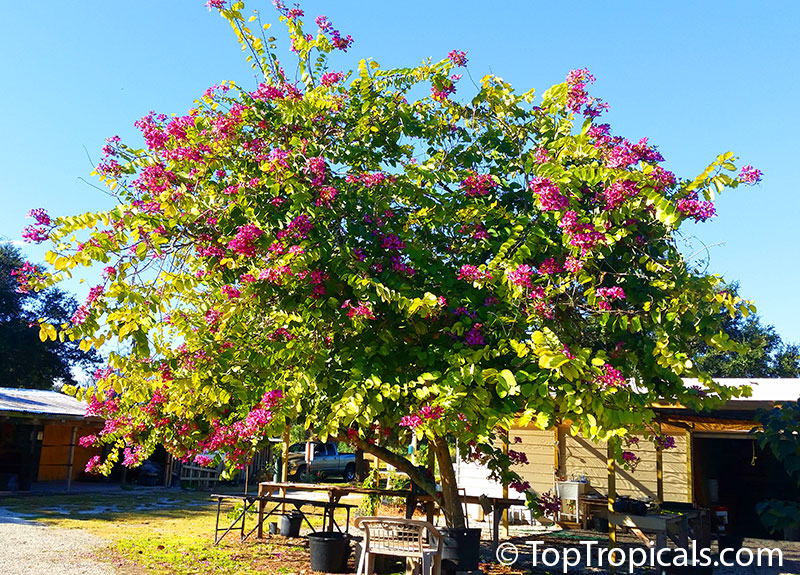 Q: I just moved from Tennessee into a new house in Florida and there are no trees on the property, the yard is brutal hot. What can I plant so I have some shade real quick? I like Florida shady oaks, how long will they take to grow?
A: First of all, do not rush into oak solution. Oaks are beautiful shade trees, however they have at least 2 problems:
a) Oaks are slow growers and unless you are willing to wait some 20 years... you won't get that desirable shade that quickly.
b) We have hurricanes in Florida... sometimes. A hurricane can damage any tree, however with oaks it may be the worse case scenario - the branches of those giant trees are huge, hard and heavy and in unfortunate situation when you need to remove or trim a broken tree, it may cost you... a few thousand dollars.
These are solutions that are more economical and practical:
1) Selection. If you have room, get one of these most popular Florida shade trees: Royal Poinciana, Golden Shower, Hong Kong Orchid Tree, Red Kapok, Bottlebrush, and many others. See full list of fast growing shade trees. Or simply get a Mango Tree and have delicious fruit too! Many varieties of Mangos are very large and fast growing.
2) Do it right. Even if you are planting a smaller tree, 1-3 gal size, it may become a nice shade tree within 2-3 years and start providing your driveway with desirable shade. The keys for fast growth are -
a) Good soil. Dig as big hole as possible and fill it with good rich soil containing compost. See planting instructions PDF.
b) Water. Do not rely on sprinklers and rains. Water your tree daily for the first week, then at least twice a week for another month. After that, irrigation system will be enough.
c) Fertilizer. Put a few handfuls of fertilizer in a planting hole. Then fertilize once a month during warm season. Apply micro elements for even better results and faster growth.
3) Ask experts. Contact our office for advice. We will suggest the most suitable shade tree for your yard based on features of your property: location, soil, exposure, etc.
Check out fast growing shade trees