Date: 13 May 2017, Entry id: 1494669362
Mothers Day Sale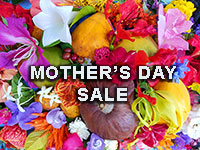 Mothers Day Sale at TopTropicals Garden Center - Saturday May 13, 10 am - 2 pm:
Come to our Annual Mothers Day Grand Sale at TopTropicals Garden Center!
- Discounts for local customers on flowering and fruiting plants
- 25% discounts for Mothers on all inventory!
- Special 25% off on rare plants: Pink Floss Tree, Banana Magnolia, Blue Butterfly Clerodendrum, and Sweet Bay Magnolia
- Food and drinks
- Free plants with a purchase, free pots, free feertilizer samples and SUNSHINE booster
Mothers Day Online Discounts, hurry up, only 2 days left!
MOTHERS15 - 15% for orders over $100 (excluding S&H)
MOTHERS20 - 20% for orders over $200 (excluding S&H)
Can't be combined with any other offers.
Not valid for past purchases.
Offer is valid through Sunday, Mothers Day May 14, 2017.
Gift Certificate:
Live Plant is the Best Gift! Still looking for Holiday gift ideas? Want to make a special present for a loved one? Show how much you care. A Tropical Plant can become a special gift.
Buy Top Tropicals gift certificate! It will be 15% larger face value!
For example:
- buy $100 gift certificate, we'll issue a $115 gift certificate;
- buy $200 gift certificate, it will be of $230 value.
The gift certificate will be emailed to you. Buy a Gift Certificate here. The promotion is valid through Mothers Day May 14, 2017.

Radio Top Tropicals Live Webcast upcoming event: Saturday May 13, at 11 am EST.
Topic: Weeds like to help! Discusses Weed Science; particularly how such methods as cultivation, proper watering, and proper horticultural techniques can help to control weeds. Our Host Robert Riefer - Internationally Certified Crop Adviser and Weed Scientist - answering all your gardening questions.
Listen to Radio Top Tropicals, every Saturday, at 11 am EST! You may use our website radio player DURING AIR TIME. To ask questions using live chat, you need to log in at Mixlr.com or simply call our office 239-887-3323 during air time!
If you missed a live webcast, you may listen to recording by following Showreel item link.
Check out our upcoming radio shows and get your gardening questions ready!