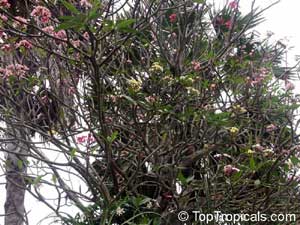 Multicolored (multi-grafted) plumeria tree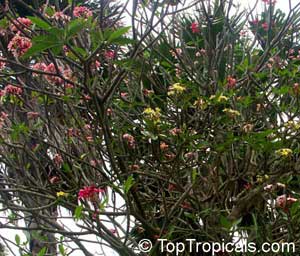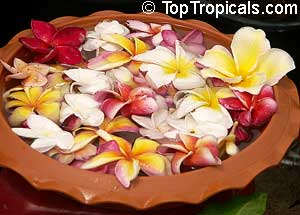 Plumeria is named after Charles Plumier, a seventeenth-century French botanist who described several tropical species. The genus contains 8 species of mainly deciduous shrubs and trees, originally from Central America, known for their strongly fragrant flowers.
Plumeria is one of the easiest tropical plants to grow. All it needs for thriving is relatively dry well-drained soil, lots of light and warm temperatures. There are hundreds of hybrids, some of them with amazing color combinations that look almost artificial. Other colors are delicate and soft. The most interesting species in cultivation are plumeria rubra (semi-deciduous or deciduous), plumeria obtusa (Singapore evergreen), plumeria stenophylla(white evergreen with long petals) and plumeria pudica (evergreen with no fragrance, with fiddle-shaped leaves).
Most of plumerias have very strongly scented flowers, the fragrance is sweet and delicate. The incenses of flowers are used for creating the most sensual perfumes and aroma treatments with relaxing and soothing effects.
Plumeria can be easily grown in a container and starts blooming usually on the first year after rooting.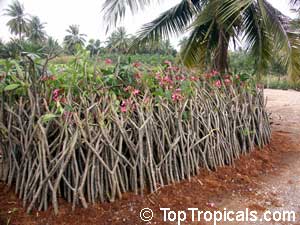 Rooting process in coconut fiber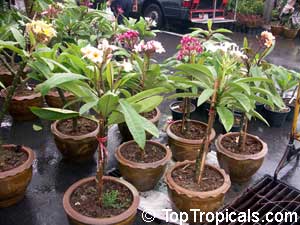 Rooted cuttings start blooming on the first year