TODAY ONLY!
Father's Day discount coupons:
FATHER20
20% for orders over $100 (not including shipping) + 5% our standard discount
FATHER15
15% for orders over 50 (not including shipping)
Expiration date: today
GIFT CERTIFICATE
Gift certificate is always a good option. You can also buy a gift certificate for yourself to take advantage of our exceptional discounts and use it for later purchases!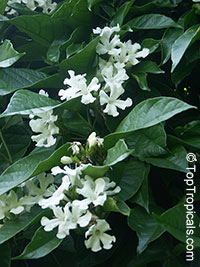 4219 Faradaya splendida seeds
Only $3.95!
Glory Vine. A vigorous twining climber from Australia with large, shiny, bright green leaves and beautiful fragrant white flowers in large terminal clusters with fragrance of carnations. The fleshy fruit is whitish, egg-shaped and surprisingly large - about 2-3 inches long, resembling Noni fruit in shape. Each fruit bears a single seed. It is a hardy plant for tropical and sub-tropical areas.
The whole fruit will be shipped while they are fresh. Just clean from pulp and plant the large 2" seed.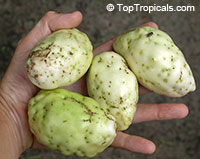 Actual fruit/seed for sale
For full list of new arrivals,
please visit this page