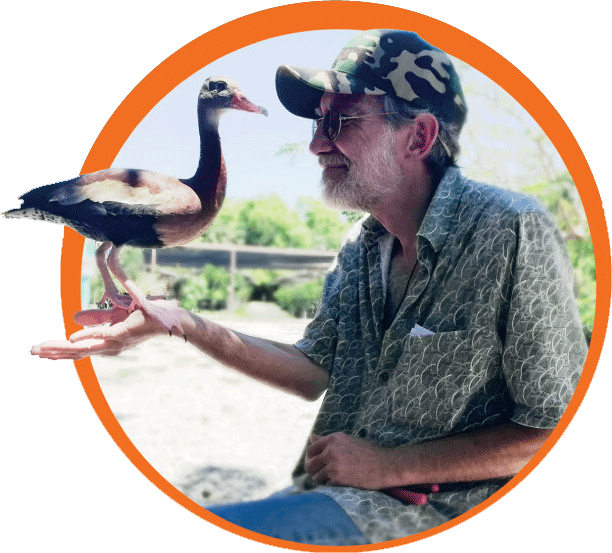 About the Author
Mark Hooten has been fascinated by horticulture since childhood, with interests including tropical fruits, cacti, ethnobotany, entheogens, and variegates. Having been employed in both FL and CA by botanical gardens and specialist nurseries as horticulturist, manager, propagator, and consultant, he is happy to speak with fellow plant worshipers at TopTropicals Nursery. Mark is currently busy writing a volume on the complicated history of croton varieties. His passions are plants, cats, and art of painting.
Prince Midnight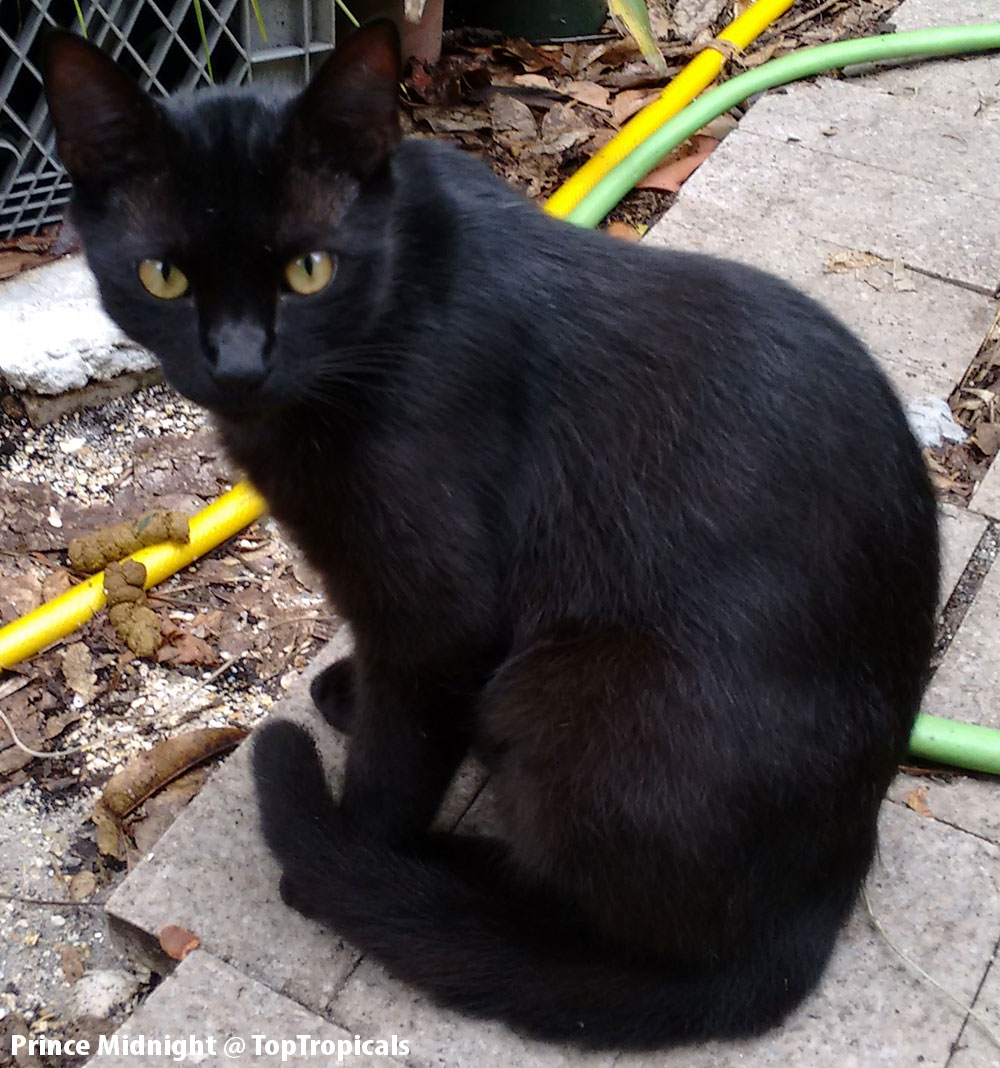 The oldest cat in the Hooten family was dubbed Midnight in honor of a long line of accidental black cats that have come our way over a period of many years, in fact there were Midnight's as far back as 30 years in Mark's past. It was a number of years ago Mark said he wants to be called 'Prince' and I said "Just so he doesn't decide he wants to be 'the cat formerly known as Prince' ". I default back to Midnight a lot. He is going on 17.

We adopted him at 6 or 8 weeks from a large family of Bombay cats from a nearby neighbor. At the time I don't think they realized they were Bombays, just that the entire group were pure black with gold eyes. It was later that I realized he had all the traits of a Bombay including not a speck of white, the gold eyes and the facial characteristics, and even an obscure trait known to them: a tendency toward stuffy nose, which has always come and gone, sounding like a mild snore, even when awake.
Sadly, he is starting to go blind in his old age, but the squirrel hunter photo was taken in 2018, so he led a robust existence leading up to his old age.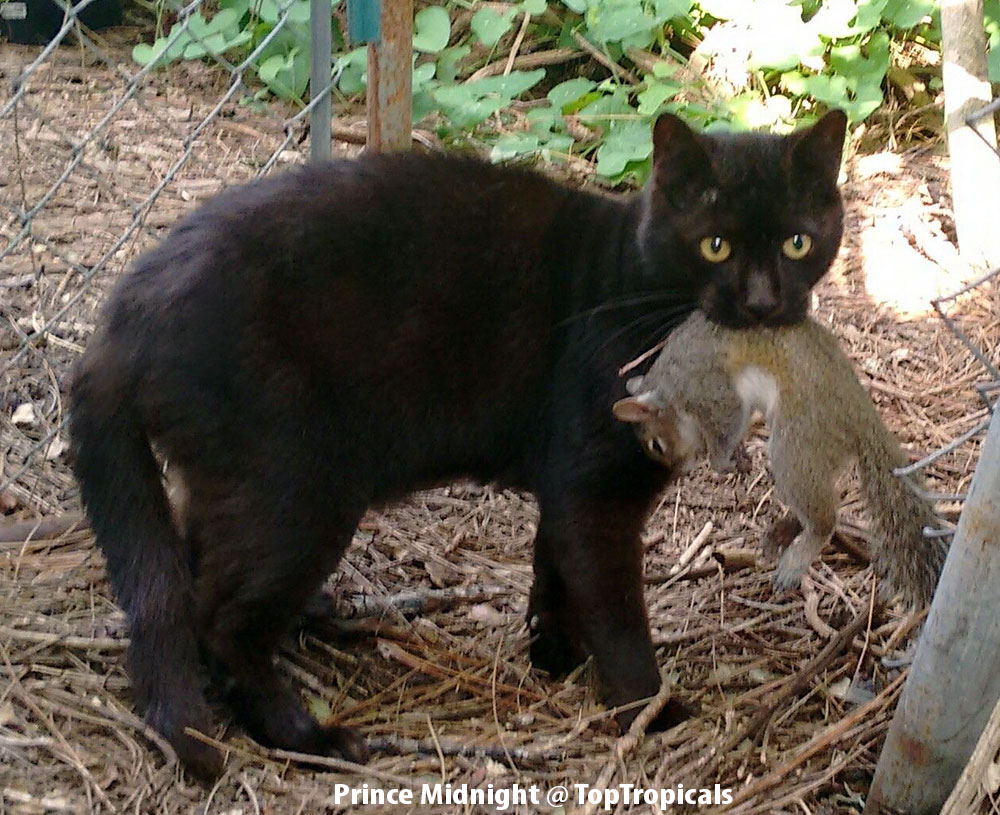 This photo is very recent, with his sun bleached coat: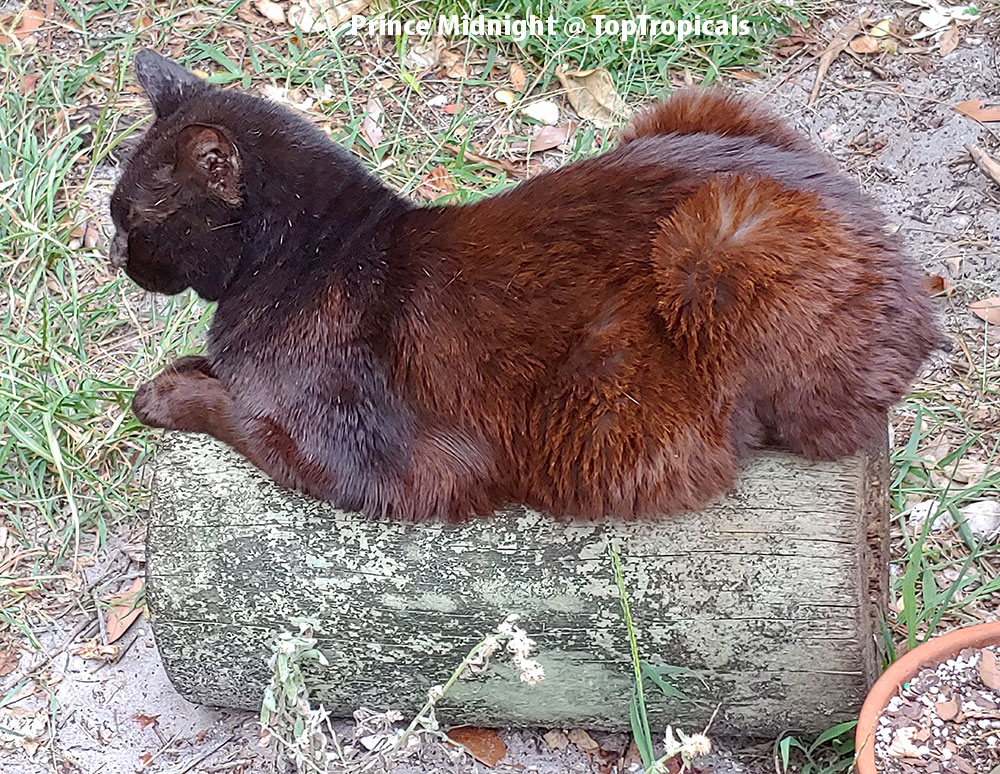 Midnight has always been a very pensive cat, serious, but not grumpy. Puts up with cockatiels walking across his back, the Chihuhua, Twiggy, picks on him, he holds his tongue and temper when she lunges at him. Upon her arrival to our home some 7 years ago the first thing she did was lunge at Midnight, at which time he was startled enough to deliver a neat, shallow scratch all the way across her forehead. She has never forgiven him and although she still expresses her hatred for poor ole Midnight nearly every day of his life, he takes it all in stride and his aloof composure is a good comeback!

Learn more about PeopleCats of Toptropicals:

Articles by Mark Hooten: