Date: 25 Jun 2020, Entry id: 1593071463-1
Plant of the Month: Golden Dewdrop - Duranta erecta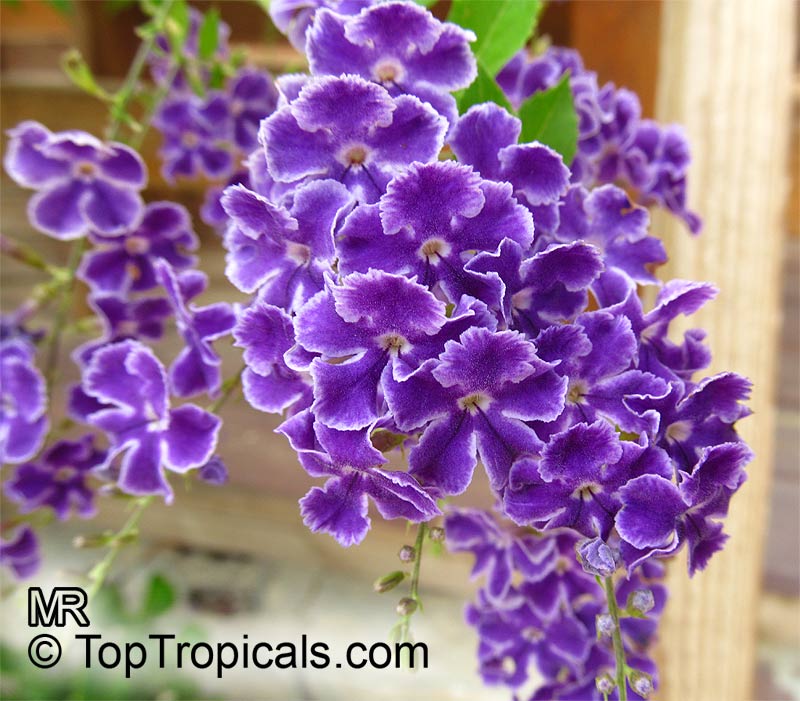 Stevie's Pick: what's in bloom?
Our exotic plant grower Steven Gowdy is featuring the most interesting plants he discovers and recommends today while working in TopTropicals greenhouses.
Duranta - Golden Dewdrop - is simply stunning with cascading flowers in abundance. Either it has lavender, blue, or solid white flowers, it is a sight to behold. The popular name Golden Dewdrop is inspired by the clusters of bright orange-yellow berries that follow the flowers, in such quantities that they often cause the slender branches to droop gracefully.
Duranta erecta blooms off and on all year and can be pruned to size as a bush or a standard tree. If let go, it can grow up to 20 feet tall and wide.
Durantas are excellent butterfly and hummingbird attractors. They will complement your tropical garden or a stand alone in your Southern landscape. Great for providing a color contrast in the landscape, they are especially well-suited as a bright-colored background or screening.
White Golden Dewdrop has pure white flowers that appear in loose clusters, and both berries and blossoms are often seen on a plant. This evergreen fast growing shrub spreads and arches to 10 feet tall and wide and is great for live hedges and covering fences and corners.
Variegated variety, also called Variegated Sky Flower, is grown for its summer flowers, and very showy leaves that are dark green with bright white variegation and creamy-yellow margins around the one inch long serrated leaves.. In the summer, cascading clusters of blue tubular flowers appear followed by wonderfully contrasting orange-yellow berries.
In mild climates, Durantas can be in flower nearly year round with flowers and fruit appearing at the same time. It does best in full sun with frequent deep watering and is pretty hardy, to about 20-25F. It is a good choice for espaliers, as a small tree or large bush; all forms benefit from frequent selective pruning. Prune back in late-winter to encourage a more compact shape and strong flush of fresh spring foliage. Requires moderate watering in a well-drained soil.