About the Author
Onika Amell was born in farmer's family in Cape Town, South Africa, and always had a keen interest in gardening. She has been a globe-trotter for many years, traveling along with her husband, an engineer, and her life is worth a novel. In Cape Town she worked in groups "Soil for Life and Work for Love", teaching people how to grow their own food, improve their health, and protect the environment. Onika lived in Galilee, Israel, skydiving over 500 jumps and working on the fields planting, harvesting and caring for various crops (Lychee, Avocado, Bananas, etc), helping out in community gardens... In SE Asia, she taught English at business centers... Upon finally settling in SW Florida, she joined the ECHO Global Farms project on teaching farmers/families around the world about effective crop production... Now as a part of Top Tropicals Team, Onika is our plant expert and a columnist. Onika's biggest passions are plants and... of course – cats, who are her children! She has six of them: Itembi, Freddie Mercury, Donald Trump (he is the difficult one), Tigerlilly, Sweetie, and Jaxson.
---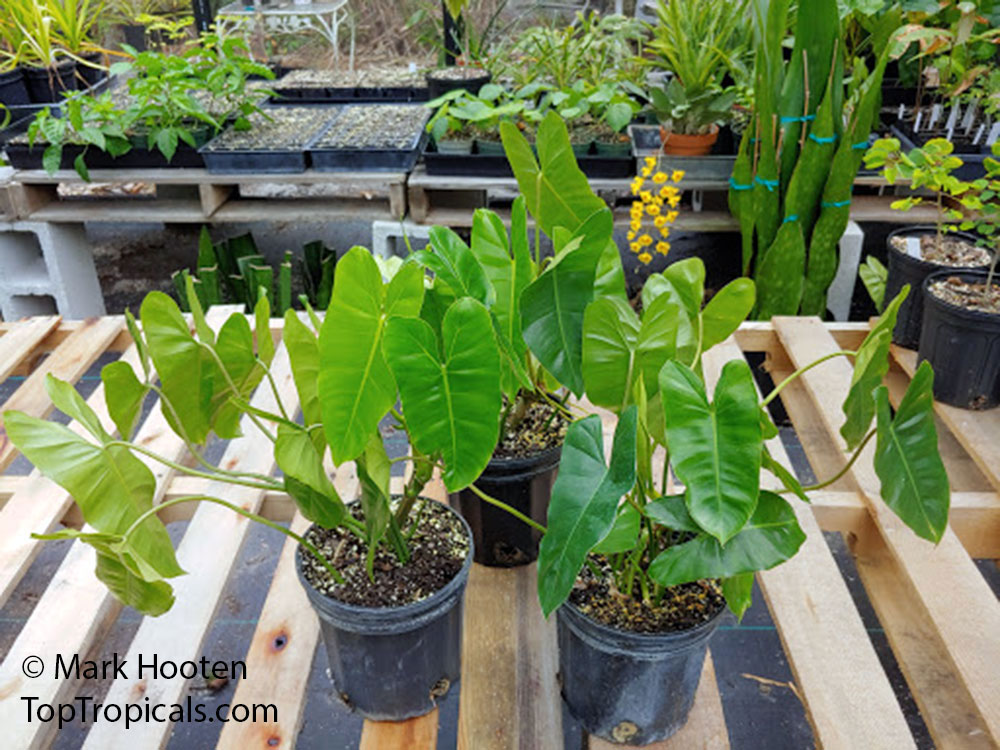 Are you looking for an exceptional ground cover that is incredibly easy to grow? Burle Marx is a low growing variety of Philodendron. This plant works exceptionally well in mass plantings as they develop runners which creates that beautiful tropical feel and look so many gardeners desire. You can also create wonderful borders with this Philodendron. Plant them in your favorite container and watch them cascade beautifully over time. Give them a tree and they will climb. This plant is almost prehistoric looking with jungle-green, shiny, leathery, elongated heart shaped leaves on reddish stems.
If you live in zone 9b to 11, you can grow this beauty outdoors. This philodendron will take more sun than others and older plants will even tolerate short periods of mild drought. If you live in a colder zone you can grow them with just as much ease in a container, which can be brought indoors to protect them from winter as these plants do not like frost and freezing temperatures at all. Other than that, this Philly actually require very little care whether you grow them in or outdoors.
Give them well drained soil, rich in organic matter and they will thrive. They'll do fine in partial sun to partial shade, but will grow best in filtered sunlight with regular watering, especially in extreme heat.

Cut them back once or twice a year to maintain a bushy form of around 2 feet. Be sure to encourage them with a fertilizer three times a year and they will thank you by growing a little faster.

We recommend:
SUNSHINE Robusta - Rapid Growth Booster
Tropical Allure - Smart-Release Booster

Did you know this plant was given its name in honor of Roberto Burle Marx? This very brilliant Brazilian artist's designs of parks and gardens made him world-famous. Most endearing was Roberto's intense interest in each and every plant's character and what effect it has on the whole garden. He had animals in mind as well, always seeking to understand how they interacted with plants. He was one of the very first Brazilians to speak up about deforestation.

This philodendron, a native of Brazil, will add a wonderfully tropical accent to your garden. Don't miss out on them! This lovely Philodendron will give you a touch of Brazil wherever you may be.