Date: 19 Jan 2020, Entry id: 1579479362-2
Meet PeopleCats of TopTropicals. Cat of the Day: Sonya, the Co-Author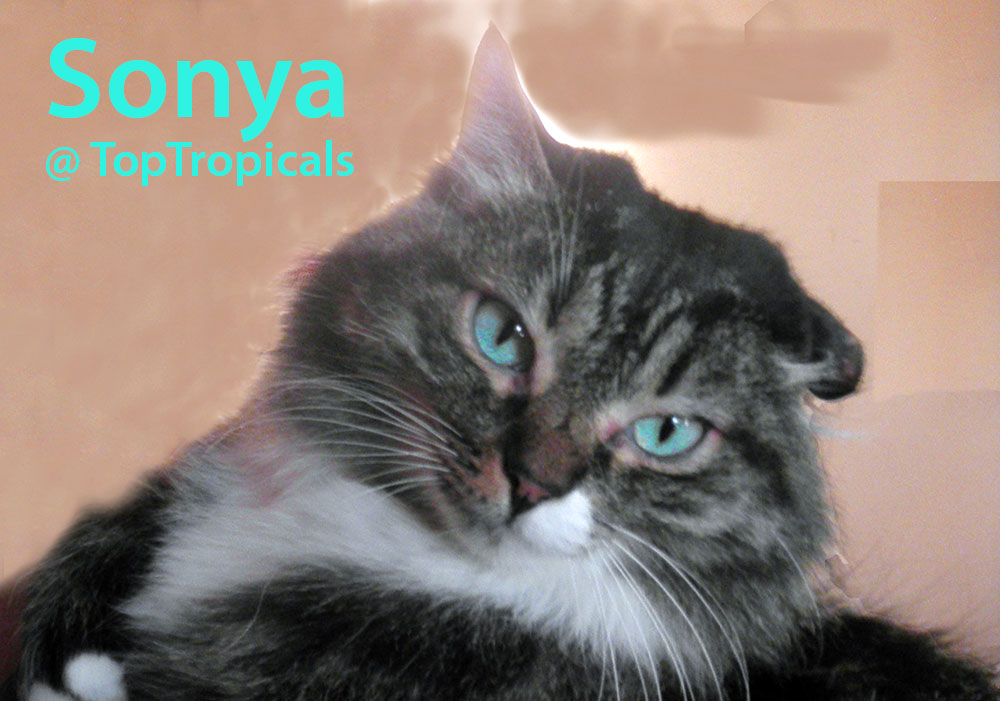 In our previous newsletter, you met our editor/photographer tandem - Tilda & Marina. Today we introduce our columnist assistant - Sonya. For the past decade, this True Norwegian Forest Cat has been a great helper and inspirational co-author for Alexandra, TopTropicals website writer and social media blogger.
Alex has been with TopTropicals since Day One (2003). In 2011, she got Sonya, a 3-month old kitten that someone kicked out: at that young age she already had quite a temper of a real Wild Cat. No one wanted to adopt her and Sonya was doomed to suffer a street life... So Alex invited her in the house... and it took her many months to teach Sonya some good manners! And Sonya turned into a beautiful and affectionate Purrrson as well as became the Boss in the house (what a surprise, duh) and Alexandra's dearest life companion. Sonya also discovered her talent in writing plant stories for TopTropicals, sitting on Alex's shoulder and whispering into her ear while she is typing Sonya's horticultural tips. And when Alex stares at monitors for more than 5 hours, Sonya lays on her keyboard saying: "Now get up and get some stretch lady! Let's go re-pot some plants for a change!"
We will be following up on Sonya's creative work, and you will hear from her again soon...
Check out Video: Meet PeopleCats of TopTropicals and more Cat of the Day stories.

Sonya inspecting seedlings... and chilling with Alex

This Norwegian Forest Cat, when she was little, loved to climb up high... (2011)

Growing Tropics on a Windowsill...