Date: 6 Dec 2018, Entry id: 1544097062-1
Seven rules of cold protection for tropicals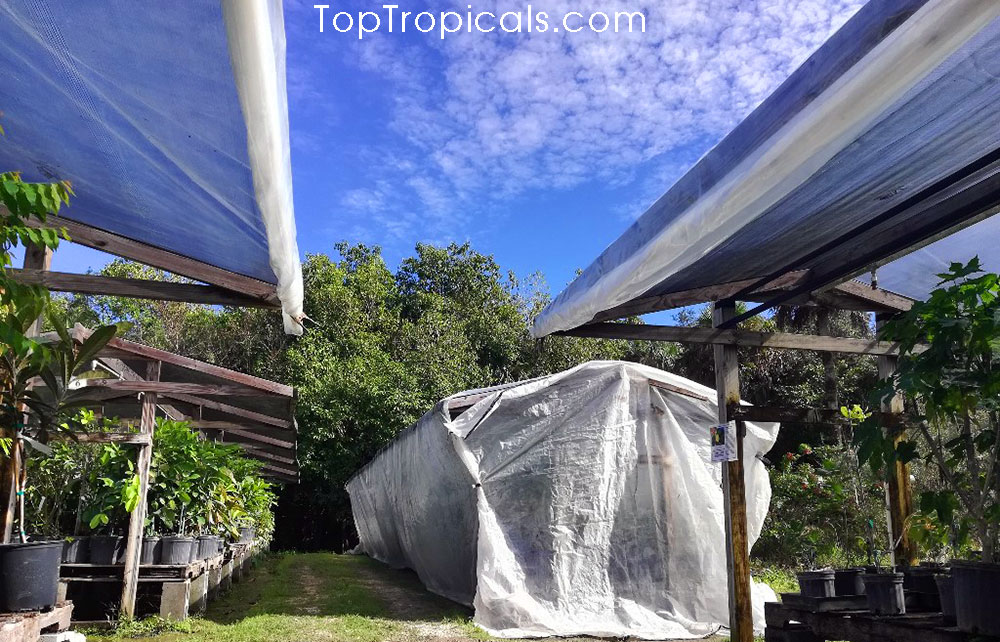 Q: I was always wondering how you guys manage to grow true tropical trees in Florida? I live in Puerto Rico and we have Breadfruit trees growing here in a wild... but my sister lives not far away from you, in Orlando, which is much colder, and I wonder if I can get her a Breadfruit tree for Christmas?
A: Your sister can grow a Breadfruit tree in Orlando either in a pot (and bring it indoors during cold periods) or in the ground inside a structure (an elclosed conservatory with heating system). See our customer's Greenhouse in Virginia. Cold protection of tropical plants is a lengthy subject and we have many interesting publications about it in our managine Tropical Treasures and on the website. In a nutshell, when growing tropicals outside of tropical climate, you need to follow these 7 rules:
1. Cut watering to a minimum. Cold+wet kills tropical roots.
2. Water thirsty plants before a cold night. Jucy leaves have fewer chances to be cold-zapped.
3. Wind protection is more important than a temperature drop. Plant tropicals close to a house or surrounded by other trees.
4. Duration of a cold period is more critical than the cold itself. If expecting long cold hours, bring up all available protection resources. Christmas lights or propane heaters - as long as there is a heat source, everything helps!
5. Remove plastic covers during the daytime so plants don't get "cooked" in the sun. Fabric covers are better than plastic.
6. Grow ultra-tropicals in containers and bring them inside the garage or even indoors during the cold.
7. Use SUNSHINE plant boosters and feed your plants well during Summer to improve cold hardiness.
Related topics:
About Cold Protection
Cold protection - winter action for your plant collection
Improving cold hardiness before winter: fertilizer and micro-elements
Cold hardy tropical fruit trees