Date: 10 Oct 2016, Entry id: 1476098405
Cold protection - winter action for your plant collection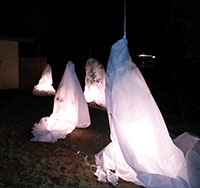 A note from our customer: Last winter was very cold here in Arizona, lower 30's. I used white synthetic sheets (called frost cloth, it is very light and yet effective) to cover my fruit trees, and kept simple light garlands on for the whole night. Sending you couple photos so you can share with others. It worked pretty well for my plants and no cold damage!
With winter approaching, it is time to take some actions to protect your rare plants from cold stress and damage.
If you live in a mild climate, you still need to get ready for the cold nights. When expecting a cold night, individual plants and trees can be wrapped with sheets, or blankets, to protect them from the wind chill. Christmas lights is a good idea for an additional warm up.

For large collections of tropical plants, temporary winter greenhouse doesn't have to be expensive. An easy-assembly mobile carport from a hardware store covered with a plastic or fabric will cost you $100-200. It can fit a hundred plants or more!

If you live in area with a hard freeze, Southern exposure windowsill will work for most of the compact tropicals providing proper care. Larger collections may also move into your garage for a few cold nights, or for longer periods if the garage has a bright light source.
Factors affecting tropical plant winter survival:

1. Duration of cold period. Tropical plants can't stand long periods of cold. A few days of even upper 30's may kill a tropical plant. A few hours of frost may cause leaf drop but the plant will recover.
2. Minimum temperature - of course, the warmer the better. But see 1) - if cold is not for too long, it may be OK.
3. Wind-chill can be more dangerous than low temperatures.
4. Exposure. Southern slopes get warm during daytime and stay warm longer.
5. Protection with a house, fence, larger trees - where a "pocket" of warm air forms and stays - is beneficial.
6. Humidity. A lake or a river nearby (especially ocean) will mild the micro-climate.
7. Individual species hardiness. Don't try to grow Orchid Tree outdoors in New York.
8. Plant maturity and health. A well-established plant with developed root system has more chances to survive cold. If a plant had a good change to develop during warm season (bright light, enough water, fertilizer), it will be more cold hardy. Healthy plant can withstand lower temperature, so proper nutrition is important, including micro-element applications. Large specimens, even ultra-tropical, may survive cooler winter than they normally do in their natural habitat. The Nature provided plants with better hardiness level than it is normally used. To boost plant immune system and improve cold tolerance even more, use SUNSHINE plant boosters. SUNSHINE-T - thermo-protection booster, is specially formulated for winter protection of tropical plants. To improve cold hardiness, spray 1-2 days prior to cold with 5 ml/1 gal solution and continue applications with 2.5 ml/1 gal solution every 10-15 days throughout winter period.
9. Gradual temperature decrease is less dangerous than a sudden drop since it gives a plant a chance to adjust. One sudden freeze in December with prior warm fall may create more damage than a gradual temperature adjustment. If it starts to get cold early in the Fall, plants slow down their metabolism, and the new tender growth won't get hurt later in winter, since the plants are "expecting" the cold.
10. Do not fertilize plants during cool months. Not only because they don't need much food beyond growing season, but also because fertilizer (especially Nitrogen) encourages rapid tender growth that will be damaged by cold and this will stress the whole plant.

Stay warm!