Date: 18 Sep 2016, Entry id: 1474217404
About Cold Protection...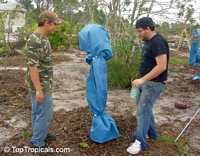 Q: I have a question, if I'm in Okeechobee Florida zone 9b are there any plants that you sell that would have to be protected at all? I have a lot that I've purchased from you and don't want to lose any of them winter.
A: Sometimes it is hard to guarantee if certain plants are hardy enough in certain area. From our experience, tropical plant performance in non-tropical areas depend on many factors; a lot of times plants appear to be hardier than they are believed to be. Other times, an obviously hardy plant doesn't survive winter. So there always will be a chance of risk involved, while nice surprises are not an exception. We have been testing many tropical species throughout many years of our nursery experience. Wind protection in many cases is more important than temperature. Enclosed sections of your garden provide better chances to survive cold snaps. Generally speaking, here is the list of some plants (not complete list, just examples) that in our experience have been surviving light freezes without significant damage.
Q: I live in San Jose,CA. Got Mango Alphonso 2 yrs back and protected it for a year in a pot during winter. Last spring I planted it and during winter I put a freeze cloth to protect it but it died. How can I make sure it wont die if I buy this time plz?
A: Mango trees are tolerant only to light frost, once established. If it gets below freezing in your area for more than a few hours, and especially if you have numerous nights with frost throughout winter, we recommend to keep mango tree in a pot. This way it can be moved to protected area during cold night. The more established the tree, the more chances to survive colder temperatures.
We also use plant booster Sunshine to increase plants cold tolerance
Cold protection is a lengthy subject. You may also use propane heaters during cold nights.
Here is some more information on cold protection.
Also, we recommend to check out our magazine Tropical Treasures (about pushing the limits of tropical gardening) for a detailed article on cold protection.
These are specific articles on Zone-Pushing in different issue #s regarding dealing with cold. See downloadable issues:
(#1) Growing Tropicals in Nontropical Climate, Three Freezing Nights in Southwest Florida
(#2) Temperature drops - an alert or a rehearsal?
(#5) Dealing with cold snaps, Cold hardy beauties
(#7) When winter is around the corner, Growing exotic Cordyline in colder climate
(#8) When the weather outside is frightful
(#9) Winter champions
(#11) Ready-for-winter checklist for in-ground plants
(#13) Winter checklist
(#18) Dealing with cold damaged plants
You may also order hard copies.
If temperatures drop below freezing in your area, remember to add Heat Pack to your order!