At Top Tropicals Picture Gallery you can view a great number of quality pictures of tropicals from our collection. To see more pictures of particular plants, as well as to see more various species, please visit our Catalog page, where you can find more complete information with pictures and info profiles for each plant.
Beautiful Flowers: screen savers from TopTropicals
Selected flowers and fruit
Flower photography
Click on letter to see complete photo gallery of plants latin name starting with: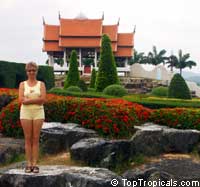 roses

tropical flowers

rare flora
Fancy Hibiscus
flowers of Russia
If you're looking for a great picture for your desktop:
1. Click on image to enlarge
2. Right click on enlarged picture
3. Choose "set as background"
Gallery Start Page
| trees | shrubs | vines | ground covers | roses | orchids | cacti | bromeliads | tropical flowers | mushrooms | rare flora | Flowers of Russia |