This page contains information regarding our high-quality images, artwork and prints by Tropical Treasures Photo Studio. For information about using our Online Plant Catalog images, see Terms of Sale and Rates.

See sample of printed image on the right.
Print includes: scientific name of the plant and our name in fine print. We can add more text and change font per your request.

$50 - for stock picture. See below for stock photos.
$100-200 - for custom-taken picture. This will include 2-3 shoots for you to choose from and all necessary digital image processing.

Size: up to 11"x17"
Printer: 8-ink photo color jet printer.
Matte photo paper
Fine prints - high quality digital printing 2400 dpi
Ready for framing

Example of printed original layout
(frame not included)
Click to enlarge
Click on thumbnail to see larger image
Note: Copyright sign won't be shown on prints, it is placed on these images for online use only. See example of printed original above.
When ordering, please specify image number.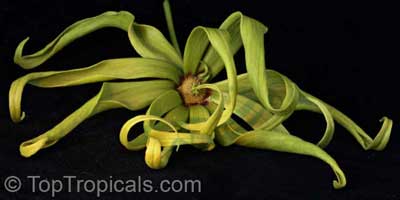 Image # 9267890
Cananga fruticosa

Click on thumbnail to see larger image
Image # 4814
Senecio Confusus
"Mexican Flame" 11"x17"


Image # 4555
Cananga odorata 'Ylang-Ylang'
"Chanel #5" 11"x17"