| | | | | | | | | | | |
| --- | --- | --- | --- | --- | --- | --- | --- | --- | --- | --- |
| Call us: 1-866-897-7957 | | | | Newsletter | | Wishlist | | Gift certificate | | |

TopTropicals.com— rare tropical plants for home and garden
Call us: 866-897-7957

TopTropicals.com— rare tropical plants for home and garden

Follow us:
This page contains information regarding our high-quality images, artwork and prints by Tropical Treasures Photo Studio. For information about using our Online Plant Catalog images, see Terms of Sale and Rates.

Contact us for order questions
Order Photo Collection Fine Print online

See sample of printed image on the right.
Print includes: scientific name of the plant and our name in fine print. We can add more text and change font per your request.

Most of our stock pictures are about 3200 x 2400 pixels, which is enough to produce high-quality 11"x17" print and larger (you may contact us for more details).

$50 - for stock picture. See below for stock photos.
$100-200 - for custom-taken picture. This will include 2-3 shoots for you to choose from and all necessary digital image processing.

Above prices are for image only. We don't provide individual customers with grafic files. It has to be either printed by us (see prices below) or sent to a printing company.

Special offer:

$35 - for 11"x17" fine print poster (shipping included), see collection below.

We can either print the photographs ourselves or send to a special print shop. For our printing:

Size: up to 11"x17"
Printer: 8-ink color jet printer. We have prints made 3 years ago and they look excellent.
Matte photo paper
Fine prints - high quality digital printing 2400 dpi
Ready for framing
Print cost (up to 11"x17") - $15, shipping of the print included.
Laminated picture, upon request - add $5
Prints are shipped in a flat package to ensure safe trip.

If you want to make a special print, then it has to be printed on special paper using pigment dyes. We don't have such equipment but will be happy to work with a company of your choice (we will provide with TIFF/PSD/PDF/EPS or other format) or we can refer such company for you. You have to work with printing company directly to obtain price quote.

Example of printed original layout
(frame not included)
Click to enlarge
Click on thumbnail to see larger image
Note: Copyright sign won't be shown on prints, it is placed on these images for online use only. See example of printed original above.
When ordering, please specify image number.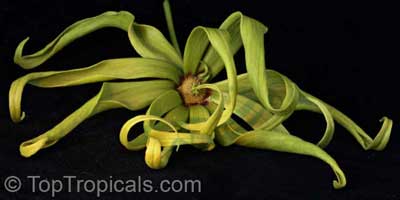 Image # 9267890
Cananga fruticosa
$50 + printing cost
Click on thumbnail to see larger image
Image # 4814
Senecio Confusus
"Mexican Flame" 11"x17"
fine print poster, $35

Image # 4555
Cananga odorata 'Ylang-Ylang'
"Chanel #5" 11"x17"
fine print poster, $35
©Top Tropicals LLC, 2003 - ©TTmagazine.info, 2007 - Using TopTropicals.com images