Email:
click on image to enlarge
Pictures published within Contest are property of the authors and can not be used without author's permission.
| | |
| --- | --- |
| | Normal people buy plants when they have place to put them. I did the opposite thing: I started to collect tropical plants like crazy without thinking where they will be living... I live in Moscow where winter temperatures drop below -30 sometimes. Very soon I realized it was time for action. So the decision to build a greenhouse was made. |
This is a process of my Greenhouse construction... The big black tank on the left picture is a future pond for my nymphaeas.
While the home for my plants is being build, the plants are homeless, living outdoors in the garden (good thing it's summer time). However, they don't mind!

June 2004 was terrible weather in Moscow. Raining all the time, low temperatures around 60's - terrible! Nevertheless, my tropical babies were doing fine, although the only thing incommon with Tropics was rain amount!
| | |
| --- | --- |
| Most of the time we under-appreciate our green favorites' abilities. My tropical beauty Michelia alba, after a short hesitation, realized that since there is no chance to go back to Florida, she must adjust to whatever she was offered. Joy Perfume Tree sprouted new leaves growth which was amazing for everyone who saw this exotic plant here. Michelia proved us that it's ability to adjust is much better than it was believed! Moreover, Michelia likes it outside better than indoors, and even cooling down to 50's didn't hurt it! | |
Beautiful giant flowers of

Brunfelsia lactea

are extremely fragrant. This plant is very easy to grow and doesn't require any special care. I would recommend it to anyone who is a beginner in tropical gardening and doesn't have enough experience. This one is as easy as beautiful!
| | | |
| --- | --- | --- |
| | My conclusions on Brunfelsia hardiness is based on my experience. It so happened that I had to go out of town for quite a long time. I had to leave my plants on care of my husband and construction workers (wonder who takes better plant care). Was everything taken care of? Good if they remembered once in a while to water... Ended up with quite a number of dead plants... Brunflsia gigantea was considered to be a succulent by my "dummy gardeners" and when I was back I discovered a completely dried stick. I didn't through it in a garbage can though - just because I still hoped "what if?". My prayers were heard! Many of the new green branches are now full of buds. Unfortunatelly, Clusia lanceolata that was dried along with brunfelsia, didn't make it. | |
Dombeya is amazingly fast-growing and vigorous. Within 2 months it grew in a huge bush with dinnerplate leaves and certainly is grown out of it's pot.

Another vigorous 'monster' is Quisqualis indica.
| | |
| --- | --- |
| | Telosoma cordata disappointed me at first. It was a tiny twig with the only leaf on top - this is how it took a long trip from overseas plus a few days of customs waiting. It droipped the only leaf right away. I was hesitating for a while if to through it away or not and finally made up my mind that I shouldn't. I placed the twig in a small terrarium with a bottom heater, and in 3 weeks new buds awakened! Now I can't say that telosoma is hard to grow. After a long period of adjustment, the plant became strong and healthy, it takes both direct sun or shade, and it is somewhat drought and over-water tolerant. |
| | |
| --- | --- |
| | The same behavior happened with yellow mandevilla. After adjusting the plant started to grow very fast. |
I'm still waiting for telosoma and yellow mandevilla to bloom, while hibiscus and allamanda already give me this joy!
Cultivar "Wild at heart" is unpredictable - you can never tell the color untill it fully opens.

And every time the flower is a bit different than the previous one.
| | | | |
| --- | --- | --- | --- |
| | | Tahitian gardenia (Gardenia taitensis) blooms on and off since April. I didn't dare to put it outside, so we enjoy fragrance upstairs in everyl room (we don't have doors installed yet in our new house). | |
More exotics - fruit trees. Naranjilla and Malphigia are in bloom, pepino is fruiting. Waiting for Avocado!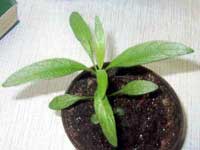 Florida Weed - free-rider!