Alexandra Butova is our columnist, journalist, and photographer, living in Riga, Latvia. She has has been with TopTropicals since Day One (2002), writing about magic plants, travel, and of course cats - from the CatNation she belongs to. Alex is in charge of TopTropicals.ru website.
---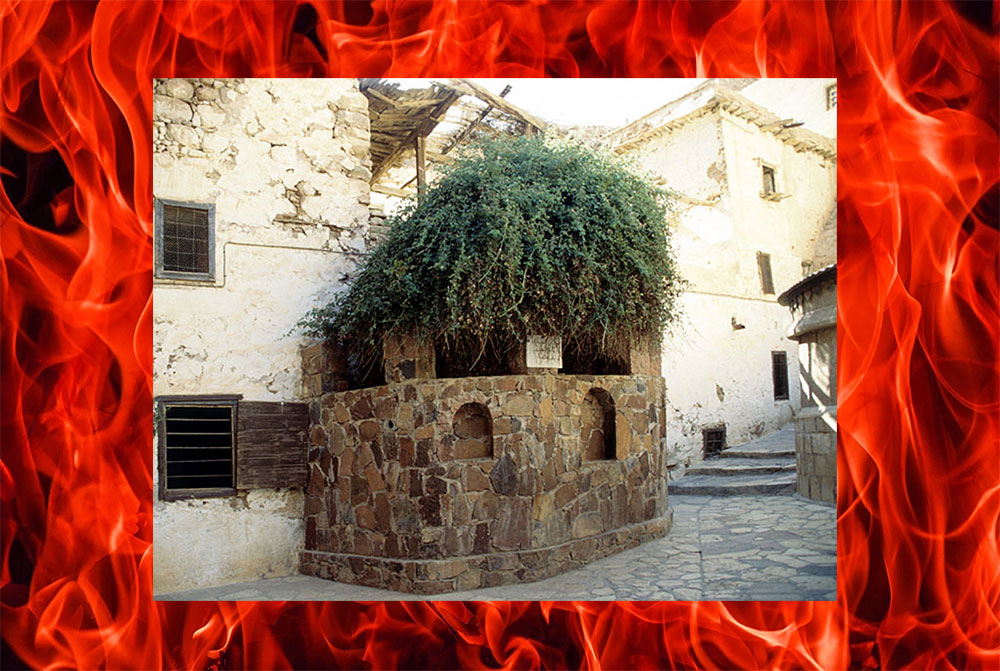 Rubus Sanctus - the Sacred Burning Bush of the Bible... and other Blackberries
...In the entire Old Testament nowhere does God reveal more about himself to one man than in the passage of the Burning Bush... But all the same, this exact bush exists! It can be found at the Chapel of the Burning Bush on Mount Sinai, where it is revered as the original Burning Bush of the Bible survived to nowadays. The species is very long lived so chances are, this is the exact plant that has been growing and regrowing from its roots throughout centuries...
Most of us read The Bible and know the basic theses presenting in this Great Book of Humanity. One of them is a story about the Sacred Burning Bush.
The nature of the Burning Bush is a source of debate among botanists and Biblical scholars. Some researchers believe that God spoke through a natural bush that had botanical name Rubus sanctus: Rubus - latin name for Blackberry and Raspberry; Sanctus - means "sacred".
This plant is a symbol of God revealing himself to a man. Reveal means to make known something that was secret or hidden and to open up to view. In the entire Old Testament nowhere does God reveal more about himself to one man than in the passage of the Burning Bush. In fact, this passage is sometimes called the Moses revelation of God about himself.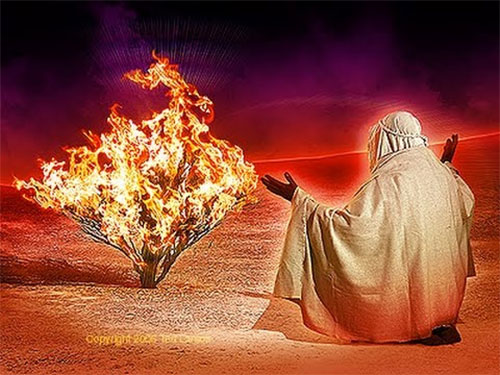 But all the same, this exact bush exists! It can be found at the Chapel of the Burning Bush on Mount Sinai, where it is revered as the original Burning Bush of the Bible survived to nowadays. The species is very long lived so chances are, this is the exact plant that has been growing and regrowing from its roots throughout centuries. The St. Catherines Monastery spiritual heart is the Chapel of the Burning Bush, an unassuming structure of tremendous religious significance.
According to the oldest monastic tradition, this chapel sits atop the roots of the same Biblical bush "that burned with fire, and was not consumed" (Exodus 3:2) when God spoke to Moses for the first time. A few feet away from the Chapel is the reputed bush itself, a rare species called Rubus Sanctus. To Jewish people and Christians, it represents God's miraculous energy, sacred light, illumination, and the burning heart of purity, love and clarity.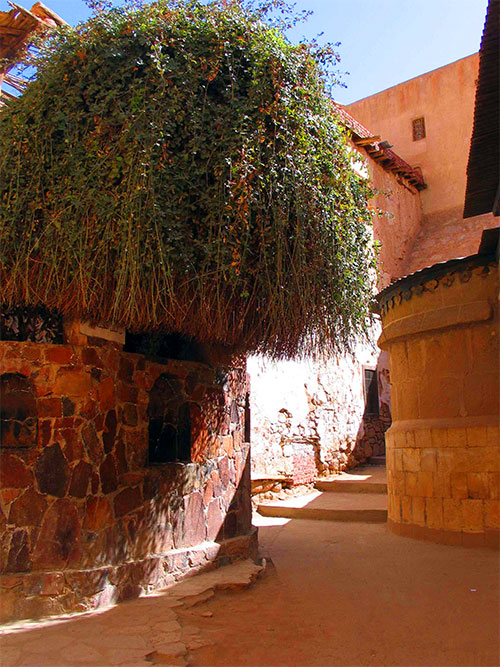 This species is endemic to Sinai and extremely long-lived. The sprawling bush is said to have been transplanted in the tenth century, when the chapel was given a roof. Today, it is very large in size, and many monks and scholars agree that the bush's presence is the very reason St. Catherine's Monastery developed in the first place. A large number of pilgrims and tourists visit this Monastery every year to see the legendary Bible Burning Bush.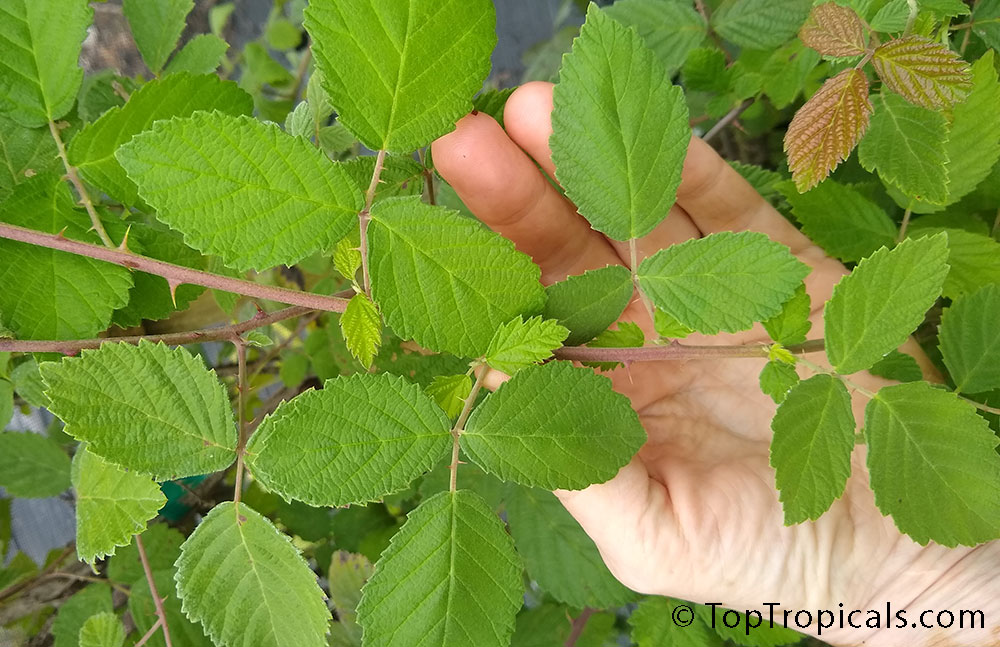 Rubus sanctus or Holy Bramble is an evergreen perennial shrub, the member of the genus Rubus - a large and diverse genus with 250–700 species of flowering plants in the rose family, Rosaceae. It is native to Western Asia and Mediterranean; it grows as a large thicket near water sources, in oases, on wadi banks, and in moist fields. Now it is distributed in West, Central and South Europe, SW Asia, Western Himalayas and North America.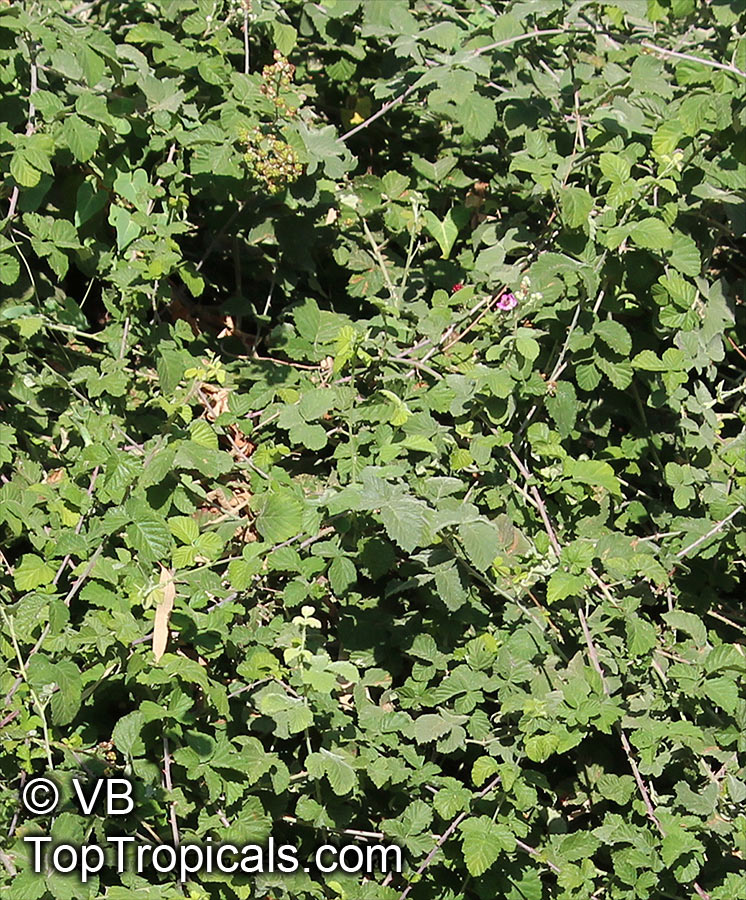 This plant has no central stem; instead it produces long thin branches which can reach 5-6 ft in length. Branches have spiked thorns that bend downward. Leaves are hand-like with 3-5 elliptical to oval, toothed leaflets, dark green above but whitish hairy beneath. The flowers vary from pale to dark pink, followed by blackberries.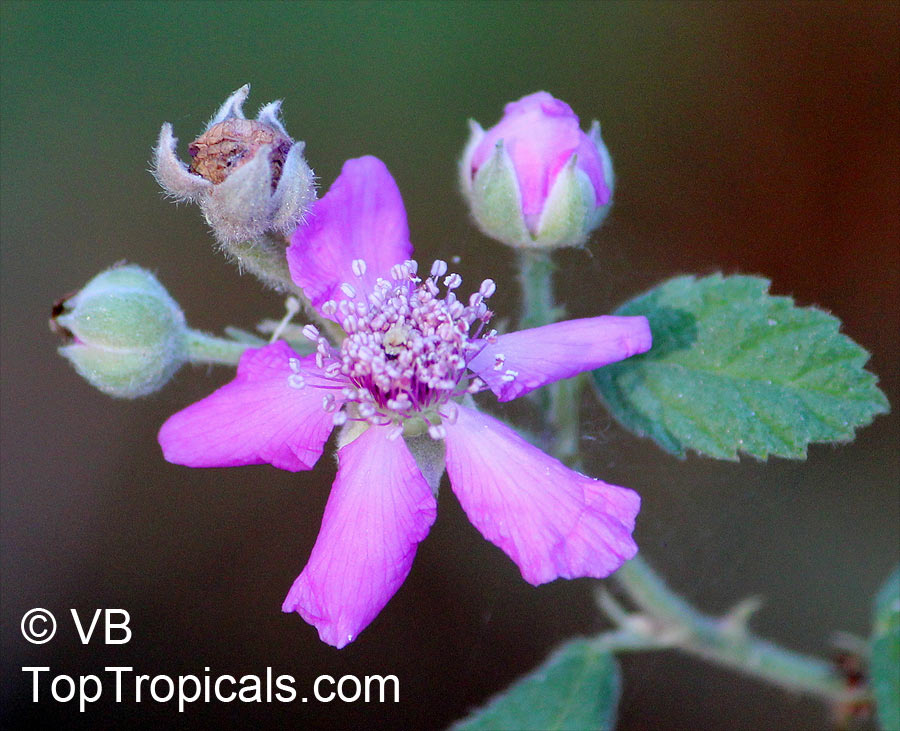 The fruit, sometimes called a bramble berry, is an aggregate of drupelets. The fruits are edible raw or cooked. The fruits are not very juicy, but are tasty and useful.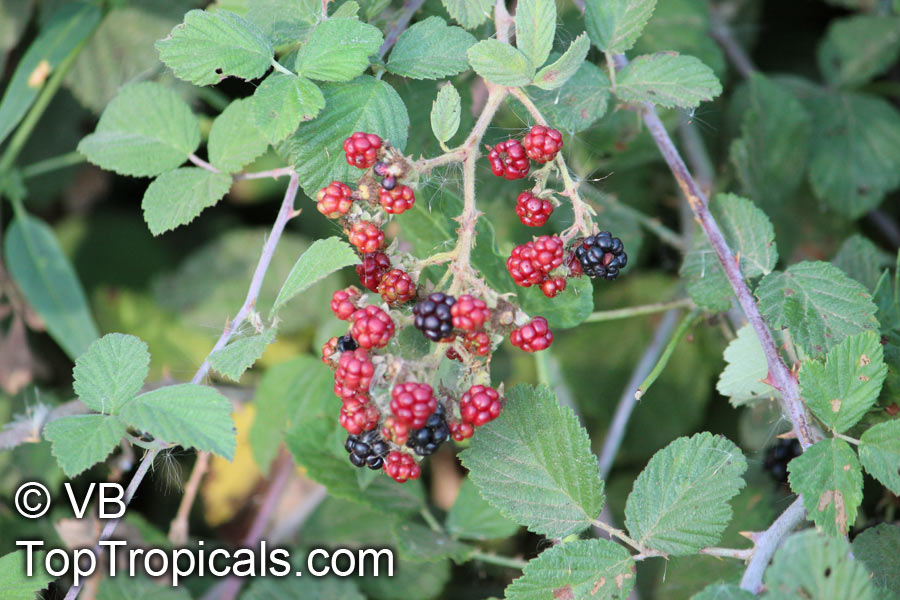 Rubus sanctus are well known for their pharmacological properties, such antioxidant, antitumor, and wound healing potential. Young shoots and extracts of leaves and roots of this plant has been used in folk medicine for ages. The wound healing effect was comparatively evaluated with a reference ointment Madecassol. The experimental data confirmed the ethnobotanical usage of Holy Bramble.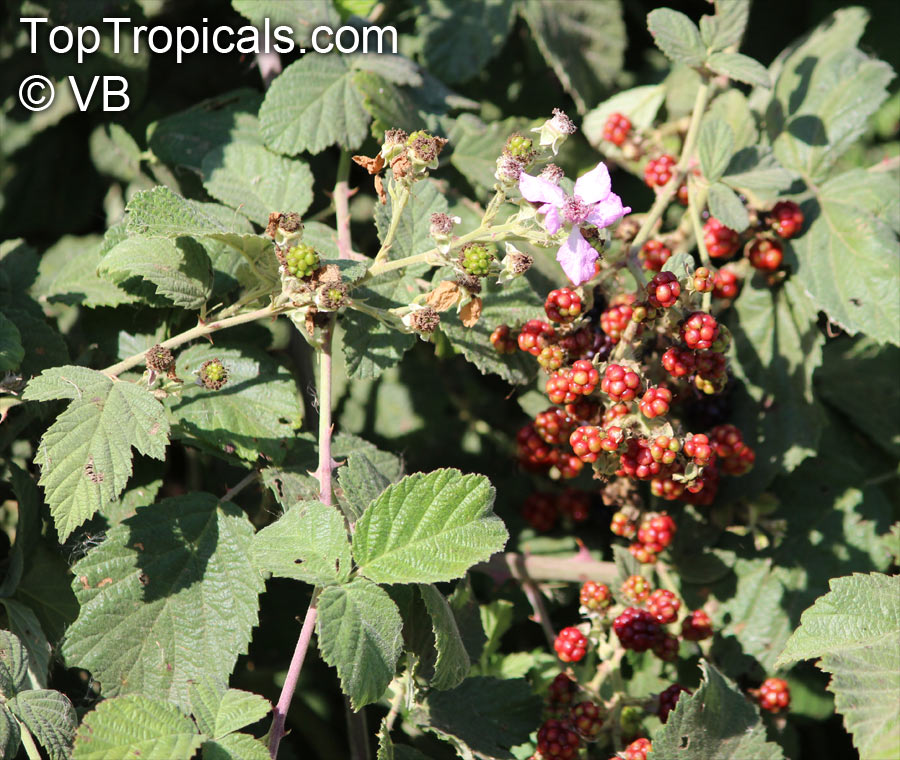 Rubus sanctus not only successfully survived to nowadays, but is used in Blackberry and Raspberry breeding programs. It has many descendants - hybrid varieties of berries so much loved by both kids and adults...
Rubus hybrids
The term "hybrid berry" is often used collectively for those fruits in the genus Rubus which have been developed mainly in the U.S. and U.K. in the last 130 years. As Rubus species readily interbreed and are apomicts (able to set seed without fertilization), the parentage of these plants is often highly complex, but is generally agreed to include cultivars of blackberries. Here are just a few of them.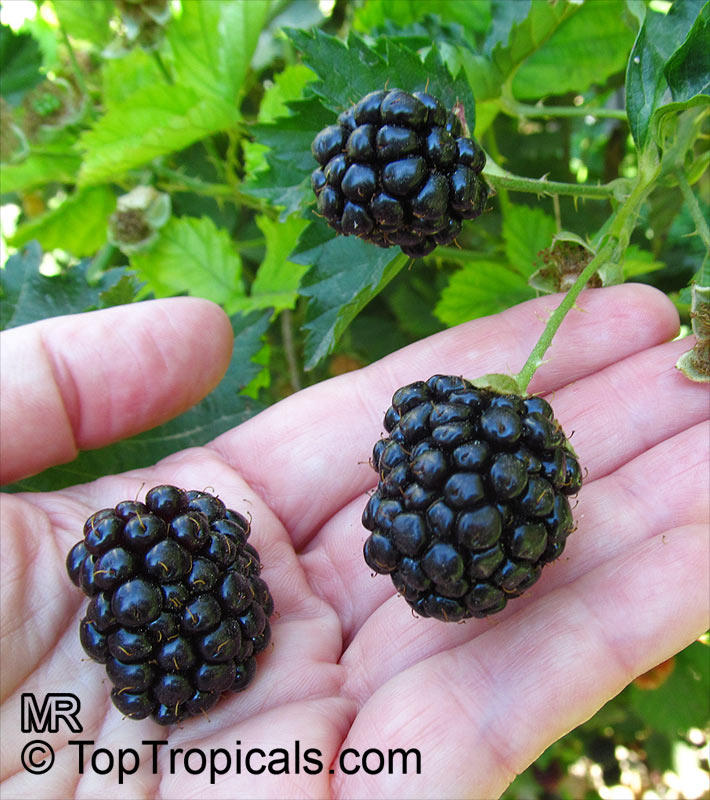 Blackberry Arapaho is an erect, thornless bush released from the University of Arkansas. Earliest ripening thornless, beginning approximately June, and fruiting extends for about four weeks.
Blackberry Big Daddy is a vigorous grower, sets fruit on second year wood and produces huge crops of massive, mouth watering berries. As a self-fertile specimen one plant can produce 10 to 15 pounds of fruit each growing season. Big Daddy Blackberry Bushes produce stiff short canes that grow from the crown of the roots up and into a hedgerow. These winter-hardy shrubs grow well in zones 5-10.
Blackberry Brazos has very large slightly elongated fruit with fairly firm flesh and excellent taste. Ripens early. Bush is vigorous and upright with erect canes. Plant is resistant to stem and leaf diseases. It is a thorny variety.
Blackberry Caddo is a productive, large-fruited, exceptionally sweet, high-flavored blackberry. Floricane fruiting Thornless Erect canes. Berries are sweet, very good fruit flavor and large size. Berries stay big all season, not decreasing in size as the harvest season goes on, unlike other cultivars.
Blackberry Kiowa has very large, glossy black fruit with firm flesh and excellent taste. Ripens midseason and has long harvest season. Bush is moderately vigorous and upright.
Blackberry Navaho is an erect, thornless blackberry cultivar from the University of Arkansas. Well adopted to tropical and subtropical climates. The berries are small to moderate in size, and they are moderately sweet in flavor. Ripens beginning approximately June 15; fruiting extends for about five to six weeks. Fruit very firm; storage and handling potential exceptional; can be shipped under proper conditions.
Blackberry Natchez is a thornless variety, a new release from University of Arkansa. It's an erect, thornless blackberry bush. It has good fruit quality and ripens early. Berries are about 3 berries per oz. Ripening season starts in June. Does very well in Florida.
Blackberry Osage is a new thorn-less variety, with large fruits that ripen in early June.
Blackberry Ouachita – thornless variety of blackberry. Fruit is large with very good flavor. Produce about twice as much as most thorned varieties. Considered to be one of the more winter hardy thornless varieties of blackberry. With some winter protection can grow in Zone 6.
Blackberry Prime-Ark Freedom is the world's first thornless primocane-fruiting blackberry. Primocane-fruiting blackberries, which flower and fruit on each season's new branches, will potentially providing for two cropping seasons. It has very large berries with good flavor.
Blackberry Triple Crown Thornless has a unique flavor. This productive plant yields berries that offer a tasty blend of sweetness and tartness. The fruit is borne uniformly, so it is easy to pick. Thornless semi-erect canes may need support under heavy fruit load. Ripens in early August.
Blackberry Snowbank - Iceberg White Blackberry is an unusual white variety of blackberry developed by plant breeder Luther Burbank. Snow-white berries are translucent, milky-white in color but have all the flavor of a "normal" blackberry. The drupelets look like tiny pearls and are simply beautiful little fruits. Berries stay whiter than other similar varieties as berries ripen, and with much better flavor.
Rubus idaeus x occidentalis - Nantahala Primocane Raspberry is late ripening variety of excellent flavor everbearing red raspberries, also called primocane raspberries. It delivers two great crops of large berries that rate consistently firmer, more flavorful, more attractive and with overall higher quality than others. Hardy to Zone 6.
Rubus x aboriginum × loganobaccus - Boysenberry is a cross among the European raspberry (Rubus idaeus), European blackberry (Rubus fruticosus), American dewberry (Rubus aboriginum), and loganberry (Rubus × loganobaccus). A prolific producer of sweet-tart, large, reddish black fruit in midsummer on second year growth. The beautiful bountiful berries sit against dark green foliage that make this plant not only useful but beautiful. Plant them as a hedge or border or even in a container for decadent berries at your fingertips. It has very large, fragile, purple berry with few seeds. This variety has far fewer and smaller thorns than other varieties. USDA zones 5-10.
The juicy and delicious Blackberry hybrids have fewer thorns or are totally thornless, and give much higher yields. But in each of them there is a piece of ancient, almost immortal bush that has forever remained in religion as Burning Bush, and in science under the name Rubus sanctus. Sacred...
RECOMMENDED FERTILIZERS:
SUNSHINE C-Cibus - Crop Nutrition Booster
Mango-Food - Smart Release Fruit Tree Booster
SUNSHINE-Honey - sugar booster


Photo above: the original mother plant specimen of Rubus sanctus growing at Top Tropicals B-Farm. This plant was obtained from Israel in 2016 and gave life to many clones of so much wanted plant, for rare plant collectors worldwide.