Date: 2 Oct 2022, Entry id: 1664684161-2
A Miracle for every special garden:
Synsepalum - Miracle Fruit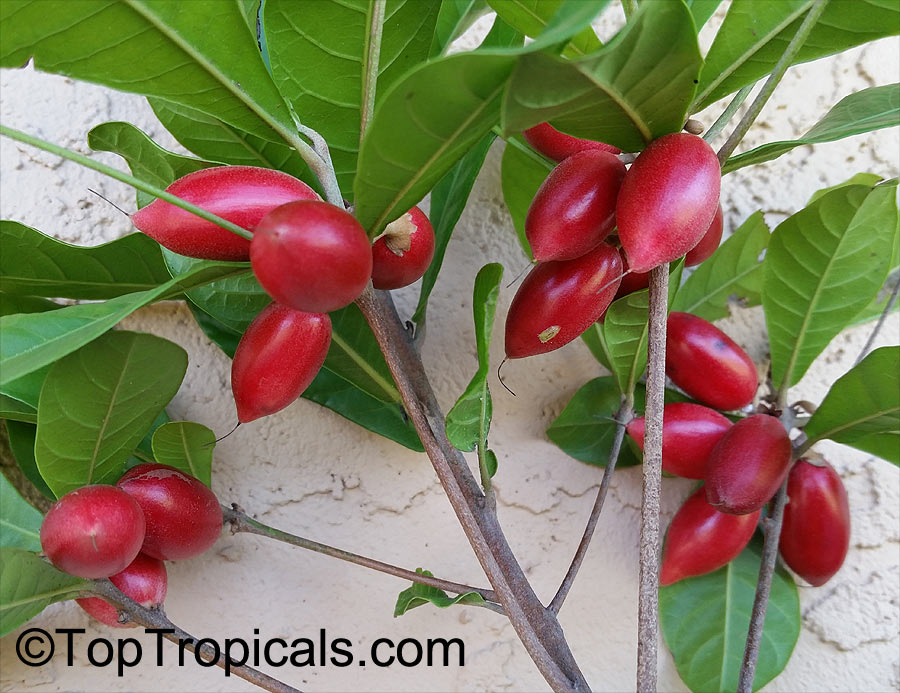 ...Every tropical plant lover wants to have this plant in their collection. And there are at least three good reasons for it:
1) it is a true miracle fruit
2) It enjoys growing in a pot, stays compact and brings you miracle berries nearly year around
3) it can be grown indoors as it has very low water and light needs.
Miracle fruit is one of the strangest tropical fruits. The most unusual thing about it is the effect it has on one's taste after this miraculous berry has been consumed. The "miracle" is that if lemon or other sour food is eaten after the miracle fruit, the sour tastes sweet, as if sugar has been added. That kind of magical experience is unforgettable! The interest in this plant is so high that anyone who has a plant always finds eager volunteers to test its sweetening properties. A natural chemical in the fruit masks the tongue's sour taste buds so that lemons taste like lemonade or lemon pie, or lemon candy; beer tastes like Malta drink, sour strawberries taste super sweet, and a grapfruit tastes delicions and not bitter! What causes the miracle? The fruit has a unique taste changing glycoprotein that inhibits tastebuds' perception of sour taste. The sweet sensation lasts for half an hour to a few hours...