Date: 6 Dec 2019, Entry id: 1575624364-2
Meet PeopleCats of TopTropicals. Cat of the Day: Kevin Coconuts, brother of James Coconuts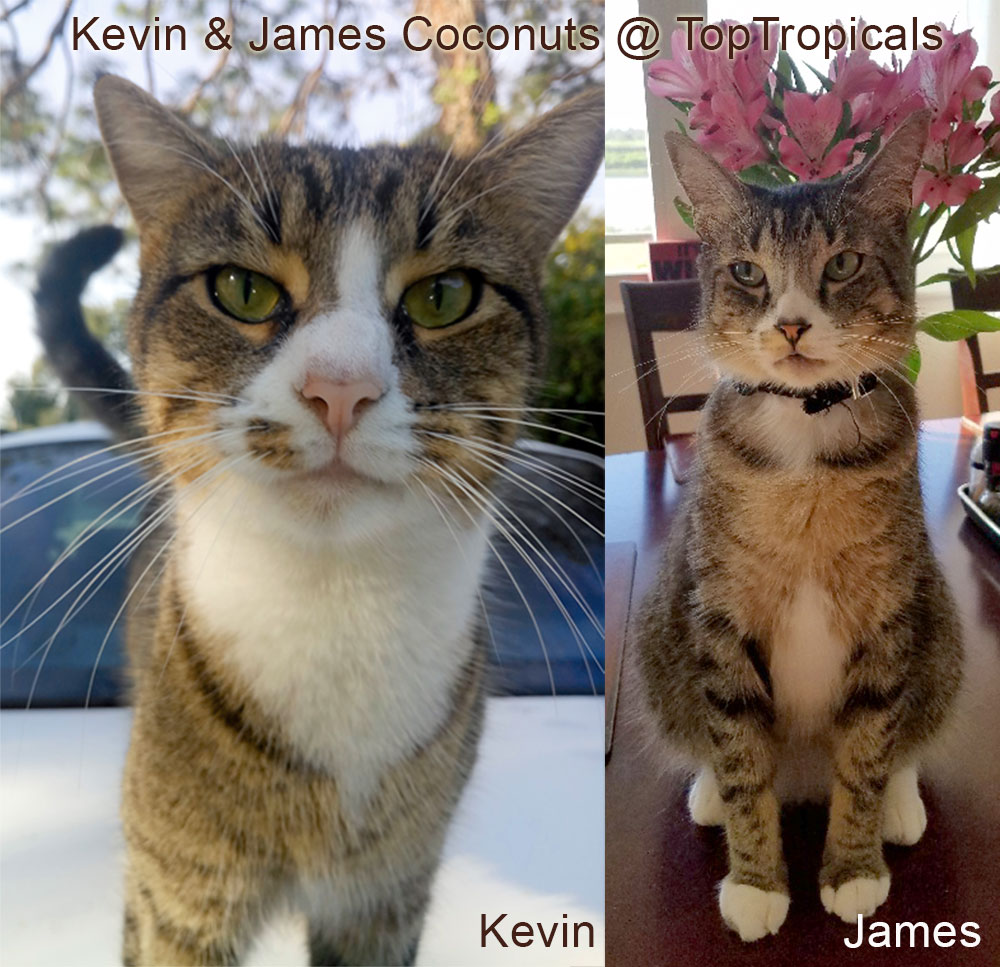 Many of you know well James Coconuts who has been in charge of our Customer Service. Only recently James discovered a twin brother! Kevin Coconuts lives with Sue and Mark (our horticulturist) and helps Mark to grow all his exclusive rare plants. Here is Kevin's story told by Sue...
"...One fall day about a year ago we had a visit from a gangly little stray who seemed drawn to our home. We originally thought he was the kitty from across the street, as his markings are almost identical. We repeatedly shooed him off but the next day, there he was again. His unassuming, humble personality drew us in. Upon closer observation we could see he was a male, while the one across the street is female, so we realized he did not belong over there. He seemed to have nowhere else to go...
With his silly playful attitude, Kevin wormed his way into our hearts and we decided to accept him as one of ours. Upon entering our house for the first time, he seemed to know his way around, and within a couple hours he was fast asleep on the couch. Our two other cats (Amun & Midnight) did not seem perturbed, which is very unusual for CATS, as anyone with cats knows! We have enjoyed Kevin's warm and comical demeanor and could not imagine life without him. He is a bright light that lifts the hearts of all who meet him!"
Check out Video: Meet PeopleCats of TopTropicals and more Cat of the Day stories.