Date: 21 Sep 2019, Entry id: 1569122462-2
PeopleCats of TopTropicals: Shipping Department cat - Lady Bug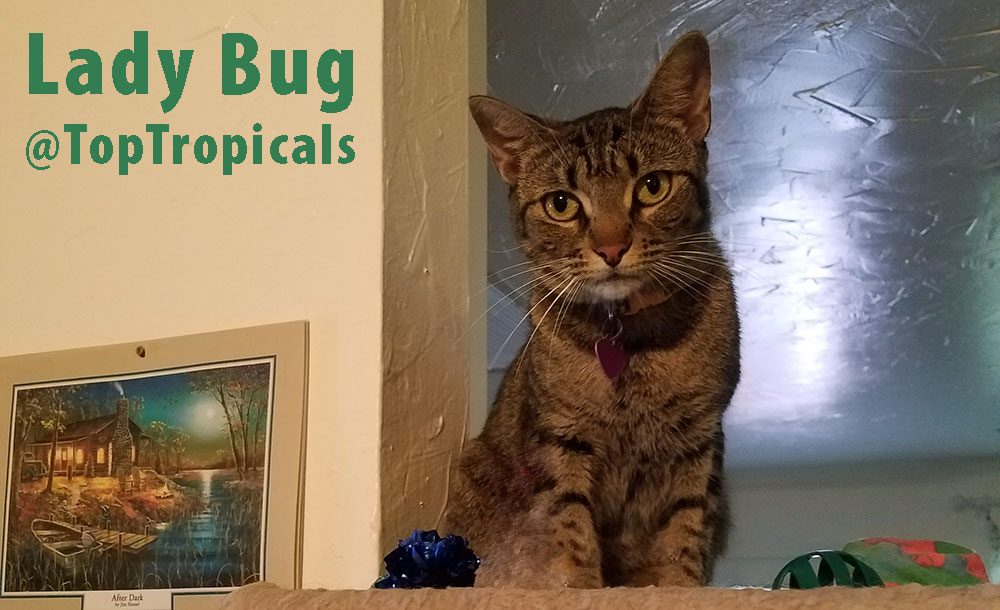 We have been getting many messages from customers saying they really love the postings of our Cats and Dobi Duck... and they want more updates. So we decided to open this new section for the animal fans.
As you well know, TopTropicals is not just a plant Nursery. Like most of the gardeners and all Cool Plant People, we love our pets and we have many of them here, enjoying the Garden. Our cats and the Duck are members of TopTropicals Team. They help customers, participate in packing plants, and of course keep the nursery mice-free. As employees of the marketing department, they get their paychecks, free lunches, and other company benefits like full healthcare coverage and stuff... They are taken care of by TopTropicals Shipping Crew every day: whether its a meal or taking a medicine, it's all scheduled in our daily task list!
This First Issue of PeopleCats Fan Club is dedicated to our Shipping Department cat - Lady Bug. Originally she came to our nursery 3 years ago in a box with her other 3 baby brother-sisters and they just opened their eyes. Someone dropped the box with the litter at our gate... guessing this is the Good Place! When Lady Bug grew up, she became a Shipping Department Supervisor, helping Chief the Cat to manage plant shipments.
Lady Bug went missing a few days ago and all our team is crying for her. We are praying she is OK. We miss you, Lady Bug! Please come back and bug us again!
As a friendly reminder to our local walk-in customers: you are welcome to visit TopTropicals ZOO, just please do not feed or pick up the animals! Some of them are of old age, have special needs or special diet. All our pets are friendly, however, we ask you to please do NOT pet them. They work hard all day long and may have their own rules and emotions.