About the Author
Onika Amell was born in farmer's family in Cape Town, South Africa, and always had a keen interest in gardening. She has been a globe-trotter for many years, traveling along with her husband, an engineer, and her life is worth a novel. In Cape Town she worked in groups "Soil for Life and Work for Love", teaching people how to grow their own food, improve their health, and protect the environment. Onika lived in Galilee, Israel, skydiving over 500 jumps and working on the fields planting, harvesting and caring for various crops (Lychee, Avocado, Bananas, etc), helping out in community gardens... In SE Asia, she taught English at business centers... Upon finally settling in SW Florida, she joined the ECHO Global Farms project on teaching farmers/families around the world about effective crop production... Now as a part of Top Tropicals Team, Onika is our plant expert and a columnist. Onika's biggest passions are plants and... of course – cats, who are her children! She has six of them: Itembi, Freddie Mercury, Donald Trump (he is the difficult one), Tigerlilly, Sweetie, and Jaxson.

Q: I visited Thailand recently, and enjoyed a wonderful stir fry made with Cowslip flowers. I would love to grow it myself. I need this vine in my life! Do you have them in your inventory and if so, will I be able to grow it successfully here in SW Florida?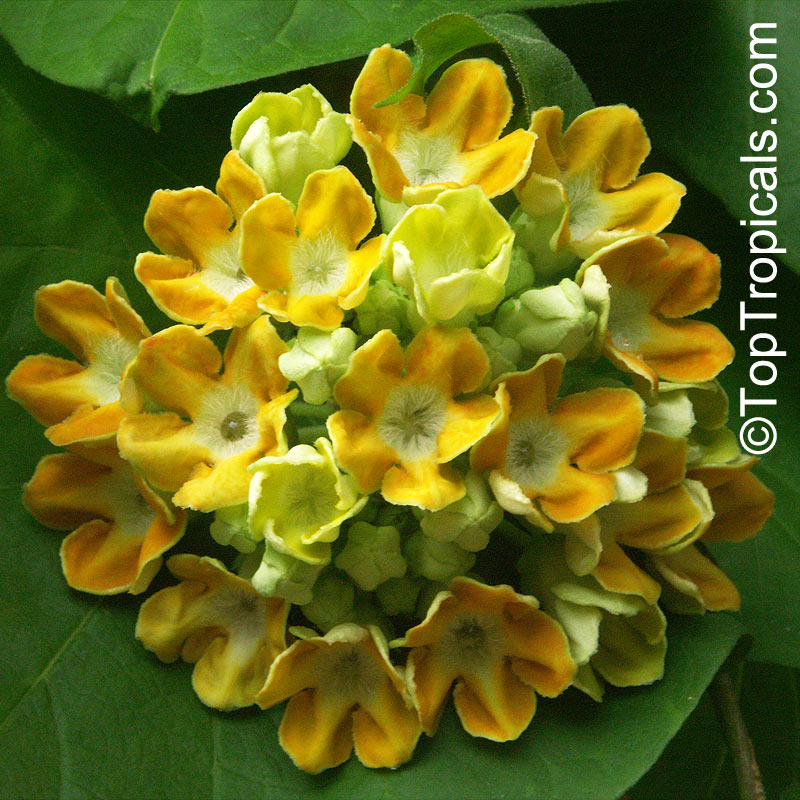 A: The extremely fragrant Telosoma cordata has many names: Cowslip Creeper, Pakalana vine, Tonkin Jasmine, Dok Kajon, or Chinese violet. It is a very sought after rare tropical fragrant ornamental, but not everyone knows that this flower makes a delicious meal!
The flowers have a lovely lemon-like fragrance and can be found in South East Asian food markets. It is typically fried with eggs to make omelets or stir fried with tofu or pork and beef. Young leaves & flower buds can also be eaten fresh (in a salad) or battered & fried. Not only are the flowers delicious, but they are chock and block full of carbohydrates, proteins and vitamins A and C.
An old Chinese tale tells the story of the mystic, aromatic powers of the Pakalana vine:
"...Once upon a time, a troop of warriors seized an enemy castle. But at dusk, a sweet-smelling scent came floating through the air. Aggressive feelings waned as the warriors inhaled this aroma, and by the next morning, they were forced to abandon the castle and retreat..."
The fragrance these warriors smelled, came from the Pakalana vine. If you enjoy fragrant vines, you will want this one! The flowers are also used to make lais in Hawaii.
We certainly have this unusual vine in our inventory and yes, it is an easy to grow vine, hardy to zone 10 and higher. All it needs is well-drained soil and lots of sun, although it can be grown in half shade as well.
Keep this slender vine moist until established and also during the blooming season of late summer.
It is not a heavy feeder, but will definitely benefit from a fertilizer.
WE RECOMMEND:
Pink N Good Daily Plant Food - Flower Booster
Tropical Allure - Smart-Release Booster
Pakalana is the most fragrant at night. It will climb, so be sure to give it lots of space and it will reward you with its wonderful flowers and fragrance for many years to come. Be sure to plant this wonderful vine near your bedroom window, porch or lanai where you can enjoy the fragrance.
Next - for a recipe!
Pad Dok Kajon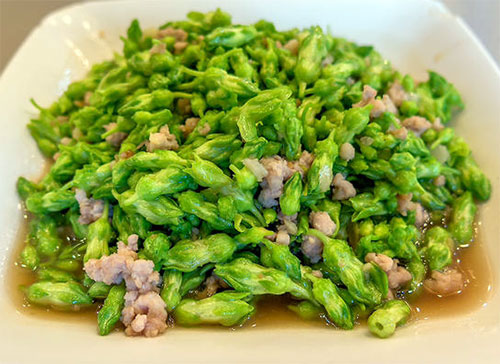 Ingredients
1 tablespoon oyster sauce
1 teaspoon thin soy sauce
1 ½ teaspoon granulated sugar
1/2 teaspoon black soy sauce
2 teaspoons vegetable oil
1-2 birds eye chilies, roughly chopped (less if you don't like it too hot)
1 clove garlic (or 2 Thai garlic gloves), smashed
100 grams firm tofu, pork or beef - crumbled
50 grams dok kajorn (Pakalana flower)
handful of basil leaves

Directions
Prepare the seasoning sauce by mixing the oyster sauce, water, sugar, thin soy sauce, and black soy sauce in a small bowl. Stir to make sure sugar is dissolved.
Heat a wok to medium high heat. Add the vegetable oil. When the oil smokes, tip in the chilies and garlic, stir-frying until the garlic begins to brown slightly (depending on the heat of your hob this could be seconds or a minute).
Add the tofu or meat and continue to stir fry for about 30 seconds (fry beef or pork a little longer) before tipping in the seasoning sauce. Mix through and then add the Pakalana (dok kajorn) flowers. Stir fry for about a minute before turning off the heat and stirring the basil leaves through.
Serve with jasmine rice.
Enjoy!