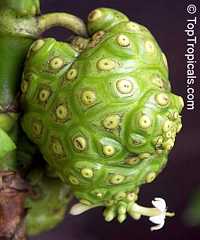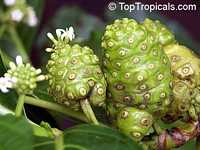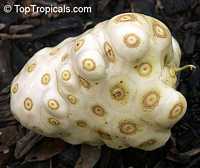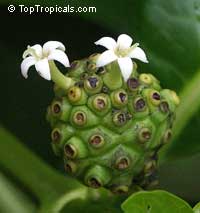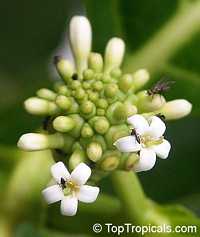 Noni has distinct chemical constituents which are responsible for its healing characteristics.
Compounds identified in Noni fruit are just unique:
Acetic acid, asperuloside, benzoic acid, benzyl alcohol, butanoic acid (n-butyric acid), I-butanol, n-butyric acid, calcium, carotene, decanoic acid, 6-dodeceno-y -lactone 8,11,14-eicosatrienoic acid, elaidic acid, ethyl decanoate, ethyl hexanoate, ethyl octanoate, ethyl palmitate, (ethylthiomethyl) benzene, eugenol, glucose, heptanoic acid, 2-heptanone, hexadecane, hexanamide, hexanedioic acid, hexanoic acid, 1-hexanol, hexyl hexanoate, 3-hydroxy-2-butanone, iron, isobutyric acid, isocaproic acid, isovaleric acid, lauric acid, limonene, linoleic acid, magnesium, 2-methylbutanoic acid, 2-methyl-2-butenyl decanoate, 2-methyl-2-butenyl hexanoate, 3-methyl-2-buten-l-ol, 3-methyl-3-buten-l-ol, methyl decanoate, methyl elaidate, methyl hexanoate, methyl 3-methylthio-propanoate, methyl octanoate, methyl oleate, methyl palmitate, 2-methylpropanoic acid, 3-methylthiopropanoic acid, myristic acid, nonanoic acid, octanoic acid, oleic acid, palmitic acid, paraffin, potassium, scopoletin, sodium, terpenoids , 2,5-undecadien-l-ol, undecanoic acid, n-valeric acid, vitamin C, vomifoliol.
Researchers throughout the world have studied Noni, bringing the secrets and benefits of the Noni plant to the peoples of the world. Noni's reputable qualities are capturing the attention of scientists whose work and findings are published in some of the world's most renowned journals. Research is revealing that all parts of the noni plant - roots, seeds, flowers, leaves, and fruit - have specific beneficial health properties. There seems to be no known food or herb with either the rich list of substances or the high amounts of key substances all put together in one super food. Noni aids the body's natural healing abilities. It works like a food and acts like a medicine or herb without the side effects. This plant is a real doctor!
All parts of the Noni tree have so-called "proxeronine system" in them - a very important part of our immune system. In 1950 Dr. Ralph Heinicke PhD, a scientist and biochemist, lived in Hawaii discovered an alkaloid, which he named xeronine, an essential element for human health that is required for proper cellular communication and protein structure. The increasing use of artificial fertilizers in growing our food, as well as the increased pollution in our environment also negatively affects our intake of xeronine. Without this alkaloid, our body's cells become weak, resulting in weak tissues. Weak tissue causes weak organs. In turn, weak organs can lead to numerous health problems. As we age, our bodies produce less xeronine than is essential for our bodies to function optimally. Dr. Heinicke has found Noni to be one of the richest sources of proxeronine available. When proxeronine is present in the body, it accelerates the body's ability to make sick cells better and to keep cells from getting sick in the first place. Scopoletin, another important ingredient in Noni, is known for its anti inflammatory, anti histaminic, improved circulation, anti-asthmatic, anti-bacterial and several additional important effects. 
According to the resent research, Noni acts as an immune modulator. It may help in eliminating the allergy related symptoms by modulating our body immune system. Noni fruit does contain a number of enzymes (proteins) and alkaloids that are believed to play a pivotal role in good health. Research indicates Noni fruit stimulates the immune system, regulating cell function and cellular regeneration of damaged cells. Since Noni fruit seems to operate on the very basic and critical immunity level, hence may be useful for a wide variety of conditions. Scopoletin which is abundant in Noni juice is anti-histaminic nature. Hence it helps in eliminating the allergy induced symptoms like running nose, sneezing, itching of parts etc. The studies show that Noni stimulates the immune system, regulates proper cell function, increases the ability of cells to absorb and utilize nutrients, inhibits tumor growth, and regenerates damaged cells. Noni can be used as a supplemental cancer treatment and to reduce the side effects of chemotherapy. As a powerful antioxidant, it is used in therapy of AIDS / HIV. 
The Noni seeds are a source of phospholipids, which are important in aiding your senses: touch, balance, hearing, taste. Research has shown that linoleic acid, an essential fatty acid, is a powerful ally in skin hydration and health. The seeds are especially rich in linoleic acid, which is absorbed easily through the skin.
Noni fruit can increase mental clarity and attention span, as well as allow greater physical performance levels. It also benefits the following systems of the body:
Immune system. Supports the immune system's natural ability to fight disease and infection.
Circulatory system, tissues, and cells. Superior antioxidant that helps rid the body of harmful free radicals. It also increases energy levels.
Digestive system. Supports proper digestion and helps you absorb more nutrients at the cellular level. 
Contains components that are specifically important to the skin and hair. It also helps carry beneficial substances to the skin.
Today the basic Noni elements are used to create Noni juice products which are being used by thousands of people with unbelievable results. The formula is based on the ancient recipes of the islanders, is made from straight Noni fruit puree and includes grape and blueberry juice concentrates to enhance the flavor of the juice.