Date: 20 Aug 2020, Entry id: 1597932662-2
PeopleCats of TopTropicals. Cat of The Month: Greenhouse King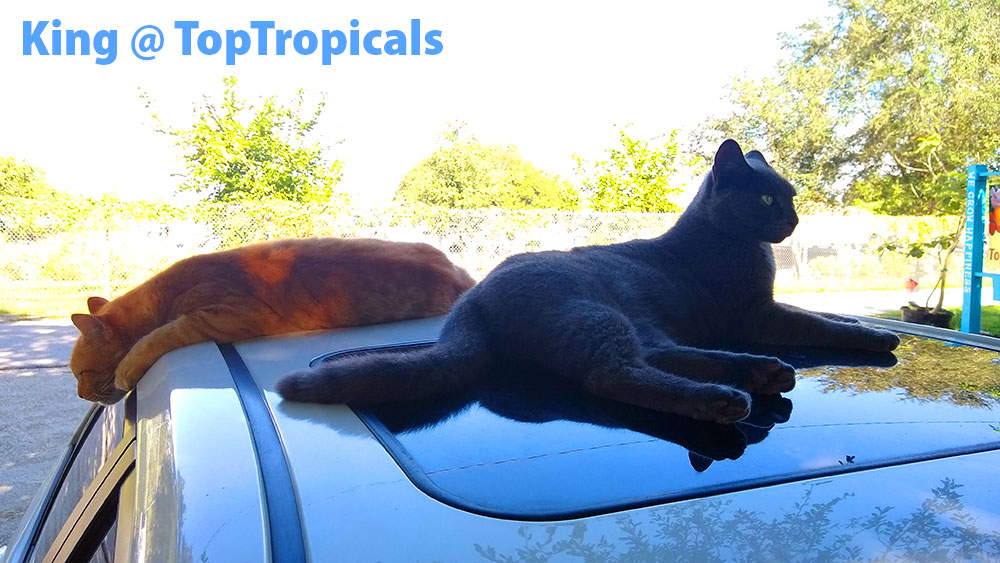 King continues being on top of the poll... thanks to his adventurous nature. This Purrrson just loves to travel! He likes driving and biking. How many times we pulled him out of customer's car or delivery truck!
Sure thing, he just did it again, joining contractor's team. Luckily he was noticed hiding in the back of the truck before the driver hit the highway!
ATTENTION VISITORS!
We are reminding you, please check your vehicles for cats before you leave!

On a bright side, King has been very helpful, helping to plant newly arrived plant shipment from Thailand.
For those of you who has been waiting for rare plants, after a long delay due to airlines lockdown, we finally got lots of rare stuff and it will be ready for shipping soon.
Please make sure to add to your wish-list these coming-soon rare plants, this is the only way we can ensure you will get notified when they are available for sale, on first come first serve basis.
These are limited quantities, high demand plants!
Don't miss your dream plant! Just click on "Notify me when available" and add your email to waiting list.
Limited quantities - will be ready soon
(planted with King's help)
- Amherstia nobilis - Pride of Burma
- Artabotrys siamensis - Climbing Ylang-Ylang
- Barringtonia acutangula - Indian Putat
- Barringtonia asiatica - Fish Poison Tree
- Bauhinia aureifolia - Fragrant Gold Leaf Orchid Vine
- Brownea ariza - Rose of Venezuela
- Brownea grandiceps - Scarlet Flame Bean
- Cananga fruticosa - Dwarf Ylang-Ylang
- Couroupita guianensis - Cannonball Tree
- Cyrtostachys lakka - Lipstick Palm, Red Sealing Wax
- Desmos chinensis - Ylang Ylang Shrub
- Dillenia philippinensis - Katmon, Philippines Elephant Apple
- Garcinia mangostana - Mangosteen
- Ixora congesta Thai Flame
- Melodorum fruticosum - Hot Lips Ylang-Ylang
- Monstera variegata Thai Constellation (available now for pick up only)
- Gustavia augusta - Heaven Lotus
- Posoqueria longiflora - Needle Flower Tree
- Rauwenhoffia, Melodorum siamensis
- Saraca declinata - Red Saraca
- Terminalia catappa - Tropical Almond
- Vallaris glabra - Bread Flower
- Wrightia vietnamensis - Dwarf
TopTropicals PeopleCat Club and Zoo
Thank you for supporting us in helping PeopleCat Community!
Make your kind donation today and receive a surprise gift from us! Every little bit helps. Thank you and God bless you and your pets!