Date: 10 Mar 2020, Entry id: 1583815861-2
Meet PeopleCats of TopTropicals. Cat of the Day: King the Hobo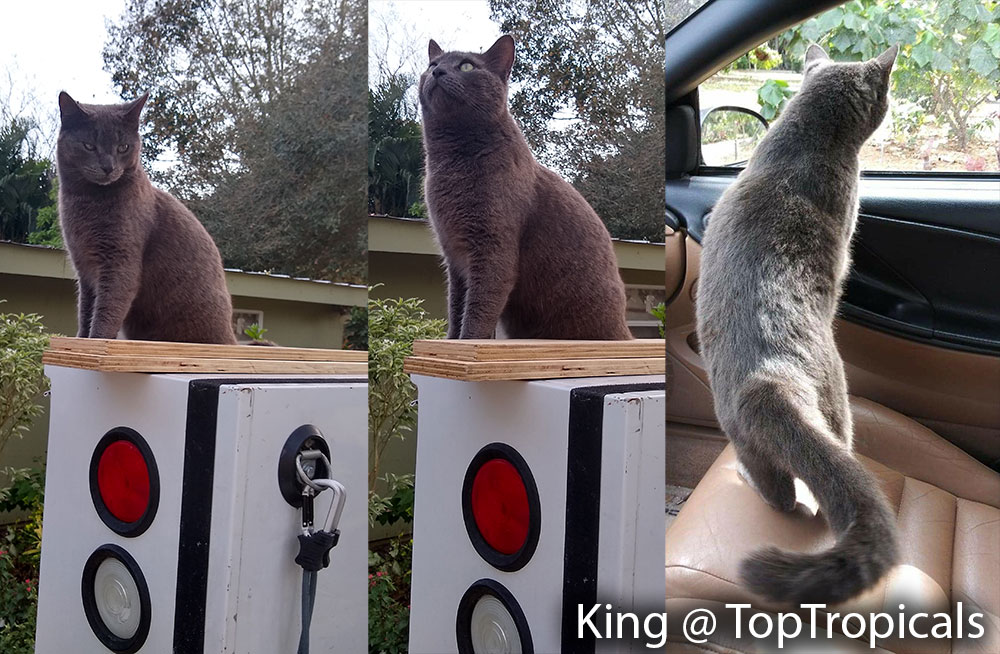 "Live, travel, adventure, bless, and don't be sorry." - Jack Kerouac
King, who has been famous with his ability to get in trouble, without a doubt is the Cat of the day, week, and month. His recent adventure went above and beyond our expectations. King decided to take a ride.
He jumped inside the truck of our supplier from Homestead, for very innocent reason: inspect the quality of plants delivered. No questions asked, he did his job.
Next thing we remember was the driver calling us on his way to Homestead: "Looks like I have your cat in my truck, and he is pretty happy with the ride!"
Luckily, the discovery of the Hobo happened pretty quickly, before the truck left Ft Myers area. So King did not get all the way to Homestead as he planned, his adventure was interrupted. He was dropped off at Edison Estate Botanical Garden. The director Eric happen to know TopTropicals well, just visiting us a few days before for the Leap Year Celebration event. He kept King in his office until Onika came to pick him up.
What an adventure!
Dear visitors of Top Tropical Garden Center! When leaving our Nursery, please check your vehicles for cats! Apparently, they like to travel!
Thank you everybody for supporting us in helping PeopleCats. Every dollar you spend on TopTropicals plants is split between plant growers and PeopleCats who help us become better people.
Check out the Video: Meet PeopleCats of TopTropicals and more Cat of the Day stories.

After his adventures, King is resting with his pet mouse. Mouse is alive, and no animals were hurt during the adventures.