Date: 27 Feb 2020, Entry id: 1582782962-2
Meet PeopleCats of TopTropicals. Cat of the Day: Lucky Abu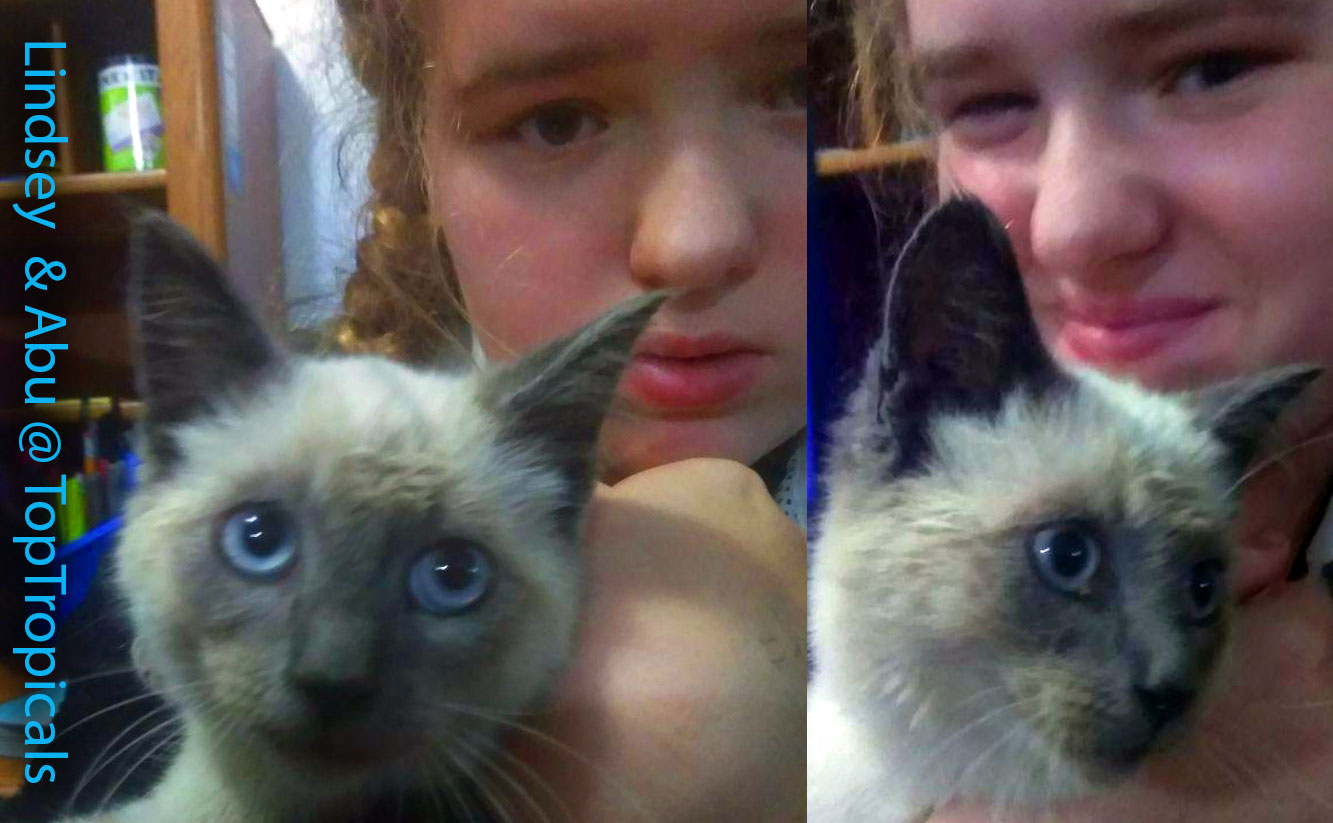 "You will always be lucky if you know how to make friends with strange cats".
Colonial American Proverb
- our last Cat of The Day Itembi started with this quote... and guess what, it proved right again!..
Right around the corner from TopTropicals, in the woods, Kristi noticed a skinny poor cat... she looked so miserable, just bones and skin... she could hardly walk and looked injured. And yet she had 2 kittens following her! The Cat Family could use some meal and a warm home. Unfortunately they seemed to be feral and wouldn't let Kristi pick them up.
Compassionate Kristi spend couple days brainstorming how to save these poor PeopleCats in need. She ended up setting a trap and... bingo! The first Little Purrson found its forever sweet home at TopTropicals!
...The cat groomer Lindsey came home from school. First bath time... the kitty smelled like poop! Soon the bath time was over... Full of fleas, and it's a boy!
She named him Abu. Just like the delicious exotic tropical fruit! Or, a mischievous Aladdin's Monkey companion ;)
We will send you updates on Abu and hope that his Mom will join him soon at TopTropicals Cat Paradise!
Remember that every dollar you spend on TopTropicals plants, is split between plant growers and PeopleCats who are our all-time companions and helpers in our daily hard work! We thank our customers for buying plants and thank our PeopleCats for keeping us cool, kind, and happy!
Check out the Video: Meet PeopleCats of TopTropicals and more Cat of the Day stories.
Lucky Abu: from rags to riches!

Being trapped in a cage for a few hours is not so bad if you have your own petting staff!