Date: 15 Dec 2016, Entry id: 1481801706
SUNSHINE in a Bottle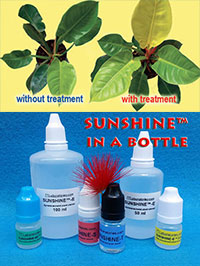 SUNSHINE-H - plant booster for house plants specially formulated for plants grown indoors:
- protect from insects and improve disease resistance,
- improve tolerance of indoor plants to low light, and low humidity conditions;
- maintain healthy dormancy of seasonal species and help to rapidly break dormancy in Spring.


Directions:Mix with distilled water as follows: 2.5 ml to 1 gal. Spray traditional house plants - once in 2 weeks, tropical plants overwintering indoors, including woody ornamentals and potted fruit trees - once a week, leafy herbaceous perennials - once a month.

SUNSHINE in a Bottle - effective plant stimulant from new line of plant boosters, the representative of a new generation of agricultural chemicals. Developed by TT Laboratories LLC and designed specifically for applications on tropical plants. Can be used as well on seeds, seedlings, and small vegetable plants (completely organic and safe). It is proved to be a magic growth promoter, improves cold hardiness and heat tolerance of tropical plants.
,br> See page about SUNSHINE.

Order SUNSHINE boosters.
Dont forget Special Holiday discounts:
XMAS15 - for 15% off on orders $100 and more
XMAS20 - for 20% off on orders $150 and more
XMAS25 - for 25% off on orders $200 and more
Codes valid through Christmas day, Dec 25. Excluding S/H