1-866-897-7957

rare plants - fragrant flowers - exotic fruit
Date: 29 Nov 2016, Entry id: 1480424707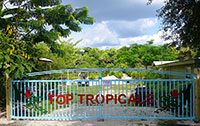 December Fest on Dec 10, mark your calendars!
Topic: Edible landscape. 10:00am - 2:00pm. Agenda:

Class @ 11:00am by Robert Riefer. How to keep pests off of maturing fruit.
Class @12:00pm Super foods by Zoe Merring. Benefits of Soursop, barbados cherry, goji, moringa. Benefits and recipes.

Discounts on all edibles
Prize giveaways at 12:00pm and 2:00pm (must be present to win)
20% off After-Cyber-Monday sale! Now that everybody is done with shopping for monitors and speakers, it is time to get some happy stuff! 20% off on all fruit trees, 1 day only! Enjoy your shopping and get the plants you always wanted at a low price!
©Top Tropicals LLC, 2003 - ©TTmagazine.info, 2007 - Using TopTropicals.com images