1-866-897-7957

rare plants - fragrant flowers - exotic fruit
Date: 14 Oct 2016, Entry id: 1476451802
October 15 - COME TO OUR OCTOBER FEST!
25% OFF ALL PLANTS at TopTropicals nursery
13890 Orange River Blvd, Ft Myers, FL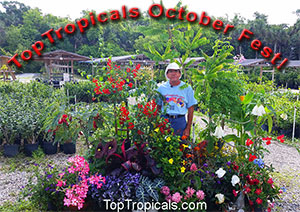 October 15, 2016, Saturday. 10am - 3pm.
- Pest Control and ID (11am and 1pm)
- Propagation Demonstration (12pm)
- Garden tours throughout the day
- Edible Landscaping
- Preparing for cold and SUNSHINE boosters presentation
- FREE Pots
- FREE Plants!
- 25% off ALL inventory at the nursery!
- Kid Friendly Activities
- Coffee and donuts

Turn your backyard into a tropical paradise of flowers and fruit! We have hundreds of fruit trees including avocados, mangoes, lychees, sapodillas, sapote, wax jambu, and much more. Our exotic flowers range from brightly flowering shrubs to trees so fragrant they are used in perfume companies.
13890 Orange River Blvd, Ft Myers, FL
We hope to see you there!
©Top Tropicals LLC, 2003 - ©TTmagazine.info, 2007 - Using TopTropicals.com images