Date: 18 Jun 2016, Entry id: 1466284202
New Top Tropicals Video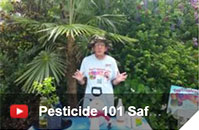 Top Tropicals Video - Pesticide 101 Safe and Easy. Top Tropicals Plant Clinic with Robert Riefer (Certified Crop Adviser, ISA Certified Arborist). Many people are afraid of using harsh chemicals. We will discuss some pests you may find in your garden and what you can do about them, including using easy and safe household remedies.
Check out this video: Pesticide 101 Safe and Easy.
Stay updated with TopTropicals Videos by subscribing to our channel at YouTube.com/TopTropicals and get our latest video news of what's fruiting and blooming!
Father's Day discount. A live plant is the most special gift for the Dad!
15% off coupon: FATHER2016 (plus usual 5% discount on top of this offer)
Enter discount code in shopping cart and click "recalculate"
Valid through end of the day of Sunday June 19, 2016. Minimum order $100 (excluding S&H). Not valid on previous purchases. You may also purchase a GIFT CERTIFICATE so he can select his favorite plant!