Date: 19 May 2016, Entry id: 1463659506
Care of mail-order plants during hot summer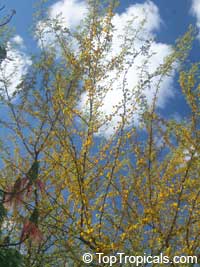 Q: I live in California and about a month ago ordered several plants from you, including fruit trees (Carambola, Mango, Avocado) and flowering trees (Xanthostemon, Adeniums, Champaca, Ylang Ylang). They were all doing well until I tried to move them into full sun, when they got leaf burn immediately. Ylang Ylang was doing great in a shade, but I repotted it from 1 gal into 3 gal and it is drooping leaves now. It has been very hot (over 100F) and dry (humidity is less than 25%). Any suggestions?
A: Hot summer can be pretty challenging time for establishing new plants. These are some guidelines to make your summer gardening more successful and rewarding.

1. You can order plants at any time, but keep your eye on your local weather forecast and try to chose cooler periods to schedule your plant shipments. Here at TopTropcals we monitor weather at destinations, and we can also delay shipment per your request until more favorable conditions.

2. During hot Summer months, many plants are still OK to ship, and to be planted, many species are heat tolerant. It's usually safe to ship most succulents, including Desert roses and Euphorbias. Some fruit trees are pretty easy too, like Loquats, Mango, Eugenias. Many flowering trees can take heat: Acacias, Clusias, Jatropha, Sausage Tree, Plumerias and many others. Check our full list of plants suitable for hot and dry conditions. Most jasmines, including Jasmine Sambac and Trachelospermum make also a safe choice for hot weather planting.

3. Use shade cloth or simply white sheets to protect young plants and new plantings from hot sun.

4. When establishing mail ordered plants during hot weather, keep them in shade for longer period of time than average recommended 1-2 weeks. Give them a chance to establish really well. In areas with low air humidity, try to create a simple mist system. It can be purchased in your local Home Depot for only $20 and set up takes only 10 minutes! It makes a big difference and can help you save many plants from hot weather stress.

5. Although it may seem that during hot weather plants need more water due to high evaporation, be careful with watering, and check soil with your finger before watering - don't water if it is still wet. Combination of "hot and wet" can be as harmful for the root system as "cold and wet" during winter. Protect root systems from overheating: covering black pots with white cloth will work. Remember when temperature is above 90F, most of plants slow down their metabolism, which means roots slow down or even stop pumping water and become more vulnerable to overwatering. For the same reason, do not hurry to step up into bigger container if roots haven't filled yet the existing pot.