Date: 14 May 2016, Entry id: 1463217005
Top Tropicals Video: Ambarella - delicious June Plum
Golden Apple, or June Plum - Spondias cytherea.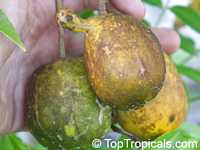 This exciting fruiting plant will amaze you with its ability to flower and fruit at a young age. It fruits in winter and holds the fruit up to 6-8 months, long after the leaves have dropped. The fruit appears in pairs and will turn a brushed-golden color as it ripens. Its feel and juiciness resembles that of a mango but with completely different flavor. The Golden apple is used both in sweet and savory dishes depending on its ripeness. When green, the fruit is commonly eaten as is (with or without skin just like green mangoes) with salt and other salty/spicy dips, made into salsas, chutneys, and into juices and smoothies. When fully ripe, the Golden Apple will be deep yellowish-orange in color. When yellow, the fruit is eaten just like an apple or stewed with sugar to make an applesauce-like dessert.

Check out this video: Ambarella - delicious June Plum...
Stay updated with TopTropicals Videos by subscribing to our channel at YouTube.com/TopTropicals and get our latest video news of what's fruiting and blooming!