Don't miss out! Subscribe to receive Happy Gardening Tips, new arrivals notifications, and discount codes!
11-22-22. Happy Thanksgiving with Holiday savings. Green Friday: Opening B-Farm in Sebring. The most interesting rare fruit trees
IN THIS ISSUE:
Happy Thanksgiving!
Enjoy the Holiday week with Holiday savings
Green Friday: Opening B-Farm in Sebring, FL
The most interesting rare fruit trees and edibles (besides Mango and Avocado)
---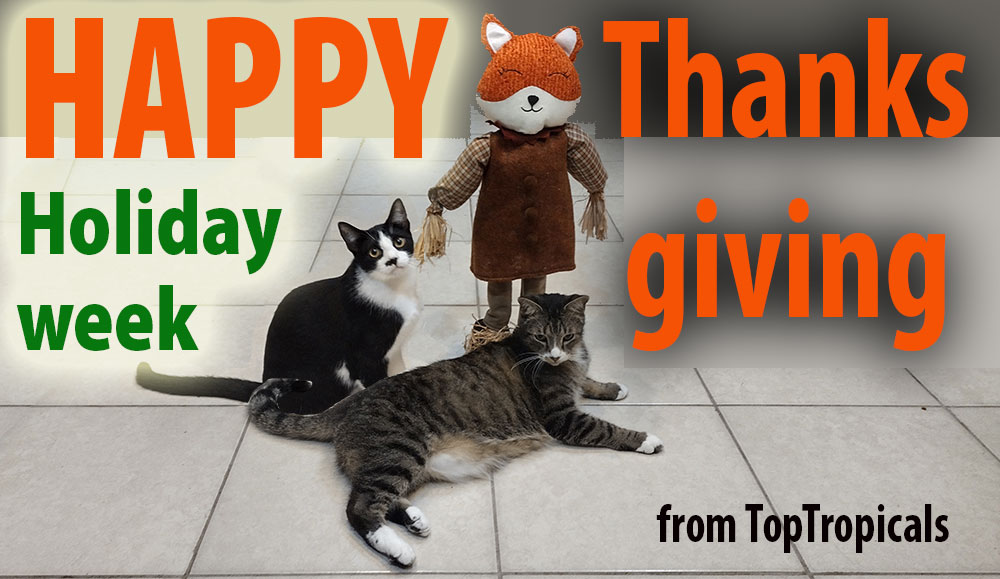 Thank you our dear customers!
Happy Thanksgiving!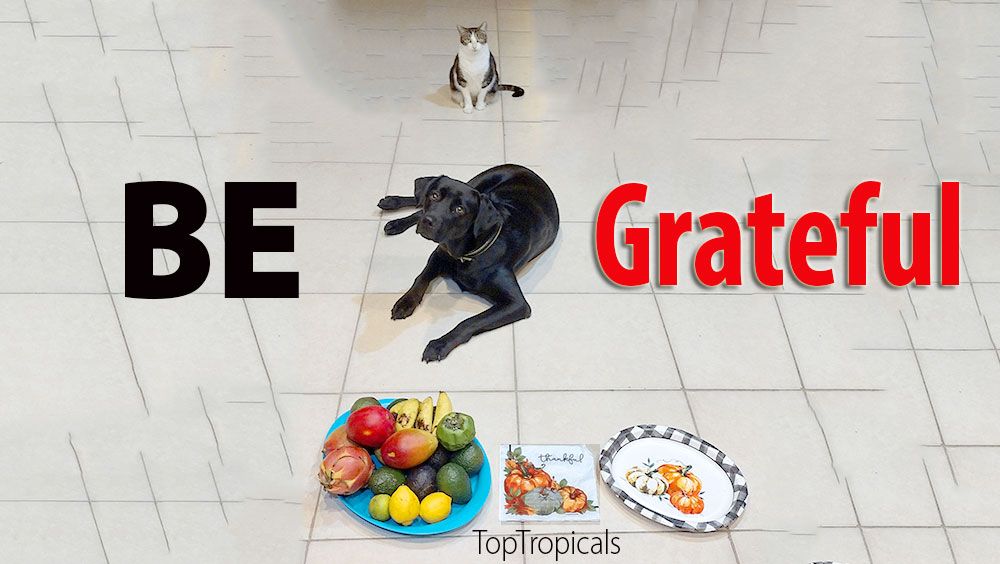 Enjoy the Holiday week with savings
up to 20% and more!
The entire TopTropicals Team, our PeopleCats, and our new dog Mango, are wishing you Happy Holidays!
We want to thank all our customers for staying with us through this difficult year. We went together through hurricanes from both weather and economy. Thanks to your support we continue offering the best selection of beautiful and useful tropical plants, fruit trees and edibles. We are always here for you, whether to help recover lost gardens or grow your own edible landscape. We want to make your gardening fun and affordable. Enjoy your Holiday week with this additional 10% code on top of our automatic discounts 5% off $100 orders and 10% off $200 orders plus all other deals and promotions!
GRATEFUL
This 10% code has no min. order. Exp. 11-26-2022.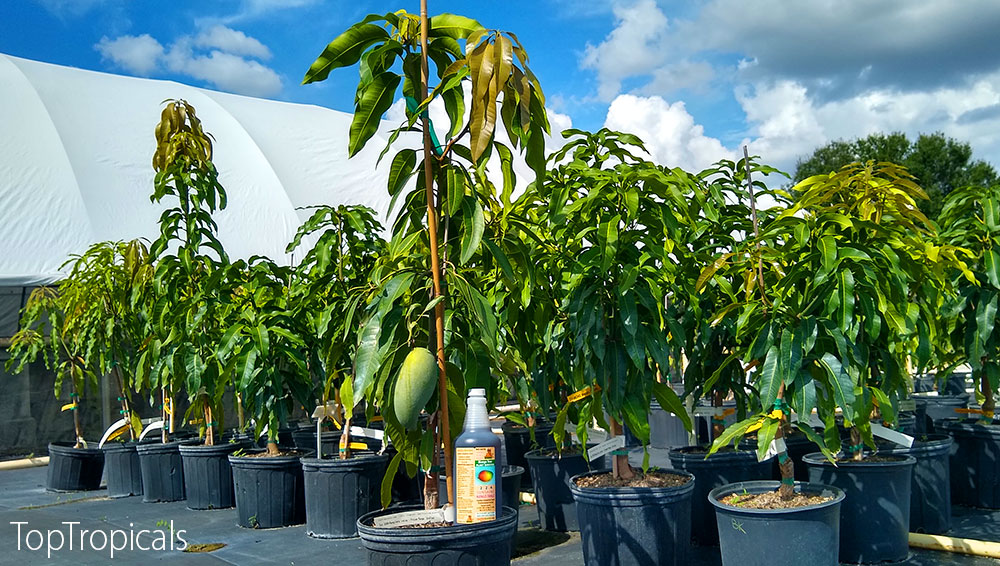 More discounts:
these fantastic offers can be combined!
Instant 5% off orders over $100 and 10% off orders over $200
Secret Garden - 50% OFF
20% off - todays special deals
More selected items on sale
See all current deals and promotions
Blessings of the year:
Grow your own food!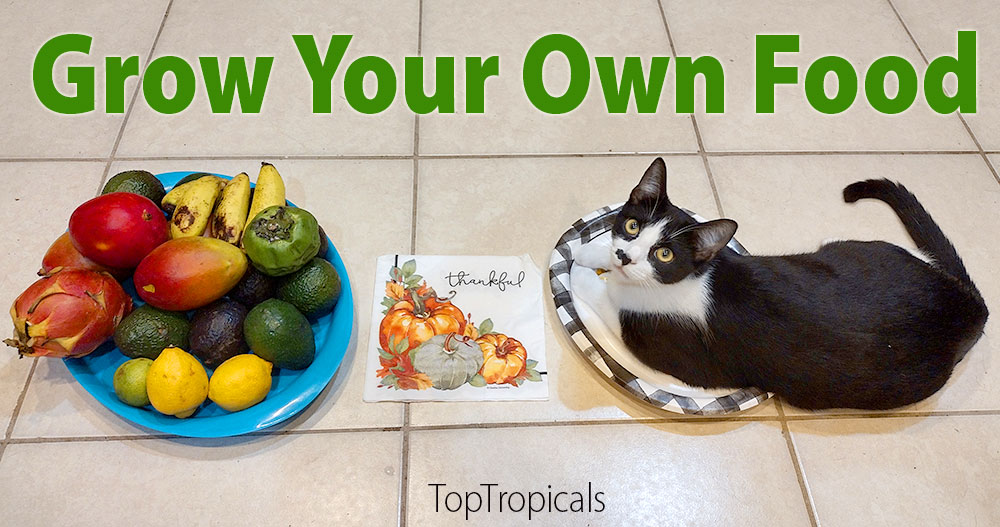 This Friday: Green Friday...
and every Friday and Saturday!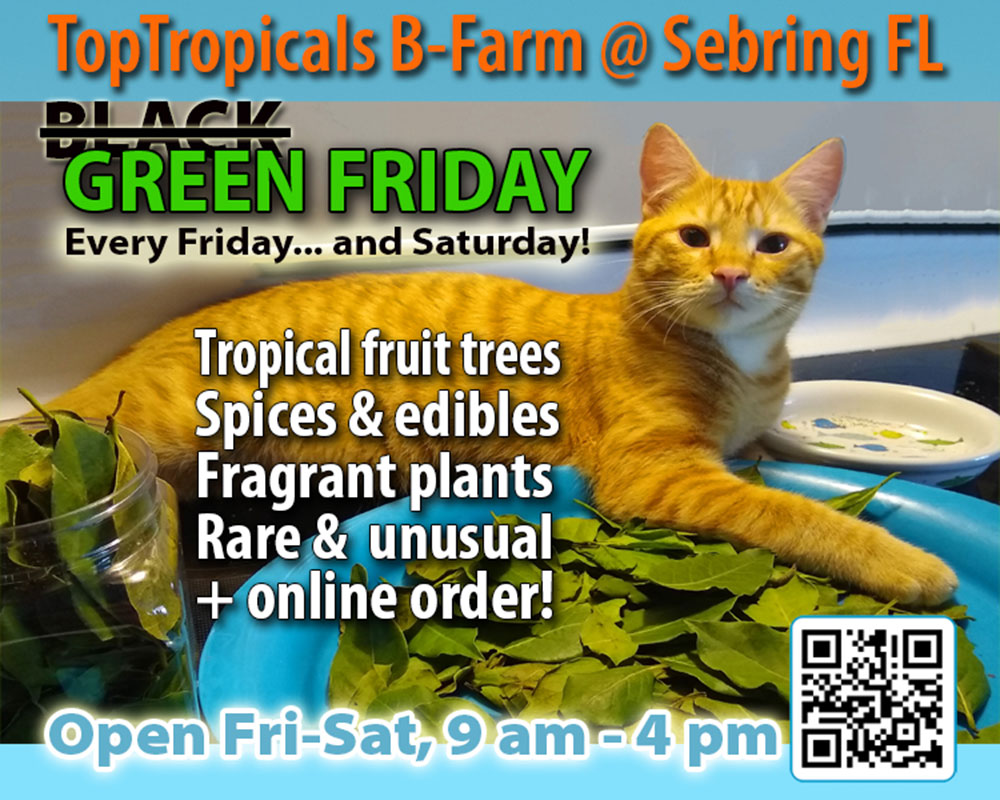 Welcome to TopTropicals B-Farm in Sebring FL
Starting this coming Friday, November 25, our farm in Sebring (B-Farm) will be open to the public every Friday and Saturday.
B-Farm is a 10-acre growing facility with hundreds of varieties of rare and much wanted tropical plants. Fruit trees, flowering trees, shrubs, vines, fragrant plants and rare collectibles - we grow the biggest selection of tropical plants known in cultivation.
Come over to select the best Mango, Avocado, any other fruit tree or rare spice for your edible landscape. Shop our biggest in the world variety of flowering and fragrant tropical plants - directly from our growing farm!
Conveniently located right in the heart of Florida, Highlands County, Top Tropicals B-Farm is within about an hour from most Florida destinations.