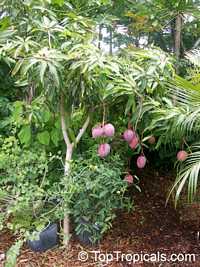 Choosing the right Mango for your garden
Q: Do the mango trees you sell already have fruit? Or how long does it take to get fruit? Are they tricky to keep up? I live locally and have been interested in getting a few!
A: Some of our mangos in both 3 gal and 7 gal pots have fruit on them. All our mango trees are grafted which means they are ready to produce fruit. So if not the same year, you should get fruit the next year.
Mangoes in general are easy to grow plants. They are not picky about soil and water, however they need full sun for fruiting. When you are lucky to live in tropical or subtropical climate, your mango will thrive in a ground, and within 2-3 years you will have a mature tree, and a crop every year (those who have cold winters, still can grow a mango tree in a pot, and move it indoors for colder period). Visit our garden center for a tour of our Mango Gardenthat is only 3 years old and is full of fruit! Tasting table available :) We offer over 100 varieties, and our experts can help you to make the right choice for your garden. To start your own mango tree collection, depending on space available, you may begin with the following varieties:
Nam Doc Mai - one of the most popular and delicious Asian mango
Carrie - very compact grower, reliable producer with great taste
Cogshall and Ice Cream - dwarf varieties for small yards, excellent taste
Alphonso - considered one of the best tasting
See full list of our mango varieties, all fiberless and great sweet flavors.
---