Date: 14 Jul 2019, Entry id: 1563085562-2
A Cup of Tea Plant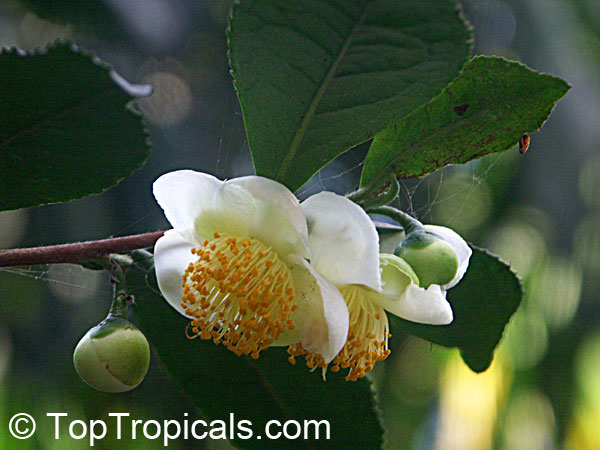 By Onika Amell, tropical plant specialist
A: I live in Ave Maria, Florida. I want to try my hand at growing my own tea. Which plant do I need?
A: Most people do not realize they are actually enjoying camellias when they sip their cup of tea. True tea comes from the Camellia sinensis plant, an evergreen shrub or small tree.
In the fall and winter, the plant will produce small white flowers with a lovely fragrance. The foliage is shiny and dark green with a very nice informal and open look. Camellia sinensis (or tea plant, as it is commonly known) prefers a temperature between 65 and 86 degrees, which makes Florida an ideal area to grow them. However, if you live in colder zones, you can certainly succeed growing your own tea plants using a greenhouse. Alternatively, you can use containers which can be brought inside when temperatures start falling. Tea plants will usually survive a very slight freeze, though the leaves may be damaged or killed. It will not tolerate a hard freeze. They prefer full sun or light shade in the garden.
Tea plants will become small trees or large bushes if not pruned. Hardcore tea growers trim back the shoots repeatedly to a height of around 4 feet to encourage new growth and to contain the size.
Make sure to pick an area of your landscape where it does not flood or remain wet during our rainy season. Camellia sinensis does not like wet feet at all. They prefer well-drained, sandy and slightly acidic soil. If grown in a container, add some sphagnum moss to the potting mix. They will benefit from frequent applications of small amounts of fertilizer.
You will need some patience, too. Your plant should be around 3 years old before you start harvesting leaves.
Recommended fertilizers:
Tropical Greenhouse Plus - Plant Booster
Tropical Allure - Smart-Release Booster
Harvesting recipes
Now that you know how to grow the Tea, you need to check this out: the Harvesting recipes how to harvest and make different kinds of real tea: Green Tea, Japanese >Continue reading...