About the Author
Mark Hooten has been fascinated by horticulture since childhood, with interests including tropical fruits, cacti, ethnobotany, entheogens, and variegates. Having been employed in both FL and CA by botanical gardens and specialist nurseries as horticulturist, manager, propagator, and consultant, he is happy to speak with fellow plant worshipers at TopTropicals Nursery. Mark is currently busy writing a volume on the complicated history of croton varieties. His passions are plants, cats, and art of painting.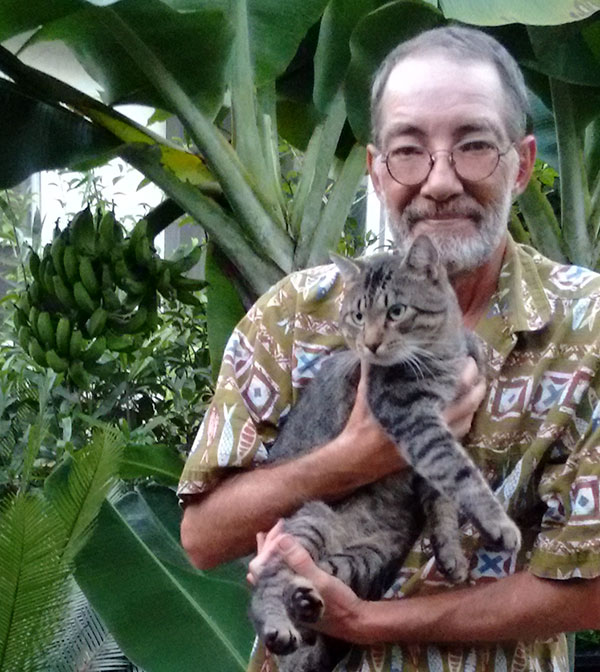 Personally, I have especially loved the TRUE "night-blooming Cereus'es" since childhood. While the cactus family is very large, and many hundreds of different species and genera are collectively called "night blooming cereus", truly, by very definition, that term should only be applied to about a dozen or so species which comprise the genus Selenicerius. They are basically mostly very slender (often almost snake-like) vines which must climb upwards by means of aerial roots which hold on-to a fixed support, such as a wall or tree. Over many decades I have grown the majority of these species, yet find a couple of them stand-out as being especially wonderful.

The most wonderful, easily growing, giant flowering, fragrant, and floriferous species of Selenicereus I have grown is an almost unknown species called Selenicerius hondurensis. I obtained it a over a decade ago from an super-great "little old plant collector lady" named Helen Johnson. She had lived along with her military based husband in Page Park, Ft. Myers, since the World War II. Her plant collection was vast, and indeed, she had even been a founding member of the Hibiscus Society! She had it growing up and over a privacy fence in the back of her big yard, which, BTW, had developed into quite the botanical garden over the years.

I have a number of mostly old Florida introductions and cultivars which came from her. She was botanically archival, and used to know all the old-timey Florida plantsmen, such as Coppinger and Nehrling. Sadly but inevitably, Helen is now gardening in a better place, and honestly, it was hearing of her passing recently that made me grow a number of S. hondurensis to pass on to others in-order-to continue her memory. For what-ever reason, it appears this species has never been distributed within the U.S. before. Why it remains so rare I do not understand.

Anyway, for over a decade, I have had mine planted in a 14 inch clay pot set snugly and immovably along the west side of my house. It did as I hoped, and has sent out many branches, gently creeping up and outwards and covering much of the edge of the front of my house. While my "cardboard" house (as I call it) is stucco, and while the seemingly delicate, thread-like aerial roots holding it to the wall seem to barely hold on, somehow, it all managed to remain perfectly intact during Hurricane Irma a couple of years ago! It flowers magnificently, several times during the summer.

While its climbing stems are rarely thicker than a Sharpie marker, it's flowers measure 12 to 14 inches across (!), open as the sun is setting, and produce a most incredible fragrance... very rich and spreading thru the area. It smells like a combination of both white chocolate and vanilla. S. hondurensis also develops the most richly colored flowers of the Selenicerei, the outermost petals being a glowing orangey-gold. It's very stunning and provocative!

The images here are of those recently flowering at my home.