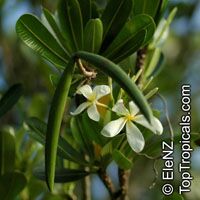 Tip of the day: Growing Plumeria from seed
Q: I purchased a Plumeria from your company. It has done quite nicely and now has produced a seed pod. Please forward me information on how to care for it and use the seeds that may be inside to propagate another plant.
A: Wait until seeds are ripe (seed pod turns brownish). Soak seeds overnight. Use only well drained soil, or cactus mix. Insert heavy end of seed 1/4" into soil, leaving feathered end exposed. Place the pot in direct sunlight. Don't allow soil to completely dry out, but don't let it be soggy. Germination occurs usually within 3 weeks. Do not overwater. For more information on growing Plumerias, see our slideshow guide: Plumerias - perfumed Lei flowers.
---