Sapodilla varieties
4310 Hasya
Extra large, football-shaped fruit native to Mexico, number one commercial cultivar. Reddish hue throughout the pulp. Large upright grower, prolific producer of large fruit that weigh thirteen ounces.
3401 Silas Woods
The most sought after. Dwarf growth habit, adapts well to a container. Producing year round, the branches often require support as they get very heavy loaded with fruits.
Loquat varieties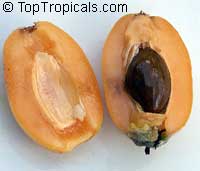 New grafted cultivar from budwood brought from Italy. Fruit are large size, yellow orange skin with yellow flesh, very sweet with no acid taste. Very hardy fruit tree.
Extra large sweet fruit. Very cold hardy fruit tree.
Mango varieties:
4080 Alampur Baneshan
Condo mango originated in North India and is considered as one of the finest dessert mangos in the country. The fruit are large, with exceptional, multi-leveled flavor, for the true connoisseur.
3169 Alphonso
the best Indian cultivar in terms of sweetness and flavor. One of the rarest varieties and sought after - sweet large juice fruit.
3118 Ice Cream
The most popular of the "condo mangos." Dwarf tree, small green fruit w/yellow flesh. Flavored like name. A height of just six feet makes it ideal for container growing.
4309 Kensington Pride
(syn. Pride of Bowen, Bowen Special) is the number one commercial variety in Australia for the drier areas. Flesh is orange, thick, nearly fiberless, juicy, of rich flavor. Unusually sweet-scented leaves.
4225 St Maui
Rare variety, St. Maui mango is from Hawaii, referred to as "pacific/indo-chinese". Rich flavor, sweet and juicy; well adapted to humid climate.