Black Surinam Cherry
Very rare, grafted variety. The sweetest, without aftertaste, the fruit is large 1-1.5 inch, dark red to almost black, very juicy. Reliable producer. Hard-to-find. The tree is small and upright, freely branching. Produces fruit on second year after planting. These plants are cold hardy and can take short periods of frost. Once established, the plant can withstand upper 20's without damage. Perfect choice for container culture, will fruit in a pot and indoors.
Dwarf Guava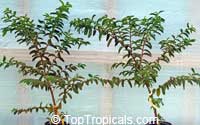 actual plants for sale
This is a very small, dwarf version of the beloved Guava. The tree grows only up to 5-6 ft tall in the ground or 4 ft in a pot with a short trunk and branching habit. Leaves are narrow and 2 inch long. This plant has many advantages for those who have limited space. It can be grown in a pot and fruits heavily. Blooms mostly from fall through spring, although the tree can bear fruit almost year around. The fruit is round, very aromatic, and almost a full size, up to 2 inch, surprisingly for the dwarf habit of the plant. This variety appears to be cold hardier than regular Tropical Guava. Tolerates upper 20's F for a short time.
For list of new arrivals,
please visit this page
10% OFF discount:
Use voucher 509819170129 in your shopping cart and click "recalculate"